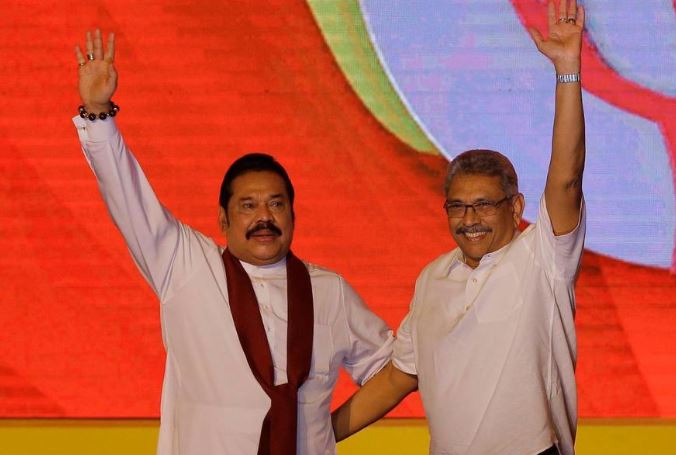 Even as the teardrop island struggles to come to terms with the April 21 Easter bomb blasts, it is all set to witness a crucial election that will decide the future of around two crore islanders. The presidential election on Saturday (November 16), will see a face-off between 35 contestants. However, the real fight is between Gotabaya Rajapaksa and Sajith Premadasa.
Although Gotabaya's party Sri Lanka Podujana Peramuna (SLPP) helmed by his brother Mahinda Rajapaksa has received accolades for ending the bloody 30-year civil war, it has also been at the receiving end of criticism for alleged war crimes during Rajpaksa's regime. This was one of the reasons, which led to their drubbing in 2015.
According to the Sri Lanka constitution's 19th amendment, a president cannot contest for the post, third time, but Mahinda is eyeing to retain his influence by fielding his brother Gotabaya. Seventy-year-old Gotabaya, who served as a defence minister during Mahinda's 10-year presidentship, was a military strategist during the civil war in 2009. Gotabaya's chances got a fillip when outgoing president Maithripala Sirisena of Sri Lanka Freedom Party (SLFP) backed him.
Gotabaya's opponent Sajith Premadasa – deputy leader of United National Party (UNP) – is the son of Ranasinghe Premadasa, Lanka's third president. UNP is the ruling party of the island nation.
Also read: Lanka polls to decide who is winner – India or China?
Premadasa leads the powerful United National Front comprising Sri Lanka Muslim Congress, Jathika Hela Urumaya, the Sinhala Nationalist Party, Tamil Progressive Alliance, anti-Rajapaksa faction of SLFP and the Tamil National Alliance (TNA).
Political commentators observe that Premadasa will be a democratic choice. In an interview to Puthiya Thalaimurai TV, TNA spokesperson MA Sumanthiran said Tamils don't want anyone from the Rajapaksa family to come to power. "There are justifiable reasons to support Premadasa. In 2015, the TNA has brought a change. We expect him to win, it will be an extension of that change. During the current regime, some of the lands in Tamil regions were given back to the Tamils. But still, a lot of land must be handed over to the people. Hope that will be expedited when Sajith takes over charge as president," said Sumanthiran.
While Gotabaya Rajapaksa's campaign is centred on security issues, Premadasa's campaign pitch revolves around economy, poverty and corruption.
Different approach
The SLPF, which received support from the Sinhalese after the Easter bombings, will need to get the support from at least 50% of the minorities. Though both Gotabaya and Premadasa made promises on increasing the income of hill plantation labourers, building houses for the displaced people during the civil war, Gotabaya has been silent on the issue of disappeared persons during the war. Whereas, Sajith has promised to take actions to find out the disappeared persons. That has struck a chord with the Tamils.
Throughout the campaign, Sajith, did not show the pride that he came from a powerful political family, rather, he presented himself as one among the people. Since there are no allegations against him over scandals or corruption, his campaign has got a momentum both among majority Sinhalese and minority Tamils from north and eastern provinces.
However, Gotabaya has a drawback as he possesses dual citizenship of Sri Lanka and the US. Though his lawyer Ali Sabry said that Gotabaya has given up his US citizenship, his opponents have latched on to the issue.