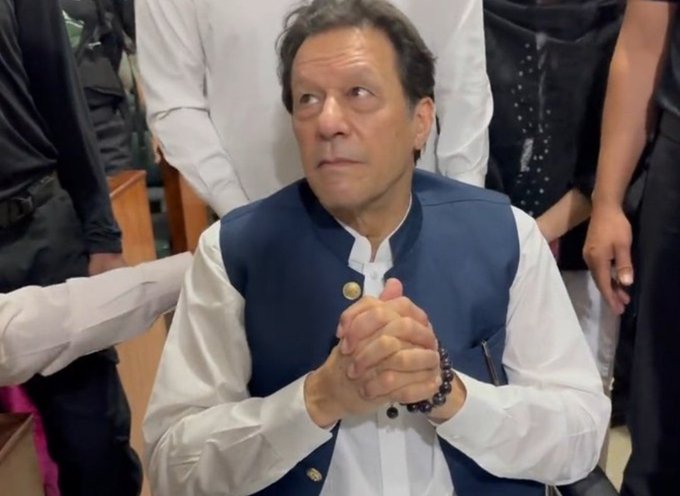 Imran Khan's arrest on May 9 at the Islamabad High Court triggered violent protests by his supporters across Pakistan | File photo
The interim government in Pakistan's Punjab province on Wednesday (May 17) gave former prime minister Imran Khan 24 hours to hand over the "30 to 40 terrorists" allegedly hiding at his Lahore residence and threatened him with stern action otherwise.
The police had in March stormed Khan's Zaman Park residence to arrest him but strong resistance by the workers of his party, Pakistan Tehreek-e-Insaf, thwarted that plan.
"We have received an intelligence report that some 30 to 40 terrorists who were involved in attacking the military installations, especially Lahore Corps Commander House, on May 9 are hiding at the Zaman Park residence of Imran Khan. We give Khan and his party an ultimatum of 24 hours to hand them over to police or face stern action," Punjab's caretaker information minister Amir Mir said at a press conference.
Protesters branded as terrorists
Mir, who is the brother of well-known anchor Hamid Mir, asked Khan to take this ultimatum seriously, as law enforcement agencies have reserved the right to arrest the "terrorists" from his house.
Referring to the May 9 protesters as "terrorists", Mir said the government was aware of their presence at Khan's Zaman Park residence, as it had credible intelligence reports. "The intelligence report that has come is very alarming," Mir said, adding that the agencies could confirm the presence of the "terrorists" in Zaman Park through geo-fencing.
Geo-fencing is a technology that allows the movements of a person, vehicle, etc. to be recorded or limited using satellite signals.
Watch: Pakistan wakes up to more destruction, blocked roads after Imran Khan's arrest
Recalling the recent violent protests in the country following the arrest of ousted prime minister Khan, Mir alleged that "the PTI leadership had planned the attack before the arrest [of Imran Khan]."
The arrest of 70-year-old Khan on May 9 by the paramilitary Pakistan Rangers in the Islamabad High Court premises triggered violent protests by his supporters across Pakistan.
For the first time in Pakistan's history, the protesters stormed the army headquarters in Rawalpindi and torched the Corps Commanders house in Lahore. Police put the death toll in the violent clashes to 10 while Khan's party claims 40 of its workers lost their lives in the firing by security personnel.
"Imran Khan was targeting military"
Mir alleged that Khan has been targeting the military for over a year under a set plan. The interim information minister said the government has adopted a "zero-tolerance policy" towards violence, and interim Chief Minister Mohsin Naqvi has given a free hand to Punjab Police to deal with arsonists.
"Several arsonists were in touch with people inside Zaman Park during the attack on the Corps Commander House. They will be made an example so that no one will carry out such an act in the future," Mir said.
"Those who have been arrested so far are being fully scrutinised. Cases are being forwarded after 100 per cent confirmation [of their involvement]," he added.
He said the government has decided that the attackers of military installations will be tried in military courts as an official announcement issued by the Prime Minister's Office confirmed that Pakistan's National Security Committee endorsed the decision reached at the corps commanders meeting to try the "attackers" under the Army Act and Official Secrets Act.
Also read: Why not jump into politics, save country?: Imran Khan's angry swipe at Pak Army
However, the proposed move to try arsonists under the tough Army Act has come under severe criticism, with rights groups, such as Amnesty International and the National Human Rights Commission of Pakistan, expressing concerns.
The army had earlier issued a statement saying it would no longer show restraint against those who attacked its buildings.
Law enforcement agencies have arrested over 7,000 PTI workers across Pakistan, 4,000 of them from Punjab for torching and vandalizing the civil and military installations after violence erupted in the wake of Khan's arrest last week.
Imran Khan condemns arrests
Khan on Wednesday strongly condemned the "illegal arrests" and abduction of the PTI workers and leaders. "Never did I imagine women in our society would be treated so shamefully and the sanctity of chadar and char dewari so violated," he wrote in a series of tweets.
I strongly condemn the illegal arrests and abduction of our workers and leaders. Our Vice Chairman Shah Mehmood Qureshi and Secy General Asad Umar have also been incarcerated for more than a week now.
Also, despite court orders journalist Imran Riaz Khan has not been presented in…

— Imran Khan (@ImranKhanPTI) May 17, 2023
"Despite court orders, journalist Imran Riaz Khan has not been presented in court and there are confirmed reports of torture against him. I demand immediate release of all our female leaders, workers and the female family members of our leaders and workers. How could Shehrayar Afridi's wife be jailed? This is purely to spread terror among the people so that they don't stand up for their constitutional rights," he wrote.
Also read: Imran Khan: Pakistan military plans to keep me in jail for 10 years under sedition charges
He further stated: "The video evidence of the barbaric treatment meted out to our female supporters is reprehensible. Many of our female MNAs, supporters, and workers are being held in jails across Pakistan under inhumane conditions, vulnerable to police excesses.
"These abductions and the treatment being meted out to women by this fascist government are not only grave human rights violations but are strictly against our culture and Islamic teachings. All these women must be immediately released. Their continued incarceration is unconscionable. I am also raising this with International Human Rights Organizations."
Khan was ousted from power in April last year after losing a no-confidence vote, which he alleged was part of a US-led conspiracy targeting him because of his independent foreign policy decisions on Russia, China, and Afghanistan.
(With agency inputs)