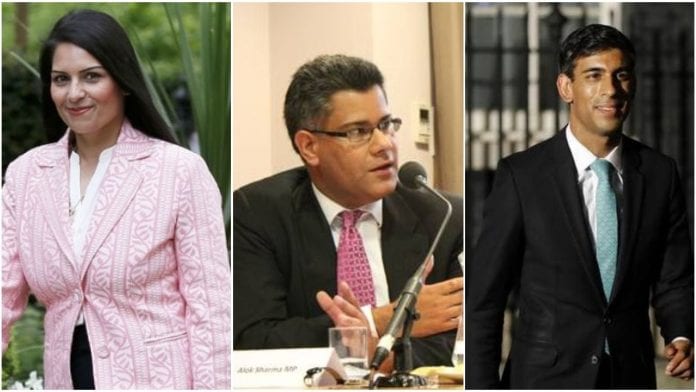 The United Kingdom's new Prime Minister Boris Johnson has three people of Indian-origin in key Cabinet posts. Other than Priti Patel, who is the first Indian-origin home secretary of UK, the cabinet has Johnson's fellow Brexiteers Alok Sharma and Rishi Sunak.
According to reports, Johnson is of the view that his team should reflect 'modern Britain'. In pursuance of this objective, he aims to have a record number of coloured people in his team. He is also expected to appoint more women as cabinet ministers besides boosting the representation of ethnic minorities. Out of 31 positions in Johnson's cabinet – including those who are not full members – eight have gone to women.
Here are the profiles of the three Indian-origin people in his cabinet.
Advertisement
Priti Patel: The 45-year-old Tory MP and the senior most British Indian cabinet member has become the first Indian-origin home secretary. In 2017, she was forced to resign from Theresa May's government due to a political scandal involving her secret meetings with the Israeli government.
Born to Gujarati parents, she was first elected to the House of Commons from Witham in Essex in 2010. From 2016-17 she was the international development secretary. Patel is also a keen supporter of Indian Prime Minister Narendra Modi.
Alok Sharma: 51-year-old Sharma has been appointed International Development Secretary. Prior to being elected, the former employment minister was a qualified chartered accountant. He was elected MP from Reading West (UK Parliament constituency) in 2010.
In 2016, he was appointed Parliamentary Under-Secretary of State in the Foreign and Commonwealth Office by former Prime Minister Theresa May. In 2017, he was moved to Housing and Planning in the Department for Communities and Local Government. Later in 2018, he became the Minister of State for employment.
Rishi Sunak: The 39-year-old who has been appointed the Chief Secretary to the Treasury, was elected from Richmond (Yorks) in 2015 and got re-elected in 2017 as well. He is also the son-in-law of Infosys founder Narayana Murthy and writer Sudha Murthy. He is an alumni of Oxford and Stanford Universities.
Interestingly, Boris Johnson has a very special connection with India. His estranged wife Marina Wheeler is the daughter of reputed journalist Sir Charles Wheeler and Dip Singh. Before marrying Wheeler, Dip Singh was married to writer Khushwant Singh's younger brother, Daljit Singh.
In a letter addressed to the Indian diaspora, Boris described himself as the son-in-law of India and explained his special connection with the country.