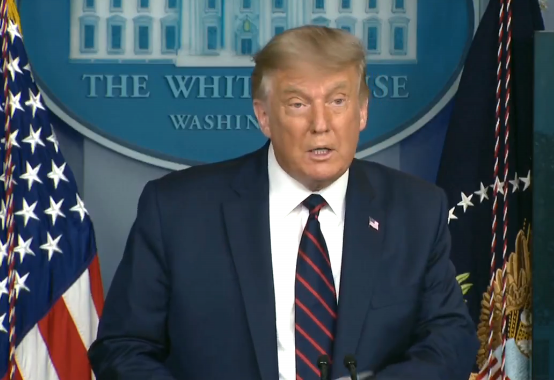 Two days after he lost the presidential race to democrat Joe Biden, US President Donald Trump on Monday (November 10) accused the Food and Drug Administration (FDA) and Pfizer of withholding the announcement on COVID-19 vaccine before elections to prevent him from getting a "vaccine win".
"The @US_FDA (Food and Drug Administration) and the Democrats didn't want to have me get a Vaccine WIN, prior to the election, so instead it came out five days later – As I've said all along!" Trump said in a tweet.
His tweet came on the day when pharmaceutical giant Pfizer announced that its vaccine, as per preliminary estimates, has been found to be 90 per cent effective in preventing COVID-19.
Related news: Trump's defeat reinforces moral of good vs evil story, for now
Pfizer said that the vaccine candidate was found to be more than 90 per cent effective in preventing COVID-19 in participants without evidence of prior SARS-CoV-2 infection in the first interim efficacy analysis. Analysis evaluated 94 confirmed cases of COVID-19 in trial participants, it said.
In a series of tweets, the President accused the bureaucracy of influencing drug makers to withhold the results till the declaration of election results. He, however, took the credit for a faster announcement of the vaccine.
"If Joe Biden were President, you wouldn't have the Vaccine for another four years, nor would the @US_FDA have ever approved it so quickly. The bureaucracy would have destroyed millions of lives!" Trump alleged in another tweet.
"As I have long said, Pfizer and the others would only announce a Vaccine after the Election, because they didn't have the courage to do it before. Likewise, the US_FDA should have announced it earlier, not for political purposes, but for saving lives!" he tweeted.
Previously, Trump had said that he worked on removing a large number of bureaucratic obstacles to fast-track development and approval of a vaccine.
US President-elect Joe Biden, on the other hand, congratulated the scientists who developed the vaccine and said it was a cause "hope".
Related news: The great genius comes up with a win by falsely claiming victory
Earlier in the day, Trump fired Defence Secretary Mark Esper, his Pentagon chief in four years. Esper would be replaced by Christopher Miller, the current head of the National Counterterrorism Center and former special forces officer.
Esper had elicited the President's wrath when he refused to deploy federal troops to quash civil unrest and delayed Trump's command for full withdrawal of US troops from a strife-torn Afghanistan.
(With inputs from agencies)