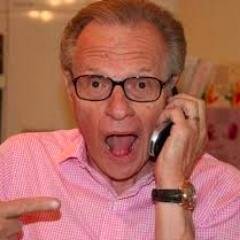 Broadcasting legend Larry King passed away at Los Angeles' Cedars-Sinai Medical Center on Saturday (January 22). He was 87.
He was reportedly hospitalised with COVID-19 earlier this month but the cause of death has not been declared by the company he co-founded, Ora Media.
"For 63 years and across the platforms of radio, television and digital media, Larry's many thousands of interviews, awards, and global acclaim stand as a testament to his unique and lasting talent as a broadcaster," Ora Media said in a statement on Twitter.
Advertisement
King became a broadcasting legend for his in-depth interviews of famous personalities, from politicians to celebrities on the iconic show, 'Larry King Live' on CNN. He interviewed every US president since 1974, and world leaders Yasser Arafat and Vladimir Putin. His noted celebrity interviews were of Frank Sinatra, Marlon Brando and Barbra Streisand.
He hosted Larry King Live for 25 years, completing more than 6,000 episodes and according to CNN, 30,000 interviews. He was known for his relatable style of interviewing, self effacing and always focused on the person he interviewed. He retired from CNN and co-founded his company Ora Media and in 2018 hosted the show 'Larry King Now'.
Also read: Saudi Arabia suspends international flights over new COVID strain
CNN reported that King was nominated for several awards, including eight News and Documentary Emmy Awards, winning two, and in 2011 he was presented with a lifetime achievement award.
King was born as Lawrence Harvey Zeiger on November 19, 1933, to Russian Jewish immigrants in Brooklyn, New York.
He started his career as a disc-jockey for a Miami radio station in 1957. He changed his name to King when the radio's manager told him his original name was "too ethnic". In 1978 he went to Washington where he hosted a national late-night radio call-in show. CNN noticed him and hired him for its nighttime programs in 1985.
Tributes poured in for King. Putin praised King for his "great professionalism and unquestioned journalistic authority," according to the Kremlin. CNN foreign correspondent Christiane Amanpour said King was "a giant of broadcasting and a master of the TV celebrity/statesman-woman interview."
She added: "His name is synonymous with CNN and he was vital to the network's ascent. Everyone wanted to be on Larry King Live. May he Rest in Peace."
Star Trek icon George Takei said King understood "human triumph and frailty equally well."
Also read: Renowned writer Ved Mehta, who took India to Americans, dies at 86
Piers Morgan, who is King's successor at CNN, tweeted: "Larry King was a hero of mine until we fell out after I replaced him at CNN & he said my show was 'like watching your mother-in-law go over a cliff in your new Bentley.' (He married 8 times so a mother-in-law expert). But he was a brilliant broadcaster & masterful TV interviewer."