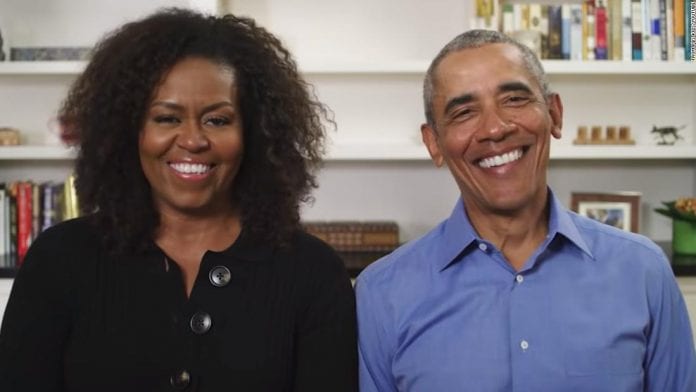 The knives are out, finally, as the US presidential poll cacophony reaches its crescendo. If President Trump had thought that Joe Biden had been left alone by Democrats to fend for himself in the run-up, and post Kamala Harris' selection as his running mate, he was wrong.
On Monday, former US first lady Michelle Obama stepped forward during a Democratic convention to tear into the Trump campaign, saying the President was "clearly in over his head".
Michelle's comment was followed by former President Barack Obama's on Wednesday. He dismissed Trump as "deeply unfit for the office he occupies" and that voting for Biden was necessary to ensure the survival of American democracy.
Advertisement
"He's shown no interest in putting in the work; no interest in finding common ground; no interest in using the awesome power of his office to help anyone but himself and his friends; no interest in treating the presidency as anything but one more reality show that he can use to get the attention he craves," Obama said of Trump during the third night of the Democratic National Convention.
Obama's unusual broadside came close on the heels of Trump's usual retaliation against Michelle. "Somebody please explain to Michelle Obama that Donald Trump would not be here, in the beautiful White House, if it weren't for the job done by your husband, Barack Obama," Trump tweeted.
"Biden was merely an afterthought," he added.
Michelle had turned the knife in by saying: "When they go slow, we go high."
It is uncommon in American polls when a former president and the first lady join hands to attack their chief opponent.
Obama avoided direct criticism of most of Trump's first term, yet his scathing attack was a harsh appraisal of one president by another. Trump has rarely hesitated to attack Obama, often leveling accusations of misconduct without evidence.
Obama blamed Trump for the loss of 170,000 American lives to coronavirus, loss of jobs and lowering of the country's democratic principles. He endorsed his wife's views that Trump "simply cannot be who we need him to be."
"Donald Trump hasn't grown into the job because he can't," Obama said. "And the consequences of that failure are severe."
Trump in his tweet responded to Obama's appearance in all capital letters, suggesting Obama's decision to endorse Biden only after his Democratic rivals dropped out suggested doubts about Biden's candidacy.
For Obama and Biden, the election due on Nov 3 is a chance to help secure their administration's legacy, including the restoration of policies on immigration, climate change and healthcare that Trump has systematically sought to pull apart.
Obama remains a popular figure. His address to the virtual convention was delivered from the Museum of the American Revolution in Philadelphia, the city where the US Constitution and the country's founding democratic principles were drafted.