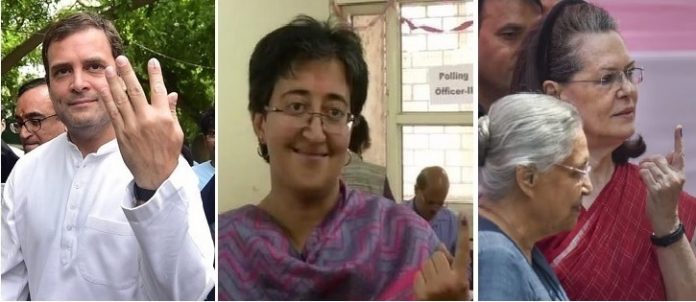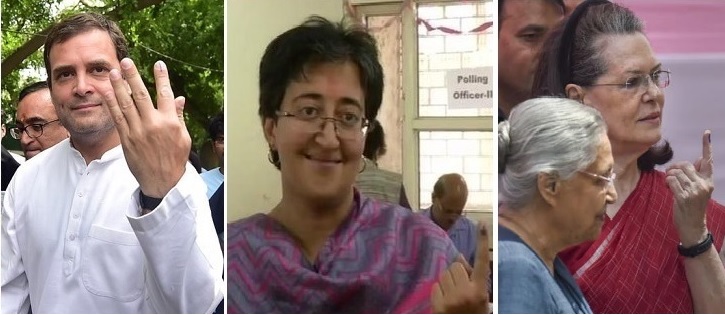 Terror group ISIS announces new 'branch' for India ops
The Islamic State (IS) terror group has claimed to have established a new 'province' in India by drawing a link to the clashes between militants and security forces in Kashmir on May 10. The IS reportedly claimed a link to Ishfaq Ahmad Sofi, a militant killed in Kashmir on May 10, Indian Express reported. The Arabic name of the new branch is 'Wilayah of Hind' (India Province), the dreaded terror outfit, (also known as ISIS and ISIL), said through its Amaq News Agency. A senior Jammu and Kashmir police officer but rejected the claim.
Rahul turns love guru, Modi on cloud nine: Moments that defined V-day in Delhi
The sun was high, the motorists out on the roads honking and yelling as always. Yet, there was a rare moment of optimism as voters lined up outside polling booths to cast their votes in Delhi. One such voter was Congress president Rahul Gandhi. In a sudden moment of political epiphany, Gandhi chose to walk down from his Tughlaq Lane home to the voting centre on Aurangzeb Lane to cast his vote in the sixth round of the national election. The Congress president, who ditched his high-security vehicle, is a voter in the high-profile New Delhi parliamentary seat.
Over 60% polling in sixth phase; West Bengal records 84% turnout despite violence
The sixth phase of Lok Sabha polls 2019 on May 12 recorded over 61 per cent polling as of 6 pm, as per data provided by the Election Commission of India (ECI). The final figures could change. Polls were held to a total of 59 seats – 14 in Uttar Pradesh; 10 Haryana; eight each in Bihar, Madhya Pradesh and West Bengal; seven in Delhi; and four in Jharkhand. Violence was reported from West Bengal but the turnout was put at over 84 per cent. Haryana recorded 71 per cent; Bihar 57.1; Jharkhand 64.95; Madhya Pradesh 56.95; Delhi 65.2; and Uttar Pradesh 54.4 [The figures could change].
Odisha seeks special status
Odisha Chief Minister Naveen Patnaik has demanded special category status from the Centre for his disaster-prone state, saying it faces natural calamities almost every year. The Naveen Patnaik government in Odisha is at once winning praise and coming under fire respectively for systematic evacuation of people ahead of cyclone Fani and for being caught grossly under prepared for the massive restoration work.
Gorakhpur could be Yogi Adityanath's Waterloo of 2019!
Gorakhpur, the city of eastern Uttar Pradesh, had once earned the notorious distinction of 'Chicago of the East' and 'Slice of Sicily' for its underworld and gang wars. Though the guns seem to have gone silent in this city a bit with gangs of the yesteryears transforming into crime syndicates, politics could simply never take a backseat here. Gorakhpur is also famous for its all-important Goraksh Peeth and this is a strong citadel of the Goraksh Peeth or the Gorakhnath Mutt. The politics of this Parliamentary constituency has been controlled by the Mutt for decades. The present Uttar Pradesh Chief Minister Yogi Adityanath has been a Member of Parliament from here five times in a row. And three times before this, his guru, Mahant Avedyanath, was the MP. But Yogi Adityanath once vacated this seat to become Chief Minister of the state, he got a bolt from the blue.
BJP to scrap Article 370 if voted back to power: Shah
BJP president Amit Shah Sunday said the Article 370 that gives special powers to Kashmir will be scrapped if Narendra Modi is elected as prime minister again. Targeting the Congress on the issue of national security, he said the Manmohan Singh-led Congress government did nothing when Pakistan beheaded five Indian soldiers but under Modi rule air strikes were carried out in Balakot. Addressing a rally at Chogan Maidan in Himachal Pradesh's Chamba district, Shah pointed out that Congress leader Sam Pitroda said instead of air strikes, "we should talk to militants." "If Pakistan will fire a bullet, we will reply with shell," the BJP chief said.
What bills today's CSK-Mumbai clash as IPL's El Clasico
When experienced campaigners Shane Watson (50 off 32) and Faf du Plessis (50 off 39) took Chennai Super Kings to their eighth IPL final in 10 years, cricket lovers — minus CSK loyalists — were disappointed. You see, nobody enjoys a routine life of eat, sleep, work, repeat. Similarly, cricket fans are exhausted of a routine IPL of eat, sleep, CSK in finals, repeat.
Fans of the game wanted a new finalist this time around, and in perennial underachievers Delhi Capitals, they had almost found one. Eleven cricketers from Delhi's 15-men squad are below 24 years of age. Six of those are below 22. Their captain Shreyas Iyer is the youngest to lead in an IPL playoff. Nobody had given them a chance to the trophy when the tournament started. And yet, here they were – a young team fighting it out with oldies and the over-achievers of the IPL in the second qualifier match. Chennai's six-wicket win over Delhi won the hearts of the 'Yellow Brigade', but broke those of neutral cricket fans. However, on the positive side, the game also gave a consolidation to all the partisan viewers – yet another EL Clasico in an IPL final.
China's third aircraft carrier in the making, to project aero-sea power
The Indian Navy cannot ignore the latest development in the Chinese Peoples' Liberation Army Navy (PLAN) – construction of a third aircraft carrier Type 002 at the Jiangnan shipyard, Shanghai. The PLAN's second aircraft carrier the Type 001A is a domestically built vessel and presently undergoing sea trials. The third carrier when operational would further enable China to project aero-naval power far away from its shores and operate much like the US Navy across the seven oceans. From an Indo-centric security perspective this techno-military development which will introduce an additional floating weapon platform realigns the regional strategic environment.
'Strong leader' Modi, myth or reality?
The mention of Prime Minister Narendra Modi immediately conjures up the image of a "strong leader", an individual with a "56-inch chest",  he is macho and can single-handedly change the destiny of India.  He is someone to be feared,  a leader who cannot tolerate corruption;  an authoritarian streak runs in him and if he comes to power now India may not see another election…so on and so forth.  But how real are these descriptions?  Or are they part of a successfully-churned out myth?