The COVID-19 pandemic will end in most of India by two-and-a-half months, says Bhaskaran Raman and his team from IIT Bombay, basing their calculations on the Levitt's model.
It is a model proposed by Nobel laureate Prof Michael Levitt, which Raman says is "childishly simple and hence brilliant!" This according to him is nothing new; the model's metric has been around since March ever since Prof Levitt proposed it, based on his analysis of Hubei data, and later for data of other countries. What the team has in fact done is simply applied the model on Indian data sets and other countries, for comparison as well.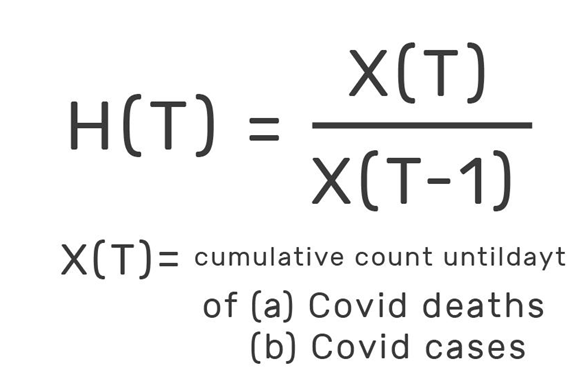 From the above formulae we have to plot H(t) as a function of t.
The advantage of this model, according to the team, is that it is extremely simple to understand and compute as well as it does not have any complex mathematics such as calculus or nonlinear functions. This model also can be applied to a place independent of population size and hence can be used as a benchmark tool to compare across regions: city, state, district, country. It is also a robust model for different countries/regions having different testing capabilities and also incorporates varying definitions of what exactly is a COVID-19 death to an extent the model also takes into consideration systematic under-counting if any.
According to the model in around two-and-a-half months, or October to be precise, the pandemic would taper down in India and come to an end. It is to be noted that the term 'pandemic-end' does not mean the disease will vanish, but rather will be sporadic while the number of mortalities would become considerably low.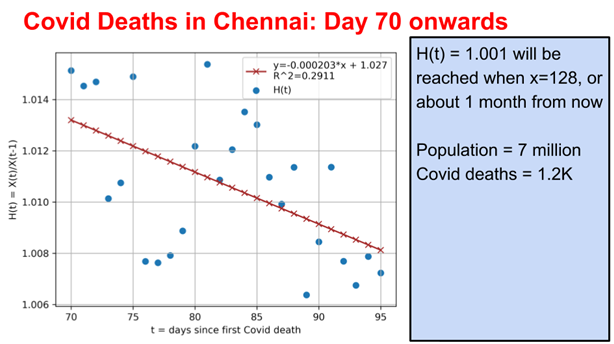 According to the model, the pandemic in Chennai is expected to end in about a month from now. This should come as a breather for Chennai.
Notably, Dr Nilofer Kafeel, Tamil Nadu Minister for Labour and Employment, had tested positive for COVID-19 on Thursday (July 16). Kafeel, the fourth minister in the state to have tested positive for the virus, had taken part in a few events in the state last week.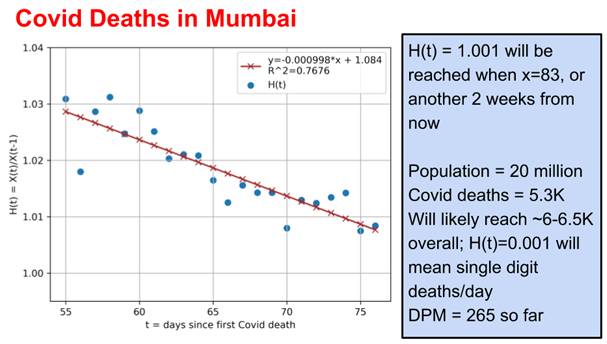 In Mumbai, the pandemic is expected to end in about two weeks from now. The city currently has around 24,307 active cases and has also shown recovery in about 67,830. As many as 4,08,300 tests have been done in Mumbai so far.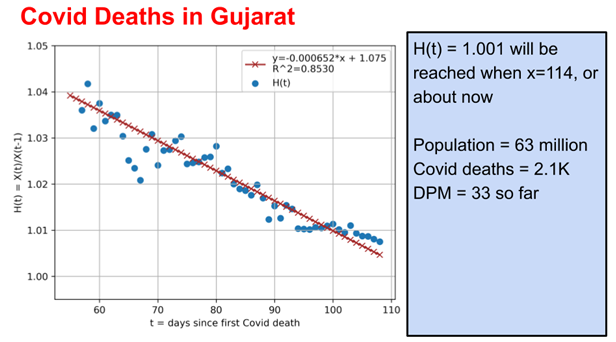 According to the model, the worst seems to be over for Gujarat.
Gujarat currently has the fourth highest caseload in India. The 45,567 positive cases include 919 fresh cases, 2,091 deaths. While the number of active cases stand at 11,302, 32,174 people have been discharged. So far the state has tested 4,99,170 samples.
In Gujarat, Surat is the worst-affected city which is witnessing a steady rise in infections. The district constitutes 291 of the fresh cases reported from the state. In view of the rise in cases, the business community has started taking proactive steps to curb the spread of the infection. After a special drive by Surat Municipal Corporation, now various trade and business organizations are taking a series of steps to check the infection including community-driven initiatives for testing.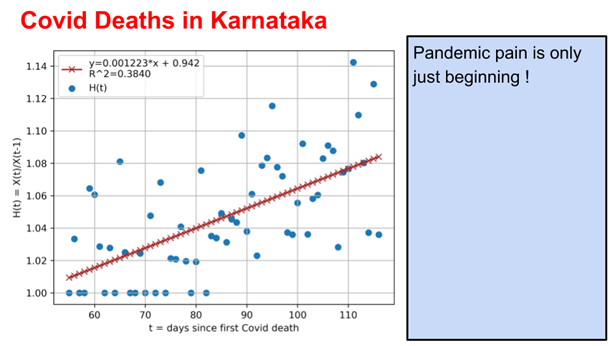 The prediction is scarier for Karnataka. According to the model, the pandemic is just beginning in the state. The state on Thursday reported the most number of fresh cases and deaths since the pandemic began. Karnataka has the most number of legislators testing positive for the virus. Congress MLA PT Parameshwar Naik from Huvina Hadagali constituency in Bellary district tested positive for the virus.
Recently, MLA and tourism minister CT Ravi, Bharat Shetty, MLA of Mangaluru North, Ranganath, MLA of Kunigal, Sharath Bachegowda, MLA of Hoskote, Rajkumar Patil Telkur, MLA of Sedam, Ajay Singh, MLA of Jewargi, Prasad Abbayya, MLA of Hubballi-Dharwad East and MLCs Bhojegowda and M K Pranesh and actor-turned-politician MP of Mandya, Sumalatha Ambareesh tested positive for COVID-19. With hard days predicted for the state, there would be an immediate need to focus on testing and contact tracing as well as to look at options such as cyclical lockdowns.