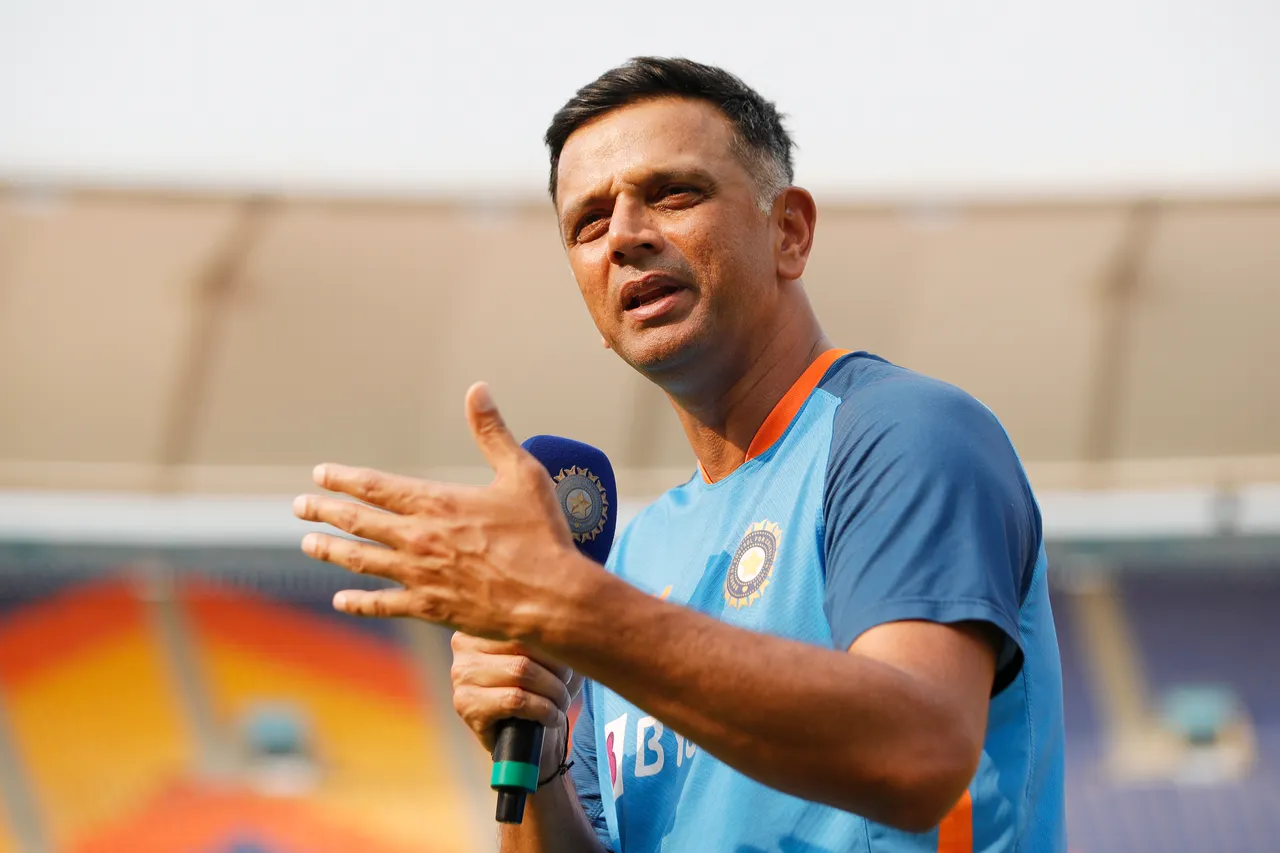 We don't feel any pressure of trying to win an ICC trophy: Rahul Dravid
They may not have won an ICC title in 10 years but India head coach Rahul Dravid on Monday insisted his team is not feeling any pressure going into the World Test Championship final against Australia.
However, the former India captain said it would be nice to win the trophy as it is something his team has worked towards over the last two years.
India lost the inaugural WTC final to New Zealand in 2021 and have been guilty of faltering in knockout games.
"No, not at all. I mean we dont feel any pressure in terms of trying to win an ICC trophy. Of course it would be nice to do it. It would be certainly nice to be able to win an ICC tournament. But also in the context of things, you look at this and you see this is the culmination of two years of work.
"Its a culmination of a lot of success that gets you here. So theres a lot of positives to take from that to see where you stand on the table. Winning series in Australia, drawing series here, being very competitive everywhere that this team has played in the world over the last five or six years.
"I think those are things that will never change just because you have or you dont have an ICC trophy. Thats really the bigger picture," said Dravid.
Rahane should not look at this as a one-off game ============================== Ajinkya Rahane is set to play his first Test in 18 months and a failure in the game could potentially be career-ending. Dravid had a word of advice for the experienced batter.
"Firstly its good to have him. Weve had a few injuries which have probably led to him having the opportunity to come back into the squad. Great for us to have someone of his quality back.
"He brings obviously a lot of that experience, he brings proven performance in overseas conditions. Even in England hes played some terrific innings for us.
"He brings terrific catching in the slips as well to the group. He just brings his personality to the group as well which is really important. Hes led the team to considerable success. And again, I wouldnt want him to approach this as just a one-off." Dravid said the 82 Test veteran might go on to play many more five-day games for the country.
"Sometimes you get dropped from teams and you make a comeback and you can play for as long as youre playing well and as long as youre performing. Its not written in stone or rule that you only get one match. He puts in a good performance, really shows what hes got.
"Who knows, even when people come back from injury, you never know what can happen. So again, from my point of view, its not really only about this match. Yes this match is important but then in the larger context of things theres a lot of cricket to be played further down the road as well," he said.
Pujaras advice has been valuable ===================== Cheteshwar Pujara has scored tons of runs in county cricket in England over the past couple of years. While his teammates were playing in the IPL, he was piling on the runs for Sussex.
"Weve had conversations with Pujee – about captaincy, about obviously batting, but also he leads Sussex. So hes also got a good handle on things in terms of the kind of tactics and the strategy thats used by a lot of the county bowlers that hes played with.
"So weve had some conversations and discussions obviously with him in and around that and well see how we can maybe incorporate some of that. Doesnt drastically change some of the basics of the game. They always remain the same," said Dravid.
The Oval will hosts its first ever Test in June and the conditions might not be as batting friendly as they are later in the English summer. However, Dravid is not reading too much into it.
"We just have to react to what we see in terms of the conditions and how it plays out in the middle. And hopefully we have the resources and the ability to deal with whatever comes in front of us." Want more teams playing Test cricket ======================== Franchise cricket around the world has jeopardized the future of the five-day game with only few nations committed to Test cricket. When it comes to the traditional format, Dravid feels the more the better.
"I really hope that, because of things like the World Test Championship when you have some context to a lot of these, to a lot of the bilateral games, not that – honestly, not that they dont have context in itself.
"I mean, anytime you play for your country, play against someone else, theres always context, theres always – you always want to win those series. But you know, really hope that it will encourage a lot more teams to be able to potentially play a lot more Test cricket or to be able to find a way to play a lot more Test cricket.
"I know it is complicated and that its hard to go into depth in a press conference and there are a variety of reasons why that is probably not happening, both in terms of time, finances, there are many things that go into it.
"But certainly, wed like to see a lot more Test cricket – personally at least, Id like to see a lot more Test cricket being played," he added.
---
(Except for the headline, this story has not been edited by The Federal staff and is auto-published from a syndicated feed.)