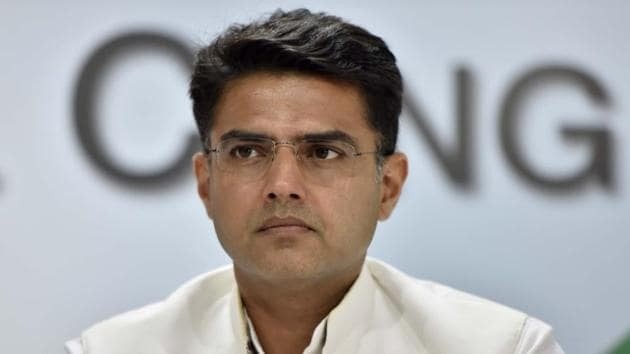 Congress leader Sachin Pilot on Friday (May 12), called for a "change" in the entire structure of the Rajasthan Public Service Commission following the arrest of a commission member in the paper leak case.
Pilot was addressing his supporters who had gathered for his Jan Sangarsh Yatra, which entered its second day, at the toll plaza in Kishangarh of Ajmer district.
"Recently, an RPSC (Rajasthan Public Service Commission) member was arrested. It was for the first time in history that a member of the RPSC was arrested in a paper leak case. There is a need to change the entire structure. "My struggle is for the people and I said that I will walk from the RPSC office in Ajmer to Jaipur and I will be in the public and get their blessings," Pilot said. RPSC member Babulal Katara, one of the three people arrested last month in connection with the 2022 teacher recruitment paper leak case, had allegedly received Rs 60 lakh for leaking the question paper, a senior police official had said.
Pilot on Thursday began a 125-kilometre foot march from Ajmer to Jaipur, challenging Chief Minister Ashok Gehlot and the Congress top brass ahead of the assembly elections in Rajasthan.
In Kishangarh, he was welcomed by a large number of supporters who cheered for him and showered him with flowers.
The five-day yatra mounts further pressure on the party leadership as it hopes to retain the state in the elections at the end of the year.
Apart from corruption, the yatra focuses on cases of paper leaks in government recruitment exams. The RPSC is based in Ajmer, which is also the constituency from where Pilot was elected to Parliament in the past.
The issue is expected to come up at a meeting being taken by Sukhjinder Singh Randhawa, the Congress Rajasthan in-charge, in Delhi on Friday.
The march comes days after Gehlot accused the MLAs involved in the 2020 revolt of taking money from the BJP. Pilot and 18 other Congress MLAs had then sought a leadership change in Rajasthan.
He was sacked as the party's state unit president and the deputy chief minister.
The two Congress strongmen in Rajasthan have been at loggerheads over the post of chief minister ever since the party formed the government in 2018.
---
(Except for the headline, this story has not been edited by The Federal staff and is auto-published from a syndicated feed.)