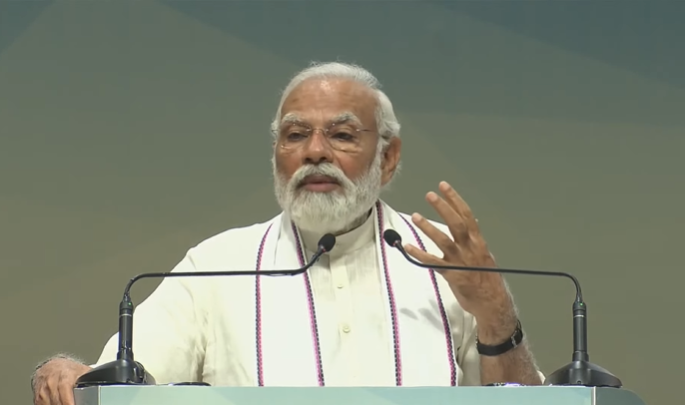 India strongly raising issue of climate justice with developed countries: PM Modi
Prime Minister Narendra Modi on Monday said the poor and developing countries are paying the price for the "wrong policies" of some developed nations and stressed that India has been strongly raising the issue of climate justice with all such advanced and big countries.
In his video message at a World Environment Day event here, Modi said that for the protection of the world climate it is important that all countries think, rising above selfish interests.  "For a long time, the model of development in big and advanced countries was contradictory. In this developmental model, the thinking was that we first develop our country then we can think about the environment," the prime minister said.  "With this they achieved the goals of development but the worlds environment had to pay the price for their development. Today also, the developing and poor countries of the world are paying the price for the wrong policies of some developed countries," he said.  For decades no one was there to object to this attitude of the developed countries, Modi said.  "I am happy that India has raised the question of climate justice with all these countries," he said.
Modi said India is focussing on environment in a big way just like any other area for its growth.
If India has expanded its 4G and 5G telecom networks, it has also enhanced its forest cover on an equal footing, he said.
"The theme of this years World Environment Day is to get rid of single-use plastic, an issue about which the world is talking today but India has been working on it consistently for the last four-five years.
"In 2018 itself, India started working at two levels for getting rid of single-use plastic. On one hand, we banned single-use plastic and on the other hand we made the plastic waste processing mandatory," he said.
In the past nine years, India has focussed a lot on green and clean energy, Modi said.
Led by the United Nations Environment Programme (UNEP) and held annually on June 5 since 1973, World Environment Day is the largest global platform for environmental public outreach.
---
(Except for the headline, this story has not been edited by The Federal staff and is auto-published from a syndicated feed.)