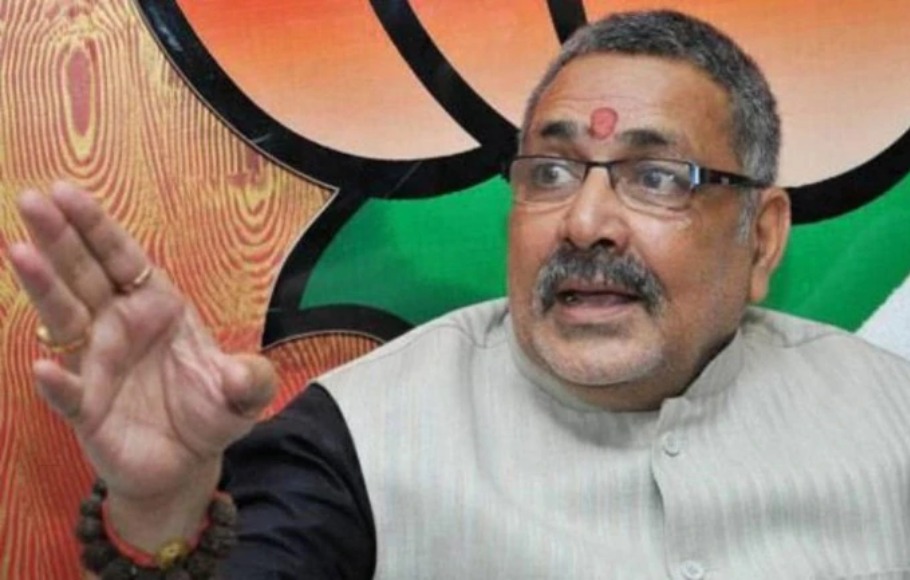 Nathuram Godse 'saput' of India: Union minister Giriraj Singh
Union Minister Giriraj Singh on Friday termed Nathuram Godse a saput (worthy son) of India and said the assassin of Mahatma Gandhi was not an invader like Mughal rulers Babar and Aurangzeb as he was born in India.
Talking to reporters in Dantewada city of Chhattisgarh, the BJP leader, who holds the rural development and panchayati raj portfolio, said those who feel happy in calling themselves children of Babar and Aurangzeb cannot be true sons of mother India.
Queried about a statement of AIMIM chief Asaduddin Owaisi related to Godse while reacting to Maharashtra Deputy Chief Minister Devendra Fadnavis's comment on Aurangzeb, Singh said, If he was the killer of Gandhi, he (Godse) was also a saput of India. He was born in India. He was not an invader like Babar and Aurangzeb.
Referring to recent violence in a few cities of Maharashtra, Fadnavis said on Wednesday that suddenly Aurangzebs aulad (progenies) had taken birth in the state, prompting Owaisi to counter who was Godse ki aulad.
Singh accused the Bhupesh Baghel-led Congress government in Chhattisgarh of spreading terror and encouraging religious conversion.
Tribals and non-tribals are being converted in the state as part of a conspiracy. When BJP is elected to power in the state, a stringent law will be enacted against conversion, he said.
Targeting the states Congress government, the Union minister claimed misappropriation of funds given to Chhattisgarh under the Mahatma Gandhi National Rural Employment Guarantee Act (MNREGA).
Whoever is siphoning off MNREGA funds will have to face investigation and they will be punished, be it chief minister or others, he said.
Singh also slammed states Excise Minister Kawasi Lakhma over the alleged use of abusive words against the BJP and said his remark shows the character of the Congress government. Baghel ji has to see this, he added.
Lakhma on Thursday allegedly used an abusive word in Halbi, a local dialect, while talking to media persons in Kanker district.
---
(Except for the headline, this story has not been edited by The Federal staff and is auto-published from a syndicated feed.)