In the recent Tanishq advertisement fracas, one question seemed to have come up repeatedly from pro-Hindu users on social media: "What if the reverse were true?" I have two stories to tell them that the reverse happens too. Perhaps not in the glossed over manner of ads because love is hard but it happens.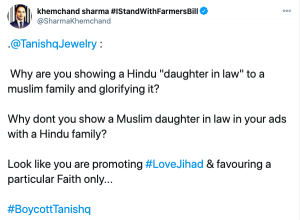 Supremely divine
Advertisement
Once every year, the resplendent lord Ranganathaswamy of the famous Srirangam temple dons a checked lungi and eats typically north Indian food like roti and jaggery. Why? To do what good lovers do. To appease a beloved, he wronged a long time ago. Bizarre as it may sound to some, this lungi-donning ritual is an annual affair that is part of the Vaikuntha Ekadasi festivities occurring during the Tamil month of Margazhi (December-January).
The first 10 days of the festival is called the Pagal Pathu Utsavam, which involves taking the Lord Vishnu in a ceremonial procession to his Muslim consort's 'quarters', where he serves her for the entire duration. Called Thulukka Nachiyaar (translated literally as 'Tuqluq princess'), this unique character resides in the temple to justify a popular legend. Although she is faceless (iconic representations are forbidden in Islam), she is represented by a 400-year-old Tanjore painting.
Related news: Tanishq store attacked in Gujarat a day after trolled ad withdrawn
In this celebration, the legend of a Muslim sultan's daughter who fell in love with Vishnu is recounted and kept alive. To please his daughter, the sultan apparently had the temple idol stolen for her. Vishnu's devout worshippers, however, managed to get it back and restored it. Heartbroken, the young princess came to the temple hoping to see her lord again, but was denied entry. She died weeping in viraha. A mortified Vishnu bid his devotees to accept, elevate and respect her as his consort thereafter. It is to expiate for the wrongdoing of his followers that the lord spends 10 days in her service each year.
Supremely human
Surely, this story is an idealisation, an embellishment, a medium for a message, as myths normally are. But so are advertisements. The ground realities are different, but even when one moves the scale from the supremely divine to the supremely human, love among interfaith individuals abound.
This next story, for instance. This one is set far from the grandeur of a rich temple and the sanctions of divinity in Meerut, Uttar Pradesh – the heartland of love jihad vigilantism. The protagonists of this story are not divine, but what they have in common with the unlikely consort are the copious tears.
Mohit Nagar (26) and Amreen Malik (22) are newly-weds, having married only in July this year. Under normal circumstances, this young couple should have been enjoying their honeymoon, but right now they are just about catching their breath. They are finally together after a tumultuous decade of family resistance, blackmail and violence.
Related videos: Love Jihad: BJP's polarising weapon
In a telephonic conversation that lasted almost an hour, Mohit told me the circumstances in which he and Amreen first met, how they slowly fell in love, and how they surpassed many difficulties to finally be able to live together. Both sets of parents still estranged, but Mohit's family is beginning to come around. He wants to ensure Amreen's acceptance, but without changing her identity. "If leaders and celebrities like Sachin Pilot and Manoj Bajpayee can have Muslim wives and be accepted for it, I don't see why we shouldn't be."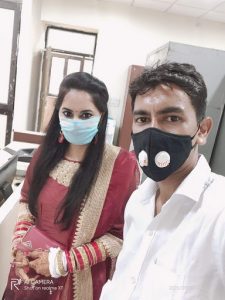 The man who helped them get married under the Special Marriages Act was Asif Iqbal, co-founder of Dhanak of Humanity, a not-for-profit organisation that champions and supports interfaith and inter-caste marriages. When the couple eloped, he housed Amreen at their shelter, supported the couple through the lockdown, and facilitated a High Court intervention that allowed the wedding to take place in the middle of the pandemic.
Between 2012 and 2020, they have facilitated at least 1,778 such cases and they pride themselves for the fact that in not even one of these cases has the religion or name of the persons in question been changed – the fear that drives the idea of 'love jihad'.
Iqbal says, "As far as love jihad is concerned, the shared data tells the truth. None of the couples associated with Dhanak have changed their religion and name for the sake of or after the wedding. The truth is that men want to control women in the name of religion and culture, whatever their religious identity. In the case of our country, it is the Hindu men who are vocal due to various socio-political reasons; similarly, in Muslim-dominant countries, they want to control and 'protect' their women from men of other religions."
Between myths and truths
Echoing Iqbal's views, the idea of 'love jihad' has been called a myth, a falsity by scholars, courts of law and central agencies alike. But in many a Hindu mind, the threat of Muslim men luring gullible Hindu women and forcefully converting them is real. Much like the Ramayana and Mahabharata are real. There are points and counterpoints on both sides, and sometimes, the lines between myths and truths are hard to draw.
The need to retain purity of tradition or to return to an ancient, 'purer' way of being often drive the behaviours of the faithful. Tales of gods and heroes serve as moral and behavioural compasses and we are expected to emulate them. If that is indeed what it takes to create a successful 'Rama Rajya', would it allow for the emulation of lord Vishnu's rather uncommon behaviour? Can the sanctity of stories be selective? Should some tales be more equal than others? Mind you, this is not an obscure ritual from some obscure corner of the country. This is one of the most revered seats of Vaishnavism, managed by a very pious group of Hindus. If there is space for a Muslim partner in the 'house' of a Hindu god, surely there can be place in the collective minds of the Hindu community for interfaith relationships.