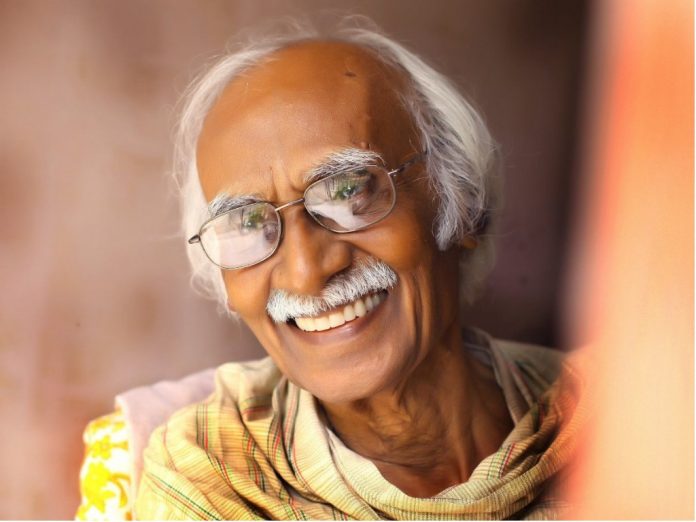 Renowned Tamil writer Ki Rajanarayanan has a huge fan following in Tamil Nadu. But when he came up with a new work, he decided against getting it published. He instead has been circulating it through WhatsApp groups to escape the scrutiny of the government, which has been criticised in the book.
The work titled 'Andarandapatchi', initially intended to be published as a book, is available to anyone interested in reading it. In the beginning, Rajanarayanan made it available only as a written manuscript and its photocopies were passed from one reader to another in a closed circle. But, he wanted to make it available to a larger audience. So, the manuscript was converted into PDF and is being circulated in WhatsApp groups. Those interested in reading the work can download it and take a printout.
But why did Rajanarayanan opt to give his work as a written manuscript when readers are ready to pay for his printed book?
Advertisement
"I first wrote it as a 250-page book," says Rajanarayanan. "After reading it, I found many of the things were utter rubbish. So I self-edited it. I also had a fear that this book could be banned by the government, since I have criticised them in some places," he says. "I, therefore, decided that this work should reach the readers not as a printed book but only as a manuscript."
This kind of an initiative is, perhaps, a first not only in the Tamil literary world but for any regional language across the globe.
Rajanarayanan says he has taken a leaf out of poet Byron's book in circulating the manuscript. "For many years, Byron's letters to Emma were available only as typed manuscripts and not as printed books for fear of getting banned. So, I, too, picked on that idea," he says.
A pioneer in promoting regional dialects
Ki Rajanarayanan was the first to start capturing the beauty and essence of the arid land of Kovilpatti in Thoothukkudi district. That became a new kind of genre called 'Karisal Kaattu Ilakkiyam' in Tamil. Writing in a dialect spoken in Tirunelveli, his style is considered as 'munnathi yer' (literally, a forerunner) in 'vattaara vazhakku padhaippugal' (regional dialect works).
Rajanarayanan, who recently turned 98, has written nearly 30 books. His major works include novels such as 'Gopallapuram' and 'Gopallapurathu Makkal'. He won the Sahitya Akademi Award for the latter in 1991. He also served as a visiting professor at Pondicherry University in the 1980s.
Fondly called as 'Ki Ra' and 'Nainaa', Rajanarayanan is also known for his treatment of sexual topics in his writings. Without any vulgarity or obscenity, his stories often create an awareness about physical intimacies and turn out to be materials for sex education.
Along with independent folklore researcher Kazhaniyuraan, Rajanarayanan published story collections such as 'Naattuppura Kathai Kalanjiyam' and 'Maraivaai Sonna Kathaigal', which have become a repository for researchers.
The work 'Andarandapatchi', which has also been written in a folklore style, talks about a meeting between a princess called Alli Rani, a Mahabharatha character, with Andarandapatchi, a heavenly bird, during which they discuss about various topics like sex and human greed.
A continuation of traditional story-telling
In his new work, Rajanarayanan, who considers himself as a 'storyteller' rather than a writer, has discussed local story-telling traditions in Tamil Nadu and how community elders educated young boys and girls on sexual matters.
In olden-day Tamil Nadu, not only the elders, even middle-aged men and women had copious amounts of stories to share and laugh about. During the pre-Independence period, people had a lot of time, which they spent in conversations with fellow villagers by the side of a pond or on a temple verandah or under a banyan tree.
There was also a culture of the groom being allowed to stay with elderly men separately and the bride with elderly women a day before marriage. They would indulge in conversations, known as 'arattai' in Tamil. There would be discussions on various topics, but, in between, they would also talk about sexual intimacies using double entendre and through statements with hidden meanings. This was mainly to educate the bride and the groom on how to consummate the marriage.
In some other regions, after the marriage, the couples would be sent to temples at night, not to worship but to observe the sculptures and thereby shed their shyness and inhibitions.
"Like in Tamil Nadu, in the north, too, there are such traditions. The Gondwana tribe is the root of the Dravidian tribe. They are the second-largest populated tribe in the country. Anthropologist Verrier Elwin did extensive research about them and brought out a publication titled 'The Muria and their Ghotul'. The term 'ghotul' means a dormitory. They have separate dormitories for boys and girls and are supervised by elders. There, too, they are taught about sex before marriage," says Bhakthavatsala Bharathi, anthropologist, who did a research on the writings of Rajanarayanan.
In 'Naanjil Naadu' (Kanyakumari and surrounding regions), too, there was a practice called 'Sarvaanga Savaram', in which a male barber would visit the groom and, while removing hairs in the private parts, gauge the health of the groom and inform about it to the bride's family, says Bharathi.
Chennai-based media practitioner Gnana Bharathi, the first reader of Rajanarayanan's latest work, says that both men and women should read it to know how sex education can be taken to children.
"Today, we teach about 'good touch and bad touch', mainly to girls. It should also be taught to boys. When the writer compares humans with birds, we start to realise how humans became so mean. So, this work teaches us some lessons beyond physical intimacies," she says.