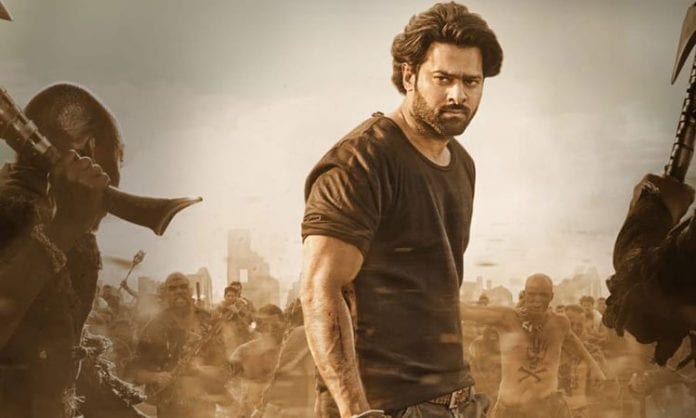 Movie: Saaho
Genre: Action
Actors: Prabhas, Shradda Kapoor, Arun Vijay, Jackie Shroff, Neil Nitin Mukesh, Mandira Bedi and others
Direction: Sujeeth
Language: Tamil, Telugu, Hindi.
There is this one fleeting sequence in Saaho that only faintly reminds you of the magnificent Baahubali – the one where people behind antagonist Devaraj (played by Chunkey Pandey) pick up the heavy chains to lift and unveil the logo of the Roys behind Prabhas, making it a backdrop for his proper 'introduction' as someone for whose position Devaraj has been lusting for.
But that's about it. Despite being made on a whopping budget of ₹350 crore, Saaho comes nowhere close to the magnum opus that catapulted Prabhas to superstardom.
Advertisement
Also Read: In an encounter's triumph, Batla House fails to infuse fresh narrative
In Saaho, Prabhas traverses strikingly different identities – he starts off as Ashok Chakravathi, the undercover cop in Mumbai on a mission to solve series of robberies and before interval we know that he is the robber apparently working for the Roys.
The Roys of the fictitious Waaji city run the biggest empire in the world – involving ₹2 lakh crore – and built on rivalries, treacheries, gunshots and bloodbath. By the time the film is over, we know that Prabhas is part of the Roys family – the man who is all set to take over after vanquishing all his enemies.
The series of twists that lead to this final revelation is peppered by a vast ensemble of cast which fail to leave a mark and long drawn out action sequences that leave the viewer exhausted.
Even Shradda Kapoor, who is introduced as a tough cop, wilts into yet another run-off-the mill heroine of Tamil cinema as the film progresses – leaving it to the hero to rescue her from difficult circumstances.
Her portrayal is clichéd in that she has a backstory to explain or justify her toughness. A tough male cop is a hero but a tough female cop could have been a victim. Sigh! And this is only one of the many clichés the film is riddled with.
Also Read: 'Nerkonda Paarvai' faces flak for wrong portrayal of bipolar disorder
Mandira Bedi – the legal advisor for Roys – who is actually betraying them – fails to impress as the villain. Among the many other villains, the main antagonist Chunkey Pandey as the ruthless Devaraj – easily stands out.
The impressive ensemble of cast includes big names like Jackie Shroff, Arun Vijay, Neil Nitin Mukesh etc., but most of them pale into insignificance in front of Prabhas – the larger than life hero who can manoeuvre his way out of any difficulty, however impossible.
The film takes its action tag bit too seriously – even the romance or the comedy sequences are laced by action. But honestly, comedy and romance sequences stick out like a sore thumb in this purportedly out and out action movie.
Saaho is for those hard-core fans of Prabhas. The rest can afford to miss.