Micheal*, a software engineer in Chennai, had invested ₹2,500 in a company, named RocketHub, in March 2020 after his friend made him register with the firm. Agents told Micheal that he would get $4 (₹250) for every fourth person who signs up from his referral and the company would keep crediting the amount to his e-wallet.
In a few days, Micheal had received ₹1,000 on his e-wallet and began persuading his friends to invest in the company. However, when he had no other friends who would join in, Micheal decided to withdraw the money. But it came as a shock to Micheal, when he was informed that he could not withdraw the money immediately.
As Micheal was suspicious of the company's activities, he came to know that some of his friends too had faced the same problem. So, he immediately deleted his account. "Even my friend, who made me join in, was not sure of the company's activities and began to panic," Micheal said.
Advertisement
Both Micheal and his friend had fallen prey to an investment scam called 'referral scheme'.  In the wake lay-offs due to the COVID-19 crisis, many people have started looking for avenues to earn money quickly without realising that such fraudulent companies have been cashing in on the opportunity.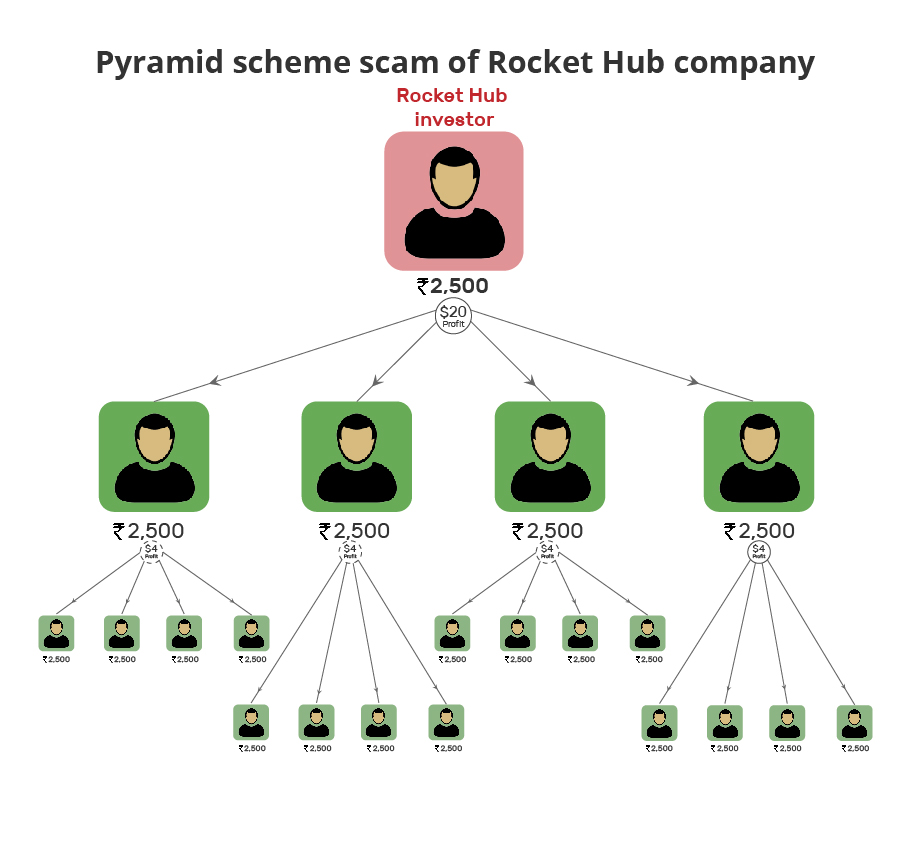 When The Federal first checked the website of RocketHub, in which Micheal had invested, on 30 June, it read that RocketHub was a crowdfunding platform based in California. Within 10 days, the website had a new look and read that it was a "gifting platform". Since July 11, the website is non-operational.
Since then, another investor, Vamsi Krishnan, is having a hard time. Over 100 people had signed up from his referral and Krishnan, himself, had invested ₹2,500 in RocketHub. He had got ₹90,000 on his e-wallet, of which ₹40,000 was charged for upgradation of the company's website.
Related News: How app-based lenders are harassing, sucking borrowers dry
Currently, he has only ₹5,000, after paying those who had signed up from his referral. Krishnan is yet to pay many people. "All those who had introduced me to RocketHub have switched their phones off. A lot of my referrals are constantly asking me about their money. I'm sure none of those who had registered in the past 20 days got back a penny."
Since the company seemed to have been using New York-based global crowdfunding company RocketHub's brand name, The Federal reached out to the US-based company.
However, it completely disassociated itself with RocketHub.club. "We are in no way affiliated with rockethub.CLUB or rockethub.live and we recommend you report this to your local authorities and discontinue using that site immediately… (SIC)," the company said in a statement.
Even the legal documents provided by RocketHub.club had discrepancies. The company claimed that it had received the Retailers Association's Skill Council of India (RASCI) certificate on March 25, 2014. But the same certificate had another date (December 4, 2019).
Moreover, the company had blurred a portion of the certificate as it did not want to reveal certain details. The certificate said it was issued by Brian Meece, who was the founder and former CEO of New York-based RocketHub.
RocketHub.club had used the pyramid scheme of selling products and offering services through referrals. The company would then pay commissions based on the number of referrals one makes. People who invest in these companies during their launch get high returns. But new referrals face losses.
Pyramid schemes are similar to Multi-Level Marketing (MLM), except for the fact that there is an exchange of product or service in MLM. But RocketHub.club neither sold any product nor offered any service. In fact, pyramid selling is illegal in India, as per RBI guidelines.
A drop in the ocean
The Federal also came across platforms like V3, Forsage, Pearlvine, and Crowd1, which were all into similar business. While both Crowd1 and Forsage are based in other countries, V3 is Madurai-based. The Financial Sector Conduct Authority (FSCA) has warned people of not to invest in Crowd1, which is based in Spain.
Forsage has a virtual decentralised setup and trades with cryptocurrency Ethereum. But, the total number of investors and the investments made in these companies could not be found.
The Tamil Nadu Cyber Police said they had not received any complaint, so far, against these companies. "First, someone needs to lodge a complaint so that we can file an FIR. Then, we will conduct a probe to find the level of fraud and understand the modus operandi," Shashank sai, deputy commissioner, Mylapore, said.
Krishnan said investors refrained from lodging complaints as they had feared that legal action would be taken against them. "Though we had several doubts when we began to invest in RocketHub.club, none of us asked the office-bearers how would they pay us in the long run," said Krishnan, adding that people who had invested initially knew that the company would shut down soon. "They cashed in the opportunity."
The deadly trap
Moreover, such cases have even forced millennials to end their lives. After Haryana-based company e-biz.com allegedly swindled investors, four engineering college students in Tamil Nadu's Tirunelveli had died by suicide in 2010.
"I still remember how they (the four students) persuaded other students to sign up. But I didn't," said Mathi*, their former classmate. "They went to the extent of even convincing parents and collected a few lakhs in the area. But, things turned worse when the people came to know they had been cheated."
"All those who had signed up from the referral of the four students started going to their homes and threatened them to pay their money back. As this continued, all four died by suicide together," said Mathi.
Also, these platforms use YouTube and WhatsApp to reach out to people. For instance, V3 app, run by Madurai-based VRAS Healthcare Pvt Ltd, asked people to invest ₹18,000 initially and watch six YouTube videos every day. The investors were then asked to persuade six more people to do the same and told that they would get ₹12,000 a month, after seven months.
Related News: Should you invest in Floating Rate Savings Bonds 2020 (Taxable)?
SV Vijayaragav, the owner of V3 app, claims that it had around 5,000 users before the lockdown and currently has nearly 75,000 users. However, he couldn't explain the business model. When asked what a healthcare company had to do with videos, he said clients were given Siddha medicines for "good health" and watched mental health-related videos.
But, when The Federal accessed the registrar of companies (ROC) documents of VRAS Healthcare Pvt Ltd, the business included manufacturing pickle and doughnuts. There were several other objectives in the "Memorandum of Association" that had nothing to do with healthcare.
In fact, some portions of the documents was plagiarised too. Since its inception in 2018, the company hadn't furnished its financial statements as mandated.
Though these pyramid schemes tempt the people who had been laid off or are unemployed, one needs to remain alert, warn cyber experts. They say data theft is another major concern. "Hackers can also acquire bank details while using e-wallets. It is risky as there are high chances of getting cheated," said Shanmugavel Sankaran, a cyber expert in Chennai.
(*Names changed)