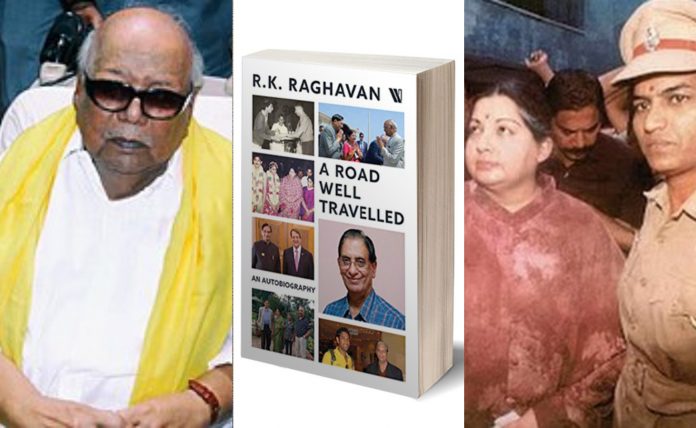 In the second portion of a three-part series, senior journalist and columnist R. Rangaraj says the 219-page book, 'A Road Well Travelled,' by R.K. Raghavan makes for an interesting read as it covers a gamut of his assignments, some extremely sensitive, including political pressure during his career. Read the first part here: Part-I: 'Dravidian parties were complicit when LTTE had a free run'
R.K. Raghavan, former head of CBI and IG Intelligence, Tamil Nadu, has described in his book his harsh encounters with the DMK and AIADMK governments in the state, including former chief ministers MG Ramachandran and J Jayalalithaa.
The book 'A Road Well Travelled' was released on October 26, 2020.
"When the DMK came to power, I was ousted twice from the same job (as Inspector-General of Police, Intelligence)," writes Raghavan, while he also fell foul of the AIADMK governments under M G Ramachandran (MGR) and J Jayalalithaa for not obliging them on the issue of corruption.
Referring to his earlier stint in the state in 1977 as Superintendent of Police of Ramnad West district at Madurai, Raghavan says about the AIADMK men that "while they were non-interfering and restrained to begin with", in course of time, they breached many canons of propriety, wanting this favour or that.
"There were innumerable requests for transfer of police personnel, especially at the police station level… There was an unpleasant episode during this time when I registered a criminal case against two local AIADMK lawmakers (MLAs) for their riotous behavior. I was quite convinced of the facts of their misconduct and ordered their arrest. I cannot quite recall how they got bail.
Related news: Jayalalithaa's 'White House': The cynosure of cadre, rivals and public eyes

"The matter went up to chief minister MGR's office. Mr Ramiah, MGR's PA, called me from Chennai. He was brazen enough to admonish me, saying I should not have done what I did, without consulting the chief minister. I ignored his interference and stuck to my guns. After the CM's PA called me once more on this, I thought it was time I reported him to the IGP. I called Mr Stracey and gave him an account of the episode. His response was swift and amazing. 'When that chap calls you again, tell him that it was I who ordered the arrest.'
"Can you expect any police chief these days to react the way he did and take on the onus for what a lower official has done? … This is the tragedy of our current criminal system. There are very few police chiefs who can stand up to pressures of this kind. I can't blame them as the system has deteriorated beyond rescue," Raghavan points out in his book.
The elections in early 1989 resulted in the DMK coming back to power, and Karunanidhi assumed office as the chief minister. There was a lapse of four to five days (before the swearing-ceremony).
"During this interregnum, almost all officials met Karunanidhi in order to curry favour. Neither Rangaswami (DGP) nor I met Karunanidhi, solely on grounds of propriety. I was eased out of Intelligence within hours of the swearing-in of the new government.
Related news: TN may convert Jayalalithaa's home into chief minister's official house
"I cooled my heels for a few months without a posting — this was called 'compulsory wait' in official parlance, and many governments resorted to this to show their dislike for an officer — until I got my long leave. I took this cavalier treatment in my stride, and shortly thereafter, went to the US to pursue studies in criminal justice," Raghavan revealed.
Having been removed from the post of IG Intelligence in 1989 by the DMK government, he turned down the offer of the DGP to appoint him as IG Intelligence in 1991 on his return from a sabbatical in the US. "There was a likelihood of the DMK winning the election, and he and his coterie had never trusted me for this extremely sensitive job," he explained.
One of the reasons for "the DMK's reservations about me was possibly my being a Brahmin," Raghavan wrote, adding, "Casteism still dominates many bureaucratic assignments."
"I knew that if I agreed to take charge of this important and sensitive portfolio, the moment the DMK came to power — fortunately, it did not, in 1991 — I would be moved out. Hence, I desired a non-controversial, low profile job. I was therefore made Inspector-General, Forest Cell," Raghavan added in his book.
Related news: TN Guv issues ordinance to take temporary possession of Jayalalithaa's residence
Raghavan says his good friend C L Ramakrishnan was retiring as the head of the Directorate of Vigilance and Anti Corruption (DVAC) in early 1993, and recommended him as his successor. "Jayalalithaa was the chief minister then. This was a turning point in my career. I initially held the rank as Additional Director General. I was later to become full-fledged Director General.
"There was large-scale corruption in the government at the time. Some ministers were certainly involved, although sufficient evidence was not forthcoming. There was the case of a secretary to the government who was close to an associate to the chief minister (Putting two plus two together, Raghavan is probably referring to V K Sasikala as the associate).
"He was caught by Income-Tax authorities for possession of large sums of unaccounted cash. On the basis of communication from the IT department, I registered a PE (Preliminary Enquiry) and found solid evidence at least for a departmental inquiry. Chief Minister Jayalalithaa was tipped off by her notorious associate. She sent for me, and during the discussion, I convinced her that the civil servant concerned was indeed corrupt. Either he pocketed all the money received from different private companies or shared it with her associate. I sent a strong report to the government, placing all the facts unearthed by the DVAC," explains Raghavan.
This could have normally ended in a dismissal on the basis of a departmental inquiry without having to go a court of law, where standards of proof required were much higher. "I do not think any action followed in this particular case because the secretary-level officer concerned had huge clout. My belief was that apart from being a conduit, he enriched himself," states Raghavan.
Related news: MK Stalin: Does he measure up to his father Karunanidhi?
"Most distressing was that the government could sit on any vigilance report for an indefinite period of time… Everything in the air was conducive to dishonesty. Jayalalithaa was not hostile to me. She actually graced my son's wedding — taking everyone by surprise. It is a pity that our relationship soured, mainly because of the investigation that the DVAC launched after she lost power in 1996 and the DMK assumed office."
Raghavan adds, "I honestly thought I would be removed from the DVAC the moment Jayalalithaa's arch rival Karunanidhi assumed office as chief minister. He had done this to me twice earlier when I was IG Intelligence during President's Rule and after it gave way to the popular government. In 1996, Karunanidhi probably made some enquiries about me as soon as he assumed office. My credentials seemed to convince him that I would do a professional job while probing Jayalalithaa."
"Following the many petitions received by me and the government about her acquiring huge assets while in office, the DVAC registered a regular case. This was the start of an exciting phase in my career until I moved over to Delhi as CBI Director."
Raghavan writes, "The Jayalalithaa investigation was tortuous, involving examination of hundreds of witnesses and documents." Nallamma Naidu and Ganesan did most of the investigation. "We took her permission to carry out the search (of her luxurious Poes Garden residence after her arrest by the CB-CID) … I still remember that the permission given by her was in a beautiful hand, even better than a professional calligrapher.
Related news: I-T starts attaching Jayalalithaa's former aide Sasikala's properties
"We were scrupulously lawful at every stage of the investigation. I left Tamil Nadu after the charge sheet against Jayalalithaa and her associates. Karunanidhi and a hitherto extremely hostile chief secretary were extremely satisfied with the way we proceeded with our investigation and concluded it swiftly."
Raghavan believes it was one of the high-points in his career, "a matter of gratification that the DVAC investigation later passed muster with the trial court as well as the Supreme Court of India, which upheld the conviction of Jayalalithaa and others in her adopted family". (This appears to be the case of Disproportionate Assets against Jayalalithaa, Sasikala, among others in which the chief minister was convicted, had to resign and undergo imprisonment in Bengaluru).
Raghavan poses a question about how Jayalalithaa would be rated. "An interesting thought. How might posterity assess Jayalalithaa? She came up the hard way. She was extraordinarily intelligent and very quick on the uptake. She genuinely cared for the poorest of the poor which the lower strata in society still talk about. But alongside this noble quality, she was dangerously reckless, and paid the penalty for it."
"My field postings in Nagapattinam and Madurai and my assignment at the Crime Branch police taught me how to cope with political pressure. These days, police officers cannot get away with what I did and survive un-bruised. In those days, intransigence was punished with transfers or an indefinite wait for the next posting. Things have changed for the worse. Any non-conforming civil servant is threatened with anonymous complaints or downright physical harm. This seems to be truer of states in the north than in the south. This may just be an impression."
"A lot depends on the steel and integrity of individual officers. If one is fairly courageous and totally strait-laced, there is just a chance that street-level politicians will not dare threaten you. But if you have a lot of skeletons in your own closet, you have to compromise and go against your conscience," sums up Raghavan.