Maverick RGV's latest shocker: Caste violence gets an emotional makeover
By making pulp thrillers based on real-life incidents of caste killings, are movie directors ending up trivialising a serious social issue? Isn't it morally repugnant to turn caste crimes into stories of familial love and portray them as family dramas?
When a movie, based on a true incident of honour killing, attempts to tell the story as 'paternal love gone wrong', will it not amount to ignoring the nuances of caste dynamics and the key fact that discrimination and inequality are at the core of such violent attacks?
The maverick filmmaker Ram Gopal Varma (RGV) has once again set off ripples in social circles by announcing a new movie based on a caste killing that took place in Telangana's Miryalguda town two years ago. A Dalit man was hacked to death in broad daylight by contract killers sent by his pregnant wife's father who disapproved of their marriage.
Varma shared the first poster of the movie, titled "Murder", on Twitter. There was an instant uproar on social media, with a majority of the users deriding the filmmaker for his "insensitive" attempt to profit from a human tragedy.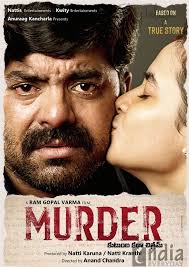 RGV, as the producer-director is popularly known in film circles, announced that his film will be a "heart-wrenching" story about the "dangers of a father loving a daughter too much."
Such positioning of the theme is problematic. What happened in Miryalguda was a horrific caste crime targeting a Dalit youth. The killing was ordered by the family of his wife who belongs to the upper caste. By projecting what was essentially a caste atrocity as a "father-daughter loving relationship", RGV seems to have stepped into a morally indefensible territory.
Defends the idea
RGV, who is more known for the pre-release controversies surrounding his films than for his craft in movie-making, never misses an opportunity to take a contrarian view and give an elaborate spin around it. His social media rants, deriding traditional social values and established practices, carry a certain shock value.
He chose to release the poster on Father's Day, hinting that the movie would focus on the vulnerabilities of the girl's father who had ordered the killing of his son-in-law. In real life, the father, a local businessman, committed suicide in March this year, more than one-and-half years after masterminding the heinous crime.
"This is going to be a heart-wrenching story based on the Amrutha-Maruthi Rao saga of the dangers of a father loving a daughter too much. Launching the poster of a sad father's film on HAPPY FATHER'S DAY," the producer-director tweeted.
Firstly I clearly mentioned in the poster that MURDER is based on a true story and I did not claim it to be the true story ..The news upon which my film is based upon is in the public domain for years and has been acknowledged by the various people involved. pic.twitter.com/Cs5wpJarTR

— Ram Gopal Varma (@RGVzoomin) June 22, 2020
He went on to say that the father's "possessiveness" and his daughter's "arrogant defiance" was behind the incident.
Public outrage
The poster says that it is a 'family-oriented film' based on a 'true story'. However, this has not gone down well with many of the users.
"Pranay Kumar, a Dalit was hacked to death by the killers sent by his wife Amrutha's father Maruthi Rao and uncle Shravan Kumar. This caste atrocity is now being celebrated as a father-daughter 'loving' relationship. What a shame!" said S Ramakrishna, a twitter user.
"It was not love, it is caste pride. It is not a tragedy, it is a premeditated murder in cold blood. You are choosing to erase Pranay from the picture. And you are associating Amritha with her father, even after she publicly severed her ties with him," a film critic Sankeertana Varma said.
While RGV may consider himself a maverick who "swims against the tide", he is very much within the mainstream narrative, in this case, wrote another film critic Sowmya Rajendran.
"Caste killings over relationships are not about paternal love – but a violent, rabid desire to maintain social hierarchies. This is also why such crimes receive the support of the public; it's about maintaining the power of entire communities and not just individuals conducting their personal business," Rajendran said.
Related news: Court failed to deliver justice in Shankar honour killing case: activist Henri Tiphagne
The words on the poster paint Maruthi Rao as a "loving" father whose only fault was that he had "loved" his daughter "too much". There's no mention of the prime motive behind the crime – casteism combined with patriarchy.
"Following criticism, the filmmaker has tried to justify the poster by saying that Murder deals with 'moral dilemmas', failing completely to address the systemic violence which leads to such crimes and making it sound as if the 'other side' deserves empathy too.
The attempts to turn caste crimes into stories about familial love are not only dishonest, they are also dangerous. They condone and justify violence in the name of affection," she said.
However, RGV, in his defence, said, "My film meanders around three moral dilemmas: 1) the limits of a father's control over his child. 2) Should a daughter be ignored even if she is presumably ignorant about what is good for her? 3) Can it be justified to take someone's life in order to better someone else's life?
Related news: Inter-caste couple hacked to death in Tamil Nadu's Thoothukudi
I clearly mentioned in the poster that the movie is based on a true story and I did not claim it to be the true story. The news upon which my film is based upon is in the public domain for years."
Similar to TN case
The Pranay murder case is similar to the killing of Sankar, a Dalit youth in Tamil Nadu. The Madras High Court recently acquitted Chinnasamy, the prime accused in the murder of Sankar who was brutally hacked to death after he married Gowsalya, Chinnasamy's daughter.
Maruthi Rao, his brother Shravan and six others were arrested in the case and the trial is still on. Rao, who was released on bail, took his life in March this year. In a suicide note, he apologised to his daughter and asked her to return home and stay with her mother.