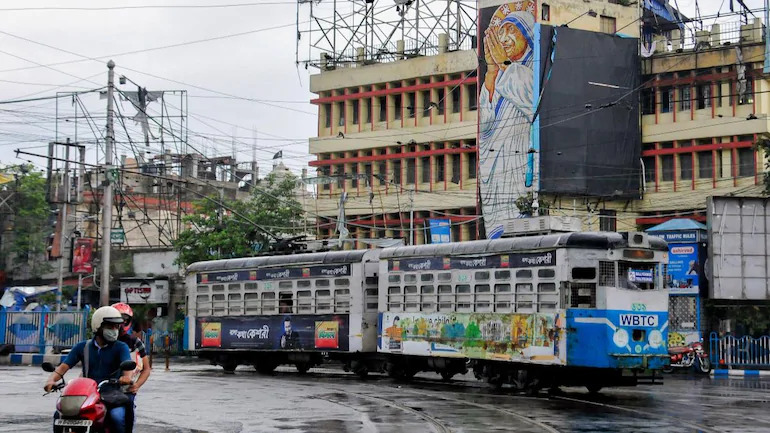 IIT professor wants to know why Kolkata's tram is losing its charm
The city's tram network is dwindling at a time when major European and South East Asian cities have revived their own in the form of Light Rail Transit to fight climate change
Kolkata's identity, its trams – a non-polluting and once-efficient mode of transport – are on a lifeline and an IIT Kharagpur professor is not liking it.
Kolkata's tram network is dwindling at a time when major European and South East Asian cities have revived their tram networks in the form of Light Rail Transit.
Bhargab Maitra, an expert in transport matters and a professor at IIT Kharagpur, said during a discussion on climate change in Kolkata recently that he is keen on conducting "an operational and technical audit of four to five tram routes" to get a grip of issues that have led to decline in popularity of the city's streetcars, The Telegraph reported.
Maitra told the West Bengal state transport department that he wishes to see trams "as an actively operating transportation mode in Kolkata".
While the world talks about climate change, warming and the need to reduce carbon footprint, Kolkata has allowed its most environment-friendly mode of transport to move towards redundancy, thus losing out on an opportunity to set an example in maintaining, if not developing, an efficient and non-polluting urban transport system.
Trams can compliment electrical vehicles (EVs) in reducing Kolkata's carbon footprint and contribute to India's fight against climate change, said experts at the 'Kolkata Climate Vision 2030' talk organised at the British High Commission in Kolkata.
Maitra expressed hope that the trams can be revived with support from all stakeholders. Rajanvir Singh Kapur, managing director, West Bengal Transport Corporation, said that trams are the original electric vehicles and stressed on the need to reconcile environmental and economic needs while reviving the transport system.
The common thought that emerged during the discussion was that trams should not be looked upon as a heritage object, but rather as an active mode of transport in the city.
Also read: How can you help fight climate change? Don't waste food, try upcyling
It is unfortunate that the successive governments in West Bengal have failed to give due importance to trams, reducing the length of its tracks when they should have expanded the network.
About trams in Kolkata
The Calcutta Tramways Company started operations in 1880 with horses hauling tramcars on the city's serpentine streets. In 1905, the tramcars were electrified; in 1943 the trams covered a total distance of 68 km. In 1967, the West Bengal government took over the tramways company and since then the slow-moving, electric streetcar network has been on the decline. The West Bengal government has added only 10 km of track length in all these years, with more than 32 km lines either closed or shut 'temporarily' for construction work. In the 80s, about 300 trams traversed the length and breadth of the city. In 2014, the number was down to 100. Currently, not more than 20 trams ply the city roads on an average every day.
Also read: Think big, act small: Every individual effort can contribute to sustainability
Advantages of tram as a modern transport vehicle
A tram can work efficiently for 60 to 70 years, much more than a bus which may not last more than 10 to 15 years. Tramcars do not pollute the air, can reach narrow lanes with minimum risk of accidents due to its slow speed and accommodate up to 150 passengers at a time. Despite its slow pace, dedicated tram corridors help the vehicle move faster when compared with other fuel guzzlers.