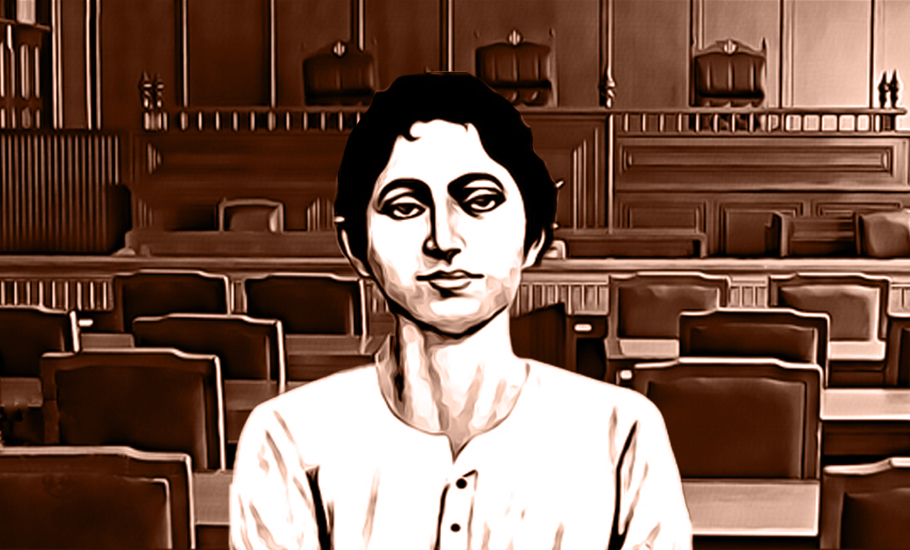 Kalidas Bose: A forgotten hero, and an unlikely warrior of India's freedom struggle
Kalidas Bose was my grandfather. As his youngest grandchild, I was his favourite. Who was Kalidas Bose? One might ask. A Google search would return a few results. His story, however, remains untold. He was one of the unlikely warriors of India's freedom struggle.
Born into an affluent family of lawyers, he joined the profession at an early age. Soon, he earned a reputation as a criminal lawyer, with a strong social standing within the Bengali intelligentsia of Muzaffarpur, Bihar.
Of course, my memories of him as his grandchild are different. I remember him as a quiet person who pampered me with animal-shaped cookies in colourful tin boxes. It was many years later that I got to know the real person behind the stoic and reserved grandfather, who remained reclusive even to his own family members.
The bombing
I remember our house in Muzaffarpur. Spread over seven bighas, it had a public space, Bahar Mahal, occupied by my grandfather for meeting outsiders, mainly clients and other visitors.  There was also an Andar Mahal, the private space, where the women and the children dwelled.
It was in 1906 that the distinguished family was hit by a turbulence. Inspired by deep patriotic values, two young revolutionaries Khudiram Bose and Prafulla Chaki hurled home-made bombs, attempting to kill a British Judge, Douglas Kingsford. Kingsford was involved in a large number of adverse judgements, leading to the imprisonment and torture of several young freedom fighters.
Also read: Kathal review: A satirical commentary on India's politics, police and the press
On that evening, he had lent his horse-carriage to two British women who were attending a social gathering with him. The young men who did not know of the change in plan hurled the bombs at the carriage, thinking of Kingsford to be in it. In the process, they killed the women, missing the actual target of assassination who was not in the carriage.
The bombing was a shocker. Never before was an act of violence so sharply targeted at the British from the ordinary people. Was this an isolated event? Was there more to it? Was there a mass movement brewing? Quite understandably, the British administration was rattled and it scurried for the hardest of punishment that could serve as an example to deter any future attempts.
The trial
In any case, a trial was set up. In a political context of complete British domination of the courts, there were two Indian public prosecutors but no one was prepared to take up the lost case of defence. I remember my family talking about a defiant Khudiram Bose, who was more than willing to welcome his death sentence by accepting his guilt in the court.
It is under these circumstances that Kalidas Bose took up the role of the main defence lawyer. The first task was to convince a reluctant Khudiram. Kalidas Bose argued with him that if he lived, he could work towards his beloved country's independence. After much persuasion, Khudiram relented.
Kalidas Bose also reached out to other lawyers and eventually together they put forward a case that brought out several important dimensions. The defence appealed on humanitarian grounds, given the tender and impressionable age of the accused and the likelihood of him being led by others.
Also read: 'Vajpayee: The Ascent of the Hindu Right' review: Moderate in wrong party or radical?
There were objections that were technical in content, the fact that the confession taken was under duress. There were questions whether the person who obtained the confession was legally authorised to do so.
An important factor was that of language. Khudiram spoke his mother tongue. The British officials understood it only through translation. The confession on which Khudiram was made to sign was written in English and it could not be established beyond doubt if he understood everything that was written there.
The hanging
Expectedly, the court was in no mood to relent. This case and a further appeal in the Calcutta High court both decided in favour of hanging of Khudiram. He was said to be an adult, a person with education and, therefore, accountable for his actions. There was no discussion regarding the absence of personal motive or a larger ideology
Khudiram Bose was hanged in 1908, at the age of 18. He was cremated soon after and the urn with his ashes was kept Kalidas's house. There are legends that he went to the gallows with a smile on his young face. This image inspired poets to pen songs in tribute to his courage. More importantly, his hanging ushered in a wave of patriotism, motivating young men and women to join the ranks of the revolutionaries in great numbers to resist British rule.
For Kalidas Bose, from the very start, this was a lost case. He was seen as a lawyer trying to defend a 'violent terrorist', who had been turned in by some of his own 'law-abiding' countrymen. Possibly, he took the case up for other motivation. As a recent political commentator has mentioned, 'not all battles are fought to win; some are fought simply to tell the world that there was someone in the battlefield'. Perhaps it was this feeling of resistance to injustice that drove the upright and conscientious lawyer.
Not only had Kalidas Bose volunteered to take the case up, he also reached out to lawyers in Calcutta to create a formidable case in defence, risking not just his social capital and reputation, but a sizable portion of whatever money he had earned through years of established practice.
The repercussion
Very soon, he was socially and economically targeted and ostracized. He lost his regular clients, who now saw him as a dangerous and untrustworthy man. Others did not want to invite the wrath of the Judges, who were mostly British, by engaging Kalidas Bose. Clearly, no Judge was expected to deal with him only going by the merit of the case. He had defended a person who had killed their own.
None of these affected Kalidas. While the urn was lost in the devastating earthquake of 1934 that demolished a part of the house, the spirit of resistance lived on. Over the years, Kalidas became increasingly committed to the freedom struggle in his own ways. He supported revolutionaries not just with legal assistance, but also helped with their family finances.
As expected, his fortunes gradually dwindled over time. I remember how we transitioned from living in a palatial house to adopting a frugal lifestyle. Our power connection was cut off as the family could no longer afford electricity for the large house. I recall the absence of lights and fans, with the switchboards serving as a reminder of their former presence.
Also read: India at Cannes 2023: From Aishwarya Rai's silver hood to Anurag Kashyap's Kennedy
I am told that the education of my father and his three siblings suffered as they no longer had the financial wherewithal to afford the substantial fees for high-end education. They somehow managed to complete a basic education and subsequently started earning to contribute to the family's finances.
In memoriam
Cut to today, I write this in memory of the young Khudiram and the then middle-aged Kalidas Bose, my grandfather. They went outside their comfort zone. They risked their reputation, careers, their well-being, their future, and their lives.
They resisted because they believed that it was important to call out what was blatantly unjust. They knew that they would perhaps not live to see the fruits of their sacrifices. That did not deter them. They knew what they were doing was more important than worrying about immediate consequences, however pleasant or harsh.
I hope that knowing and revisiting this story will give a new lease of life to the memories of courage that we were capable of demonstrating against a powerful force. I hope that these stories, now in oblivion, remind us of our responsibility towards these people and their vision of a truly independent India. I earnestly hope that the generations to follow remember these stories to be worthy of this hard-fought independence. For they have to wage a new war for freedom — a battle against poverty, inequality, and the divisive forces that seek to divide us.
Ipsita Sapra is an Associate Professor and the Chairperson of the School of Public Policy and Governance at the Tata Institute of Social Sciences (TISS), Hyderabad