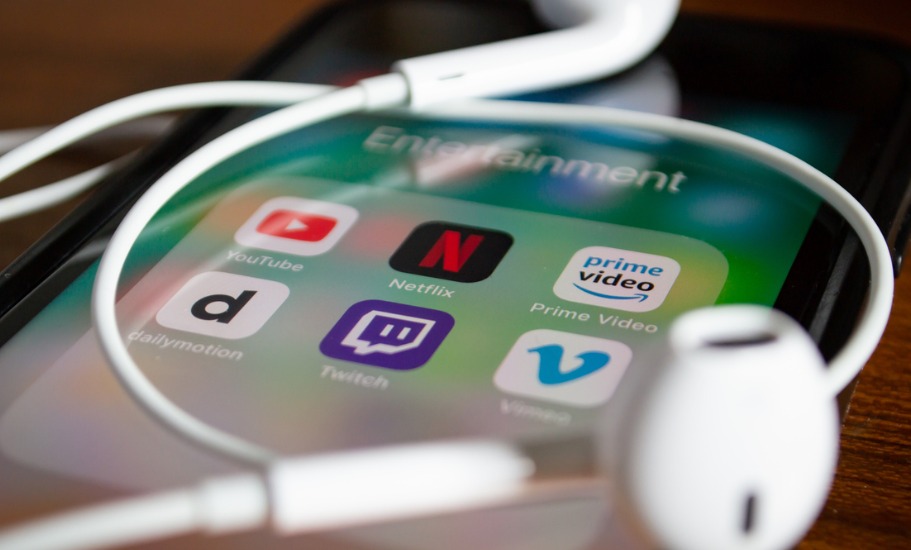 Filmmakers make gains on OTT platforms, leave theatres in the lurch
the decision by the Kollywood film producers' council of releasing movies on OTT platforms has put theatre owners in a fix. While theatre owners allege OTT releases will affect their business, producers are stressing it will protect many small producers from going bankrupt.
One of the major entertainment hangouts which has been affected heavily due to the lockdown forced by the COVID-19 pandemic is the cinema theatre.
The closure of movie halls has not only taken a toll on the happiness quotient of movie goers, but also rendered jobless several people associated with film theatres, like the sweepers, parking executives, security guards, snack suppliers, etc.
Adding salt to the injury, the decision by the Kollywood film producers' council of releasing movies on Over The Top (OTT) platforms has put theatre owners in a fix. Production house 2D Entertainment has even released its film 'Ponmagal Vanthal', starring Jyothika, on Amazon Prime on May 1. Made at a budget of ₹3.5 crore, the film was sold to Prime for somewhere between ₹7 to 8 crore, as per industry sources.
"If the movie was released in theatre and had become a super hit, it could have collected a revenue between ₹13 to 15 crore. If the film had turned out to be an average hit, it still could have earned around ₹6 to ₹8 crore," said Thirai Bharathi, a film journalist.
Helping small budget films
While theatre owners allege releasing movies on OTT platforms will affect their business, the producers are stressing that it will protect many small and medium producers from going bankrupt.
"If 'Ponmagal Vanthal' was released around March end, it could have occupied the theatres in April, and the film could have gone to the OTT platform in May. But the film was not released due to the lockdown. So the producer had already lost box office revenue," said Kalaipulli S. Thanu, a big budget film producer, in a self-explanatory video on his YouTube channel.
"But the film's producer had already signed a deal with the OTT platform. If the movie was not given to them on time as per the agreement, the producer would have lost that money too. So in order to save the producer, the film was released on OTT. The media exaggerated the amount given by Prime," he said.
Related news: Seven action drama series on the web worth binge-watching
The producers, actor Surya, his wife Jyothika and brother Karthi, are also known for their charitable services through the Agaram Foundation. "If the movie was not released on OTT, it could have stalled their support to the poor at this time of crisis," said Thanu.
However, producers say releasing movies on OTT platforms is only a temporary arrangement to help small budget films, and that they won't give up on theatres.
"Cinema theatres will never see an end. Even in the times of OTT, people still come to theatres. Many big budget films have been released on several OTT platforms the same night they released in theatres. Were the theatres closed that time? No!" said Thanu.
"Whatever technology comes, theatres will survive. We haven't take any policy level decisions that movies should be released directly via OTT. We won't do that," added the producer.
Selling digital rights
The emergence of OTT platforms has created a rift between film distributors and producers, and the former feels digital rights of films should be sold to OTT platforms only after a certain period of releasing.
Thiruvengadam, a film distributor, said such moves (of releasing films directly on OTT) create more friction between distributors and producers, especially at a time when producers are already not respecting the demands of the distributors regarding the digital rights of films.
Related news: Netflix documentary 'Tiger King' stirs up mayhem on social media
"A producer should sell the digital rights of a film to OTT platforms only after 30 days. Likewise, to a channel after 100 days. These resolutions were passed recently. But producers are transferring the rights before the stipulated time," he said.
However, to accept these decisions of the distributors, the producers demand that exhibitors (theatre owners) must screen movies for a minimum 50 days.
Besides, the distributors stand firm on their decision that they will not distribute films released on OTT platforms.
Burden of maintenance
The claim that small budget films will get a new lease of life due to their release on OTT platforms is partly true. However, theatre owners claim they will face shortage of films once the lockdown is lifted.
"Shooting has been halted for over a month. Considering the present situation, no shooting is going to take place for at least next three months. If you release all the movies on OTT saying it will protect small budget producers, what will the theatres do once the lockdown ends?" asked Tiruppur M. Subramaniam, general secretary, Tamil Nadu Theatre and Multiplex Owners Association.
"Actors will become big stars only after their movies become hit on big screens. Theatres are the ones which take these stars to the masses. So they must support the theatres," he said.
Related news: Netflix donates ₹7.5 crore for daily wage entertainment workers in India
Currently, there are about 60 to 80 multiplexes and nearly 600 theatres in Tamil Nadu. The loss that these movie halls will incur can be estimated by the amount their owners need to spend on their maintenance even when they are shut.
"Though the theatres are closed, we have to maintain them. It costs around ₹50 lakh per month to maintain a multiplex, and between ₹5-10 lakh per month for a theatre," said Subramaniam. The theatres will open only when the government lifts the lockdown fully. However, audience are expected to come to theatres at least after three months due to the pandemic scare, he added.
"People will come to movie theatres only after the need for maintaining social distancing subsides. In order to encourage their arrival, we have decided not to increase the prices of tickets and food. But instead, we urge the government to exempt us from paying local body taxes, etc.," said Subramaniam.
Casting, a selling element
Allaying the fears of theatre owners, film journalist Thirai Bharathi said the big budget producers are still dependent on theatres. "As of now, the OTT platforms hesitate to buy big budget films since they cannot achieve the breakeven point. They buy films of only big stars that have already released in theatres," he said.
According to him, 'Ponmagal Vanthal' is not the first feature film that has been released directly on OTT. Films like 'Sethum Aayiram Pon' and 'RK Nagar' were also released on OTT recently.
"Small budget producers invest in movies by borrowing money from financiers at 1 to 2 per cent interest. If they are unable to release their movies on time, the interest itself becomes a burden for them. So most of them depend on releasing their movies on OTT platforms," Bharathi said.
Related news: Pandemic and disaster genre films, shows: To see or not to see
However, there lies a problem. OTT platforms hesitate to buy films that don't have a popular cast. 'Ponmagal Vanthal' got sold since it had a recognisable cast like Jyothika, K. Bhagyaraj, Parthiban and Pandiarajan. Selection of films based on the storyline is becoming rare, he said.
"There are teams for every regional language in every OTT platforms and they decide which film should be bought. Over 700 films are waiting in line for being purchased by the OTT platforms," he said. He expects around 50-70 small budget films to be released on OTT in the next three months.
Better reach via OTT
Anand Ravichandran, director, 'Sethum Aayiram Pon', said releasing a film on OTT directly has better reach.
"We did not make the film for OTT release. But it is true that theatrical release needs big faces and big budget. Realising that, we opted to release the film on OTT. Also, given its storyline, the film needs to be watched with patience, and OTT is the right platform for that," he said.
'Sethum Aayiram Pon', which explores the relationship between a woman and her granddaughter, was bought by Netflix and is now getting rave reviews for its performances and breaking cinema formulas.
"For the audience, OTT is a platform that provides alternative and world class cinemas. But over time, it has started buying commercial movies. They need 12 films in a year from every language. So if a small budget film has a good story, it can be released on OTT. As of now, out of 12 films, most of them have had a theatrical release," said Ravichandran.
Situation in Tollywood
Summers are usually a good time for new movie releases in Andhra Pradesh and Telangana. The big budget movies of leading stars are often scheduled to hit the theatres during the Telugu New Year, Ugadi.
However, the lockdown has now put a question mark over their release as shootings have come to a complete standstill. Few directors are contemplating direct OTT releases while others are willing to wait.
OTT biggies are also keen on cashing in on this growing opportunity. Telugu flick 'Amrutharamam', which was supposed to hit the screens on March 25, could not make it due to the lockdown. But its makers had sold the movie's digital rights to Zee5, on which it starting streaming from April 29.
Producer Allu Aravind, who has several blockbusters under his belt, recently ventured into the OTT platform by launching 'Aha.' Reports suggest 'Aha' will give tough competition to Amazon and Netflix as its subscription rates are on the lower side to attract a larger clientele. Allu Aravind is currently in talks with some of the leading production houses to acquire streaming rights of the upcoming films.
Related news: Trip down the memory lane: Rom Coms to beat quarantine blues
Directed by newcomer Surender Kontadi, 'Amrutharamam', which stars Ram Mittakanti and Amitha Ranganath in lead roles, was initially acquired by Suresh Productions. The film is being touted as "a heartfelt love story based on true experiences."
Until now, Telugu films used to stream on digital platforms only after 50 days of their theatrical release. The 50-day norm, according to industry circles, might be tweaked to help small and medium budget productions that are considering direct release on OTT platforms. Others who have invested heavily and want their films to be savoured through theatrical experience, will wait and watch, provided they can withstand the financial limbo for a few months.
Director Srividya Basawa, whose debut film 'Madha' released in theatres mid-March, barely two days before cinema halls across Telangana were shut, says niche films like hers would hugely benefit by direct release on OTT platforms.
"I struggled for a year to get my film released and at one point, approached both Amazon Prime and Netflix. It wasn't feasible then," the local media quoted her as saying. 'Madha' fetched good reviews and she has been happy with the feedback that she received after the film began streaming on Amazon Prime on April 8.
"I have been seeing social media comments; people are watching films like 'Madha', 'HIT', and 'Palasa 1978' in Telugu, 'Trance', 'Ayyappanum Koshiyum' and 'Driving Licence' in Malayalam, and appreciating them. I think this lockdown period will open up people's minds to new content. There will be more scope for us to explore unconventional films," she says.
Echoing similar views, director Tharun Bhascker exudes confidence that new and brave content would emerge in Telugu cinema. He also foresees writers and directors exploring themes of family bonds, humanity and survival. "This is the time to introspect and look at things we took for granted in life," he says.
However, there are some who argue the growing prominence of OTT platforms might signal the beginning of the end of theatre culture if more movies were to look at direct releases on these platforms.