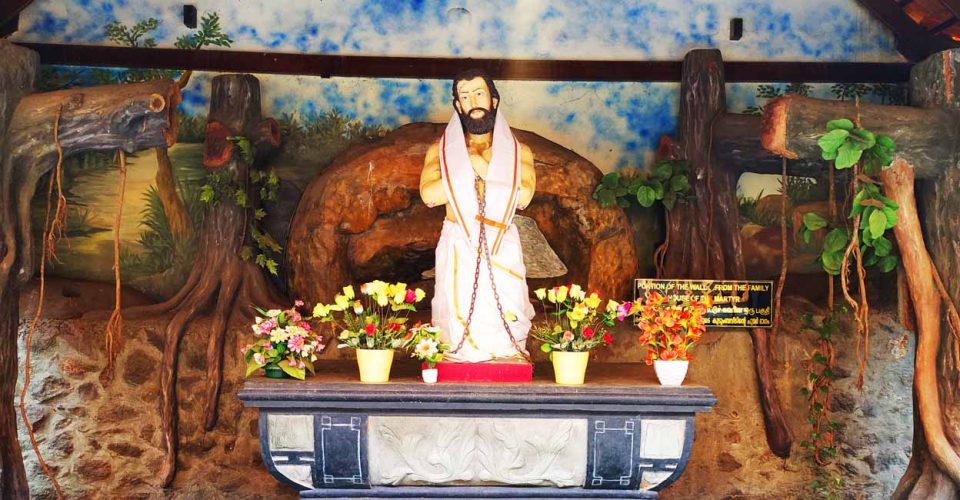 Devasahayam: The journey of a staunch Hindu man to Christian sainthood
Nilakandan converted to Christianity and took the name Lazarus Devasahyam and started preaching on the equality of all people, against the caste differences prevailing between different communities during the time.
On April 23, 1712, a little boy was born to Vasudevan Pillai and Devaki Amma in Nattalam village of Kanyakumari district, which was then under the Travancore kingdom.
They named him Nilakandan Pillai and brought him up as per the Brahminic traditions and practices under the Nair caste to which they belonged, knowing little that the child would one day embrace a religion alien to them, Christianity, and go on to be declared a saint.
Nilakandan learnt Malayalam, Tamil and Sanskrit in his early life. He later went on to learn the shastras, archery, varmasastra (traditional martial arts) and use of weapons in war and was soon recruited in the Travancore army where he excelled.
His valiant efforts earned him the praise of the Travancore king Marthanda Varma who made him an official in the Nilakandaswamy temple at Padmanabhapuram and later as a palace official handling the king's treasury. He is said to have been a staunch follower of Hindu rituals and practices during this time.
In 1741, a Dutch force attacked Travancore and tried to capture it but was defeated. While many were killed in the Battle of Colachel, Captain Eustachius De Lannoy, a Dutch naval commander, was caught and imprisoned.
Later, the Travancore king pardoned De Lannoy on the condition that he serve the Travancore army. De Lannoy went on to win many battles for Travancore.
Also read: Devasahayam, the first Indian layman to be declared a saint by Vatican
As the commander of the army, De Lannoy developed an acquaintance with Nilakandan Pillai and introduced him to Christianity.
Nilakandan soon converted to Christianity and took the name Lazarus Devasahyam and started preaching on the equality of all people, despite caste differences prevailing during the time.
This irked many locals, including the king, who imprisoned him in 1749 on charges of treason and selling state secrets to Europeans.
On January 14, 1752, Devasahayam was shot dead by the Travancore army in Aralvaimozhy forest in Kattadimala, which is currently known as Devasahayam Mount. His mortal remains were interred inside Saint Francis Xavier's Cathedral in Kottar, Nagercoil.
He has ever since been considered a martyr and thousands of people throng the Cathedral to pray and in the hope of miracles.
In 2004, the Kottar diocese, Tamil Nadu Bishops' Council, and the Conference of Catholic Bishops of India urged the Vatican to beatify Devasahayam as he was an inspiration to many and the head of the Catholic Church obliged. Devasahayam was declared Blessed on December 2, 2012, in Kottar, 300 years after his birth.
In 2013, a woman in her seventh month of pregnancy testified to a "miracle", saying that her foetus, which was declared "medically dead", started moving after she prayed to Devasahayam. The Vatican accepted this and recognised Devasahayam for sainthood.
While clearing Devasahayam for sainthood in 2020, the Vatican dropped 'Pillai' from his name, and referred to him as "Blessed Devasahayam".
On Sunday, May 15, 2022, Pope Francis canonised Devasahayam as a saint at a canonisation Mass held in St Peter's Basilica in the Vatican. Thus, he is the first Indian layman to become a saint.