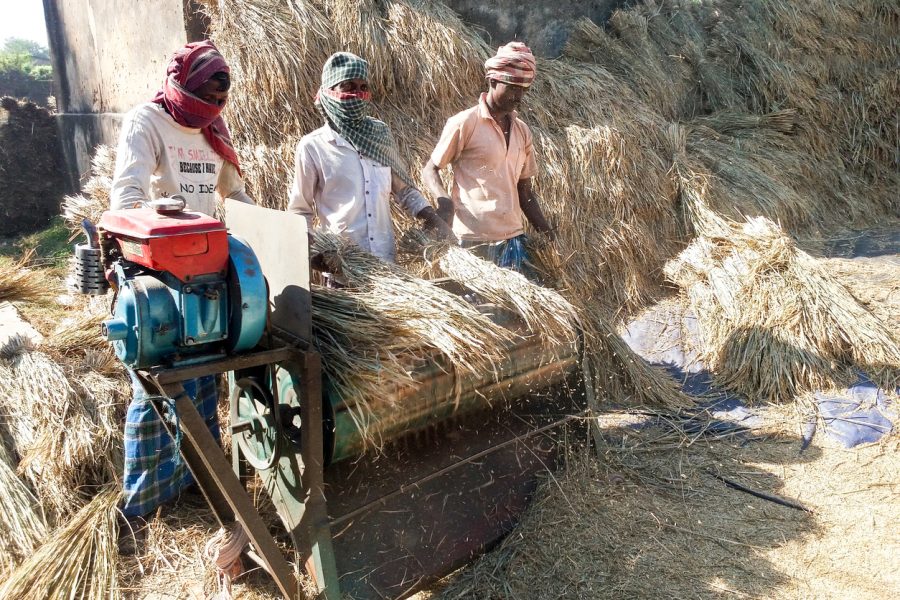 Here's how the heatwave can lead to an economic meltdown
Heat stress affects outdoor workers such as those engaged in agriculture and on construction sites. Pic: iStock
Heatwave conditions have gripped several parts of India with Delhi recently experiencing a record high of 49.2 degree Celsius.
According to the India Meteorological Department's (IMD) latest advisory, heatwave conditions are very likely to continue in several states till May 22.
Watch: Heatwave in India could impact global food security
Rising temperatures not only impact the health of the people but have cascading effects on agriculture, education, energy, and the economy on the whole. 
The World Meteorological Organization (WMO) said "the heatwave in India was hitting many millions of people and the economy with temperatures topping 45 degrees Celsius".
Four-way attack
Derek Lemoine, an Associate Professor of Economics at the University of Arizona, has listed four ways in which heat waves impact a country's economy. "As temperatures rise, economies will continue to suffer," he said.
Citing research, he wrote in The Conversation that extreme heat can directly hurt economic growth and higher summer temperatures reduce growth in many industries that tend to involve indoor work, including retail, services and finance. Workers are less productive when it's hotter out.
Due to high temperatures, crop yields drop, energy use goes up due to people running their air conditioners, and education and earnings suffer, he wrote.
Crops suffer damage, yield goes down
Just like low temperature, high temperature can vastly hurt crops. In India, rising temperatures have already affected wheat production, reaching to a point where the Centre was forced to slap an export ban. For a vast proportion of the population, wheat is a staple, so a fall in its output has an immediate effect on inflation.
Also read: How heatwaves are affecting India's wheat crops
According to a research paper titled "Effect of terminal heat stress in wheat and its management with chemicals in north-west India", by Ramandeep Kaur, Simerjeet Kaur and Sandeep Singh Sandhu from Punjab Agricultural University, Ludhiana, heat stress affects 7.0 million hectares of wheat in developing countries.
"Wheat can be grown in a wide range of climatic conditions but many biotic and abiotic factors limit its yield. Among abiotic factors, high temperature stress, a component of the physical environment, is one of the most important factors in limiting crop production in the world. Ambient temperatures have increased since the beginning of the century and are predicted to continue rising under climatic change. Such increase in temperature can cause heat stress, particularly, when it occurs during reproductive and grain filling phases," the authors said.
Apart from worsening the spiralling inflation, the decline in wheat output is putting paid to India's ambitions to widen its exports. The nation had sought to tap the opportunity created by the war with Russia impacting wheat exports by market leader Ukraine. These plans will have to wait now.
Effects on labour force
"Heatwaves have multiple and cascading impacts not just on human health, but also on ecosystems, agriculture, water and energy supplies and key sectors of the economy," said WMO Secretary-General Prof. Petteri Taalas.
The #heatwave in #India and #Pakistan is hitting many millions of people and the economy. Temps topped 45°C (113°F), will ease by 2 May#Heatwaves are one of the signs of #climatechange
Air temps at 1200 UTC from @CopernicusECMWF
WMO roundup at https://t.co/au1UovUieL pic.twitter.com/wGuZXIU2yS

— World Meteorological Organization (@WMO) April 29, 2022
Heat stress affects outdoor workers such as those engaged in agriculture and on construction sites. It is a serious problem for a large proportion of the world's 1 billion agricultural workers and 66 million textile workers (many of whom have to work inside factories and workshops without air conditioning), and for workers employed in emergency repair work, transport, tourism and sports, according to the International Labour Organization's (ILO) report titled 'Working on a warmer planet – The impact of heat stress on labour productivity and decent work'.
By 2030, the equivalent of more than 2% of total working hours worldwide is projected to be lost every year, either because it is too hot to work or because workers have to work at a slower pace. In Southern Asia and Western Africa the resulting productivity loss may even reach 5%, the report stated.
'Heat stress, obstacle to economic activity'
The ILO further noted that heat stress is increasingly becoming an 'obstacle' to economic activity. As workers struggle to cope with the heat, businesses are forced to pare down work during the hottest hours. "Adapting to these new and threatening conditions is costly," said the ILO. "Even if it does prove possible to limit global warming by the end of the century to 1.5°C above pre-industrial levels, the accumulated financial loss due to heat stress is expected to reach $2,400 billion by 2030."
•Heat wave conditions in isolated pockets very likely over
Rajasthan, south Punjab, south Haryana and Madhya Pradesh on 19th & 20th;
Vidarbha during 18th to 21st;
Uttar Pradesh on 18th and over Odisha on 22nd May, 2022. pic.twitter.com/K3nT1WCcLW

— India Meteorological Department (@Indiametdept) May 18, 2022
By 2030, the impact of heat stress on labour productivity is expected to be even more pronounced. In particular, up to 5.3% of total working hours (the equivalent of 43 million full-time jobs) are projected to be lost, with two-thirds of Southern Asian countries facing losses of at least 2%. However, there is considerable variation within the subregion, it added.
As per the ILO report, the country most affected by heat stress is India, which lost 4.3% of working hours in 1995 and is projected to lose 5.8% of working hours in 2030.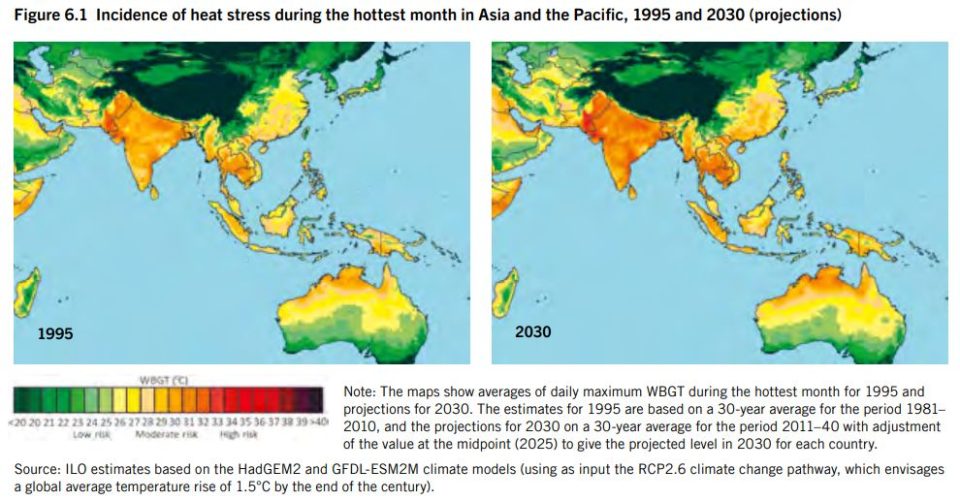 "Moreover, because of its large population, India is in absolute terms expected to lose the equivalent of 34 million full-time jobs in 2030 as a result of heat stress. Although most of the impact in India will be felt in the agricultural sector, more and more working hours are expected to be lost in the construction sector, where heat stress affects both male and female workers," it said.
Reduction in income
Changes in average weather are predicted to reduce living standards in India and by 2050, under the carbon intensive scenario, the declines are projected at 2.8%. Translated into GDP per capita, changes in average weather are predicted to reduce income in severe hotspots by 9.8% in India by 2050, said a World Bank report titled 'South Asia's Hotspots – The Impact of Temperature and Precipitation Changes on Living Standards'.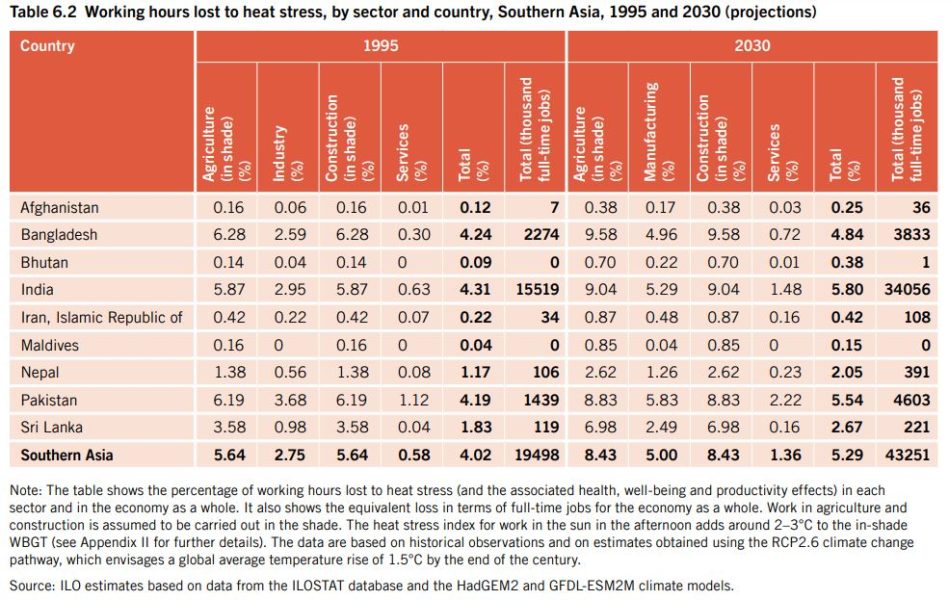 The power struggle
The heat waves have exacerbated India's power crisis, created by a short supply of coal and excess demand from industry. A Reuters report said power demand hit a record high in April as northern states reeled under the hottest pre-summer months in decades. A surge in the use of air conditioning triggered the worst power crisis in over six years.
Also read: Three key reasons behind India's acute coal crisis
The rest of the summer is likely to see a continuation of this situation, if not worsen. As is, Indian states have increased coal imports to tide over the power crisis, straining the foreign exchange situation. The sweltering heat adds substantially to the trouble.
Indian govt's report
According to the report 'Assessment of Climate Change over the Indian Region' by the Ministry of Earth Sciences (MoES), India's average temperature rose by around 0.7°C during 1901–2018. This rise was largely on account of greenhouse gas (GHG) induced warming, partially offset by forcing due to anthropogenic aerosols and changes in land use and land cover (LULC).
"In the absence of rapid, informed and far-reaching mitigation and adaptation measures, the impacts of climate change are likely to pose profound challenges to sustaining the country's rapid economic growth, and achieving the sustainable development goals (SDGs) adopted by the UN Member States in 2015," the report said.