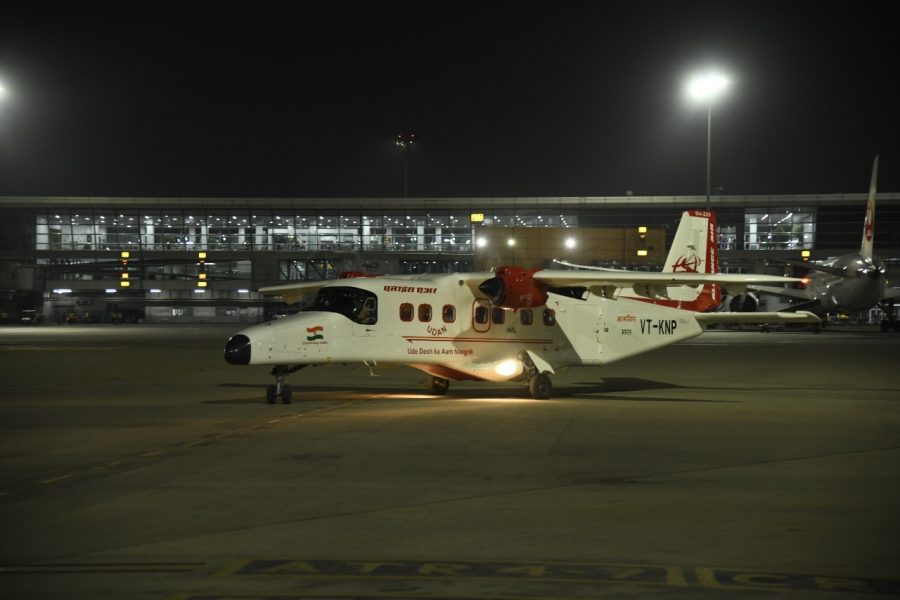 Dornier 228: Everything about India's first indigenous commercial flight
Alliance Air's Made in India Dornier 228 aircraft was deployed for its first commercial flight on the Dibrugarh-Pasighat route on Tuesday (April 12) with Union ministers Jyotiraditya Scindia and Kiren Rijiju on board at Mohanpur airport in Assam's Dibrugarh.
The state-run Alliance Air became the country's first commercial airline to fly an Indian-made aircraft for civil operations. Till now, Dornier 228 planes were used by the Armed Forces only. It is made by Hindustan Aeronautics Limited (HAL) for Indian Coast Guard, Indian Air Force and Indian Navy.
Alliance Air had in February signed an agreement with the government-owned Hindustan Aeronautics Limited to lease two 17-seater Dornier 228 aircraft, which has an AC cabin. The airline received its first Dornier 228 plane on April 7. The services will be operated by Alliance Air under regional connectivity scheme UDAN.
Regular flight operations are slated to start from April 18 on the Dibrugarh-Pasighat-Lilabari-Dibrugarh route.
Alliance Air tweeted, "Alliance Air takes delivery of its first Made in India Dornier 228. The 17-seater non-pressurised Dornier 228 with an AC cabin capable of day and night operations. The light transport aircraft will facilitate regional connectivity in north eastern states and better connectivity."
Also read: Amid spiralling prices, India's fuel demand hit 3-year high in March
What's special about the Dornier aircraft
The 17-seater non-pressurized Dornier 228 is capable of conducting day and night flights.
Good connectivity to North-Eastern region of India, including Arunachal Pradesh and areas close to Myanmar and China borders. Three flights handed over to Alliance Air so far.
The flight service will be a boon for people living in eastern Arunachal Pradesh who need about a week to reach the nearest airports of Dibrugarh and Lilabari in Assam.
The services will be further expanded to Tezu, Mechuka, Ziro and Tuting in Arunachal Pradesh with the Dibrugarh airport as the hub station.
In phase II, the service will connect Mechuka, Vijaynagar and other places.
Five things to know about Dornier
The Made in India service will link remote places of Arunachal Pradesh and Assam.
The aircraft uses Advanced Landing Grounds (ALG) maintained by the Indian Air Force.
It is a twin-turboprop short take-off and landing utility aircraft. The aircraft has a wingspan of 16.97 m, overall length of 16.56 m, and overall height of 4.86 m.
The first flight of the passenger aircraft will be from Dibrugarh in Assam to Pasighat town in Arunachal Pradesh.
Manufactured by the Hindustan Aeronautics Limited (HAL), the aircrafts will be managed by Alliance Air – thus making it India's first indigenously made commercial aircraft in civil operations.