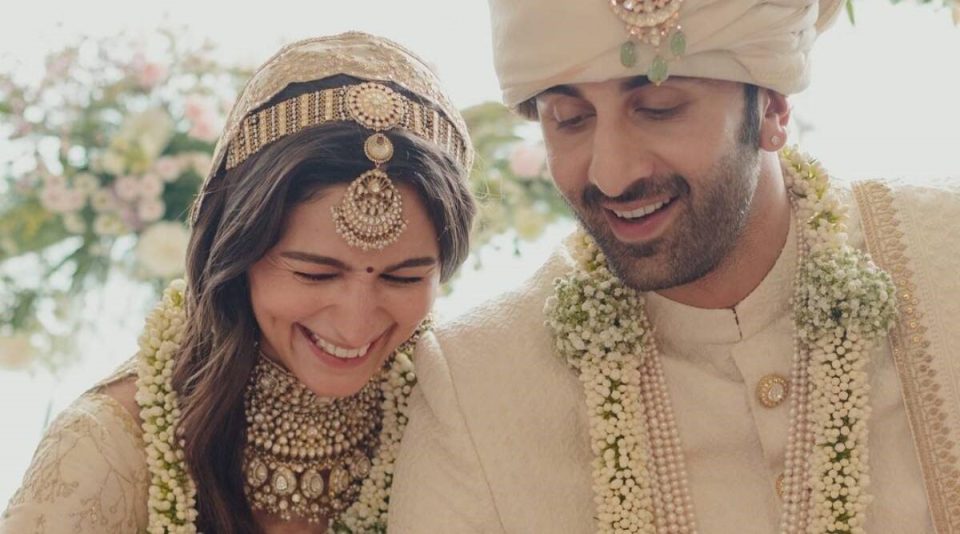 As she weds Ranbir, a look at Alia Bhatt's growth, from 'nepo' kid to top star
Not much was expected of this Bollywood kid, who sashayed into films in a short dress and designer bag, playing the role of a stupid, spoilt rich brat in Karan Johar's Student of the Year. It was not an impressive debut, Alia Bhatt had to act dumb, untangle herself from a love triangle and say lines like Mujhe rishety todna achcha nahi lagta (I don't like breaking up) in a stilted accented tone. Which was all supposed to be cutesy and lovable, only proving that we had to grin and bear with 'nepo kids'.
But this diminutive, five feet something actor, famously known for not being strong on GK, (she brushed off that notorious episode saying that she rather be stupid than pretend to be intelligent! whatever that means), has gone on to act with every possible big-time director like SS Rajamouli and Sanjay Leela Bhansali, Imtiaz Ali and Gauri Shinde and has even bagged a Netflix production Heart of Stone with Wonder Woman Gal Gadot and the sexy JamieDornan (of Fifty Shades of Grey fame).
Moreover, this 29-year-old walked off with the most eligible bachelor in Bollywood, who has been playing catch-me-if-you-can for a very long time. But, the couple, who fell in love while shooting for Ayan Mukherjee's Brahmastra, has not exactly kept their relationship under wraps. Largely because Alia has been pretty candid about her love for Ranbir, baring her soul at the Filmfare awards night in 2019 to all and sundry.
She also handled meeting Ranbir's ex-girlfriend, the broken-hearted Katrina Kaif, at the same event with ease and diplomacy. In an interview, she admitted being "very happy and deeply in love with Ranbir". She called herself a 'dil wala' person and a 'pyar kiya toh darna kya' types. Bhatt also proved that she could sing as she beautifully rendered Samjhawan for her commercial hit film, Humpty Sharma ki Dulhania.
But, even as she wore her heart on her sleeve, Alia went about taking up one challenging role after another, and winning accolades for each of them. She morphed from playing silly, not-knowing-what-they-wanted heroines in Bollywood love stories to playing a hard-core spy, selling out even her Pakistani husband, for the love of her country in Meghna Gulzar's well-crafted Raazi.
The rise and rise of Alia Bhatt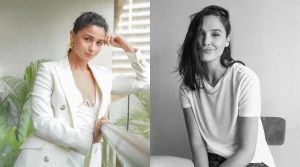 After her debut film in 2012, Bhatt did not have much going for her except for a Karan Johar. (She was wise enough not to turn to her father Mahesh Bhatt, we know what happened to Pooja Bhatt) But, she was plucky and confident and signed up interesting films like a road movie, 2014 Highway (in which she plays an upper class girl who falls in love with her kidnapper).
She did commercial films like Humpty Sharma ki Dulhania with good friend Varun Dhawan, and 2 States which kept her in the reckoning, but she also did experimental films like Kapoor & Sons and Dear Zindagi (the latter with with none other than SRK). But what established her as an actress was Udta Punjab in 2016.
Here, she played a tough Bihari migrant. It was something she had never attempted before and a far cry from her glam roles. She was sans makeup in the film and had to portray the silent anguish of a woman being kept captive and raped repeatedly, which she did with a quiet competence. She also worked hard to get the Bihari accent right and to get the right body language.
Udta Punjab is a film based on the lives of four individuals impacted by rampant drug addiction problem in Punjab.
After playing a bold, hot-headed Safeena in Gully Boy (2019), Alia Bhatt's career soared with Bhansali's Gangubhai Kathiawadi. Here she played the titular role of the well-known brothel owner in the '50s and '60s, who lobbied for the rights of commercial sex workers. Few believed she could pull it off, (and probably secretly wished she wouldn't) but Alia proved her detractors wrong. She picked up rave reviews for her performance!
Dying to work with the successful Rajamouli, Alia approached him and convinced him to take her in his RRR. Though, rumours are that she is not happy with her small role, she went around gamely promoting the film. Her upcoming films are Heart of Stone, science fiction thriller 'Brahmastra' starring husband Ranbir Kapoor and romantic drama 'Rocky Aur Rani Ki Prem Kahani' opposite Ranveer Singh. This actress has shown that probably a dose of EQ, an interesting choice of films and hard work can catapult you to the big league in Bollywood.
The Ranbir-Alia wedding
Alia Bhatt also got to wed her long-time boyfriend in a hush-hush wedding. The Ranbir-Alia wedding, which took place at Ranbir's home Vastu in Pali Hill in Mumbai, on April 14, had the paparazzi getting into a tizzy trying to figure out who was attending the wedding.
At first, there was no information on whether it was the haldi or mehndi ceremony, or whether Bollywood's hot and happening couple were taking the 'saath pheras', as the building was heavily guarded by bouncers. But the usual suspects arrived togged up in their glittering best: celebrities Taimur and Jeh Ali Khan, the toddlers of Kareena Kapoor Khan and Saif Ali Khan!! The photographers went predictably wild!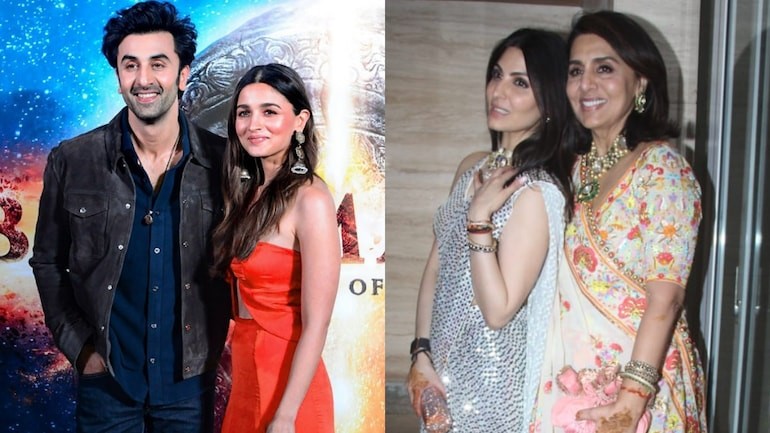 A day earlier, on Wednesday, Neetu Singh and her daughter, Riddhima Kapoor posed for photographers outside Ranbir's home, who were by the time salivating for any titbit. Neetu gushed about what wonderful human beings the couple were and how alike they were. And, finally, Riddhima good-naturedly slipped the cat out of the bag (after all, it was just 24 hours away) 'The wedding is tomorrow!' Everyone sighed in relief, for the poor media waiting outside Ranbir's home.
The Kapoor clan obviously turned up in full force. The leading lights were of course Kareena Kapoor Khan and Karishma Kapoor, and giving them hot competition on social media was Ranbir's sister, Riddhima.
No family wedding is complete without filmmaker and Alia's mentor Karan Johar, who reportedly wore a pink kurta pyjama. For once, Alia Bhatt's father Mahesh Bhatt failed to steal the thunder and ended up posing for photographs with his son. Pooja Bhatt, Alia's mother Soni Razdan, Navya Nanda, Rima Jain, Armaan Jain were also spotted at the wedding.