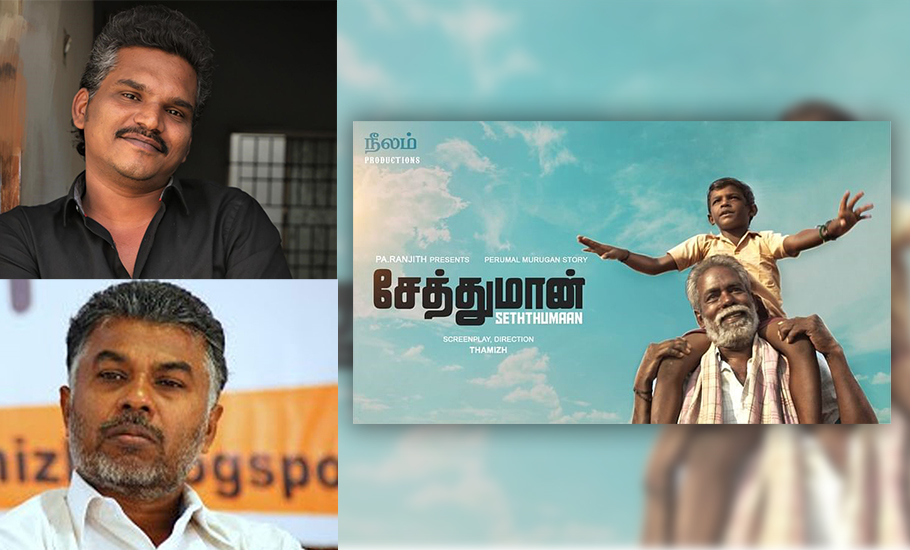 Tamil OTT film 'Seththumaan' weaves a touching tale around pork politics in Kongu region
The film, produced by Pa Ranjith and directed by Thamizh, is based on a short story by Perumal Murugan and describes a dominant caste man's craving for pork, and the havoc it wreaks on Dalit man's life.
The right-wing's opposition to beef-eating is no longer a North India phenomenon. This politics over 'right to eat' has spread to southern states like Tamil Nadu.
Recently, the Tirupattur district collector's order not to allow beef biryani in the first-ever district level 'Biryani Festival', originally scheduled for May 13-15, created a massive uproar. The festival has since been indefinitely postponed. A large section of society also raised a hue and cry when Tamil Nadu ordered meat shops to be shut on occasions like Mahaveer Jayanti.
It is in this backdrop that a new Tamil film titled Seththumaan ('Deer of the Marshes'), released on Sony LIV on May 27, describes a dominant caste man's craving for pork, and the havoc it wreaks on Dalit man's life. It deals with food politics based on caste, how Dalits are discriminated against and exploited on a daily basis, and their lack of access to basic education. And, if they try to rise above their inequality, they are ruthlessly cut down to size.
Based on two short stories
Produced by filmmaker Pa Ranjith's Neelam Productions and directed by debutant Thamizh, Seththumaan is based on two short stories, Maappu Kodukkanum Saamy ('You have to Forgive me, My Lord') and Varukari ('Roasted Meat'), penned by one of the finest writers in Tamil literature today, Perumal Murugan. While the first story forms the basis of a flashback when the title credits are rolling, the second forms the film's base. The director has not made any major changes in the story and been true to the original.
Murugan, who hails from the Kongu region, is known for masterfully documenting the cultural nuances of the area. He had excelled in this in Madhorubhagan (translated as 'One Part Woman' in English) and stirred up a lot of controversy.
Also read: Kollywood's ordeal: OTT boom spells doom for small films in theatres  
An honest adaptation of a short story
Published in 2012 in the literary magazine Kalachuvadu, Varukari revolves around a pork eating party going all wrong and turning violent. The story details how caste plays a significant role in pig rearing and the cultural reactions to pork eating.
Poochi (played by Manikkam), a septuagenarian Dalit, lives outside the village with his eight-year-old grandson Kumaresan (Ashwin Siva), who is his only relative. Despite Poochi's basket weaving skills through which he ekes out a living, he is made to do menial jobs like skinning dead cows because of his caste. His only aim is to provide a good education to his grandson, so that the child leads a better life.
One day, Vellaiyan (Prasanna Balachandran), a landlord from the Gounder community, develops a craving for pork, which believes has many health benefits. But, his wife wouldn't let him cook or eat pork at home. His solution is to form a group with like-minded friends, pool money, buy a pig and throw a feast.
Poochi, who possesses the required culinary skills, becomes Vellaiyan's Man Friday in organising the feast.  On the day of the feast, however, a verbal war breaks out between Vellaiyan and his relative and this leads to a clash. How the fight affects Poochi forms the rest of the plot.
Incidentally, 'seththumaan' is used as a euphemism for pig in the Kongu region.
Also read: Anantham director V Priya on homosexuality, child sexual abuse, and battle for OTT viewers
'Caste lies in where the food is cooked'
Talking to The Federal, Perumal Murugan, the dialogue writer for the film, who is very familiar with the cultural nuances around eating pork, said the people in the Kongu region give a lot of importance to where the pork is cooked, though many dominant communities do eat pork. While the Dalit communities cook pork in their houses, the dominant communities consume it outside their homes, he explained.
"In the olden days, every household had a separate vessel to cook pork. They would use the vessel to cook pork outside their home. After eating, they would clean the utensils and keep them out," said Murugan.
Further, Murugan shared that one Dalit community in the Kongu region, the Arunthathiyars, who worship Annanmar Saami, their traditional deity, used to sacrifice pigs. But over the years, due to a rise in caste differences, consuming pork started to be viewed as being impure. It became the basis of caste discrimination, and the ritual of sacrificing a large number of pigs has come down, pointed out Murugan.
He also explained the legend of Annanmaar Saami, and how sacrificing pigs is part of the ritual, since pigs are considered enemies of agriculture.
"The ritual is called panni kuthal, where the pigs are killed using a sharp spear-like instrument, instead of cutting them into pieces as one can see in sacrificing goats. It should be noted that the ritual of sacrificing pigs is also seen among dominant caste groups. There is a ritual called muppoosai, where they sacrifice hens, goats and pigs. Since these rituals are in practice for many years, there is a possibility that the dominant castes could have also consumed pig meat," he added.
'OTT provides a platform for realistic films'
Meanwhile, the director Tamizh, talking to The Federal, felt that OTT is the best medium to tell such kinds of stories.
"Post COVID, people are coming to theatres only for the films which have stars and grandeur. For realistic films like this, OTT is the best. Now, my film gets dubbed in many languages and watched across the country, an opportunity which I would not have had if it had been a theatrical release," said Tamizh, who earlier assisted filmmaker Venkat Prabhu.
Inspired by the Malayalam film Ozhivudivasathe Kali ('Off-day Game'), Tamizh roped in Perumal Murugan as a dialogue writer to retain the regional dialects found in the short story.
"Unlike Malayalam, the Tamil film industry has not adapted many stories from literature. The film Ozhivudivasathe Kali too is based on a short story. So I chose this story as my debut script. Also, the writers fail to get proper credits in films for their work. I wanted to change that. Though I have edited and changed some of the dialogues, I wanted to give full credit to Murugan as a dialogue writer. I feel proud to introduce Murugan to the film industry," he said.