Sneha Khanwalkar: Musician, traveller, storyteller — a story in three acts
Sneha Khanwalkar is exhausted talking about the past. "I don't want to be still known as that small-town hacker, ya," she tells me over the phone. The 40-year-old composer, who most recently furnished music for Ishan Shukla's The Bandits of Golak (2023), one of the nine shorts in the Star War animated anthology, has had a prolific journey. In a career spanning across (almost) two decades now, she has been part of projects which altered the contours of Hindi cinema and redefined the lexicon of storytelling.
During the time of this conversation, Khanwalkar is at Cannes, accompanying her husband Kanu Behl whose film, Agra, is part of the Directors' Fortnight section at the festival. This is the second time we are talking. A week prior, she had patiently answered all my questions while packing for the French Riviera. Days later, she insisted we talk again. The reason dawned on me soon. My initial queries were largely about her past and she is exhausted talking about it.
How do you talk to Sneha Khanwalkar and not talk about the past? More specifically, how do you talk to the music director — creator of songs like the abrasive I Can't Hold It Any Longer, the buoyant O Womaniya, or even the subversive Mohabbat Bollywood Style — and not ask what went into creating the music which changed the sonic disposition of Hindi films? The statement might read like an overreach but it really isn't. If anything, it is an approximation of her singular talent.
No two songs composed by Khanwalkar sound alike but they also sound like nothing anyone else could have composed. There is an oddity to her design, a daringness to her craft that bolstered her, those many years ago, to inject coarseness in Hindi film songs which largely derived their merit from being saccharine. Think of another instance, barring the title track of Dibakar Banerjee's Love Sex Aur Dhoka (2010) scored by her, where a woman's screams prefaces and punctuates a song? But I am still evoking the past.
Also read: Ziro Music Festival 2022: Kochi rock to Nepali pop, 4 days of delighting the senses
To be fair, it is impossible not to. Her trajectory from 2008-2012 had been immense. She composed music for two of Banerjee's outings, the delightful comedy Oye Lucky! Lucky Oye! and the found-footage film LSD, and Anurag Kashyap's clutter-breaking, magnum opus Gangs of Wasseypur. The cumulative pop culture impact of these four albums (counting Wasseypur in two parts) is more than what many music directors can hope to achieve in their entire careers. For Khanwalkar, this was just the start. One she had carefully forged.
The First Act
It all began with a phone call. The story, in fact, can be traced back to her fateful encounter with Daboo Malik, the regular music collaborator on Salman Khan's films during the 2000s. Khanwalkar was born in Indore and moved to Mumbai with family at the turn of the century. Growing up, she developed an early interest in animation and avidly read graphic novels, something she admits serves as an inspiration to her work till date. This translated into her doing an internship at director Ken Ghosh's animation unit.
Ghosh was making Ishq Vishk (2003) at that time but she had neither met nor known of him when hired. During the breaks, she used to go to the library section and read art books. Back then, Khanwalkar was young and, like most women, prone to being advised. "The Executive Producer (EP) of Ishq Vishq saw me reading these books and asked if I would be interested in art direction. He said their art director was this amazing person called Omung Kumar." She went on to join Kumar's team and someone over there knew Malik and asked her to meet him. "They said you sing so well why don't you meet Daboo Malik?"
Khanwalkar always knew she could sing well. She also knew her voice was not cut out for conventional Hindi films. "What was being harped on by the mainstream is not what I stood for," she says. "My kind of singing is what reaches your heart and makes an impact," she adds. "More often than not, good singing is judged on the basis of how thin someone's voice is, or how sweet it is. The emphasis is on beauty and compliance as if you are searching for a bride."
Even then, when she eventually met Malik, who was "very sweet", and played one of her compositions, the veteran music director said something that bruised her ego. "He said if that was my composition then it was better than my singing." It was also the first time someone had articulated the distinctness of her position. "I remember him saying he had not seen a female music director before. It struck me that it was precisely what I was doing — making my own tunes and gearing more towards it." This propelled her to reach out to people she wanted to work with. Finally, she knew how to identify herself: as a music director.
Also read: What Bob Dylan's biographies tell us about the man and his music
"You know during summer holidays when the whole house is sleeping and it gives you the space to do your own thing — like step out or call a friend? I was doing my music industry hacking like that," the composer recollects. If the imagery encapsulates a sense of adolescent notoriety done in the absence of parental supervision, Khanwalkar doesn't disagree.
Around 2004-2005, she had chanced upon a directory that had numbers of singers and musicians. She started calling them, looking for work. Reflecting on this phase, she is quick to surmise "it was the hubris of youth." But it was not reckless. Her first call was to singer Sukhwinder Singh. Mani Ratnam's Dil Se (1998) had already been released and Singh's 'Chaiyya Chaiyya' was a rage.
"I come from Indore and there the society's perception of the film industry was very coloured. So, when I got hold of the music directory, I thought I should be careful about the people I call. I liked Ratnam's films and AR Rahman's music and felt those guys were 'clean,'" she says with a laugh.
Khanwalkar introduced herself as a music director to Singh and remembers the singer being "very kind". She met most of her future collaborators like Tigmanshu Dhulia (who wrote the dialogues of Dil Se) and Banerjee by calling them. She met others like Piyush Mishra and Anurag Kashyap through them. At that time, Mishra was overseeing the music of Dhulia's films and shooting of the latter's sophomore directorial outing, Charas (2004) was on its last leg.
When Khanwalkar met Dhulia and Mishra, the latter asked her to compose something he had written, and watch Maqbool (2003), Vishal Bhardwaj's defining adaptation of William Shakespeare's Macbeth. She did both; Mishra was impressed. Soon, she got the chance to compose two songs in Dhulia's next film The Killing Of A Porn Filmmaker, which was supposed to star Irrfan Khan.
Also read: Ziro Music Festival, a carnival of rhythm, returns on the ground
The project fell through but lasting friendships were formed. In the midst, she met Kashyap and he sent her to meet Ram Gopal Varma. This was when Varma was moving away from the kind of musicals he was famed for making. Thus, Khanwalkar had discussions with him but nothing culminated, not even Sarkar Raj (2008), which is enlisted on Wikipedia as one of her credits. But "shit got serious" when she bagged Banerjee's Oye Lucky! Lucky Oye!
The Second Act
"That was the turning point," she admits. Banerjee, who she found to be as incisive as her engineer-father, had initially entrusted her with a period film set in the 1950s. She was supposed to do one song and Khanwalkar, in her 20s then and with a limited budget, had taken off to Bhopal overnight for research.
That film did not happen but Oye Lucky! did. Centered on a flashy conman in Delhi, it was Banerjee's second directorial outing after the breakout Khosla Ka Ghosla (2006).  The filmmaker's reference for the music was a song he had heard years ago — 'Tu raja ki raj dulhari'. He asked Khanwalkar to find it and she took a backpack and went in pursuit of it.
"I really wanted the gig," she admits. She was on the heels of a "stupid" breakup and getting the film meant more than professional validation. "Nothing was working, ya. I hadn't made a mark, there was no money, no work, no respect and lots of anxiety." Besides, the one-line brief from Banerjee opened her eyes to the smallness of the city life: "Before Oye Lucky, I hadn't travelled at all."
Khanwalkar embarked on the journey of finding 'Tu raja ki raj dulhari' and realised it is a ragini folk form of Haryana. She attended an overnight ragini folk competition in the state, sat among burly, drunk men and chose a young boy to record the song in the capital a few days later. For the other track in the album, the jaunty 'Jugni', she chose an aged singer from Punjab called Des Raj Lakhani to render it. Given that the outing is based in Delhi, a city made of and by migrants, these distinct musical interventions lent a subtext of history to the characters.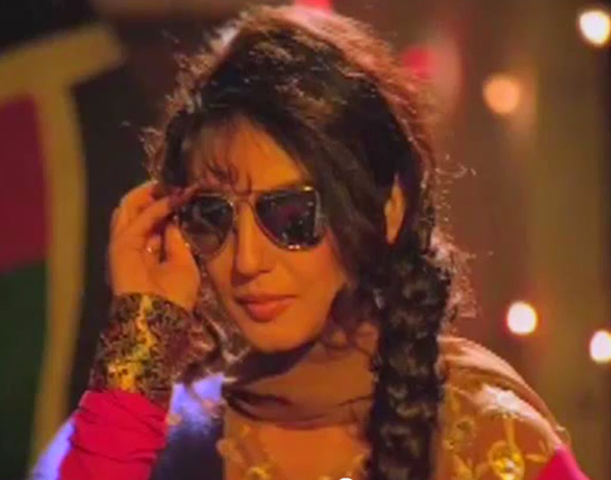 Khanwalkar cherishes her experience of working on the film as much as her collaboration with Banerjee. "Dibakar is a great director for a music director. His reactions are very specific. He would often tell me, 'thoda toh ismein beauty daal do' ('infuse some beauty in it') or 'don't lean so much on beauty'". She will go on to work on Banerjee's third venture, LSD, a stylistically experimental film with a transgressive album.
She composed seven songs (including one remix; all worded by Banerjee) and the sheer campiness of the design continues to be disruptive. Never before — and never since — did a Hindi film feature a song where Rajasthani folk music was accompanied with lyrics that said, "I Can't Hold It Any Longer" followed by "Nahi toh FO FO", an acronym of you-know-what. Khanwalkar was the singer.
The next two years would define her career. After planning on working together in different projects, one of them being Bombay Velvet which was differently conceived from the way it was made in 2015, Kashyap and Khanwalkar teamed up for Wasseypur. An expansive gangster period drama set in the city of Dhanbad, the outing was a mammoth project that was released in 2012 in two parts. So did the songs. Together the tracks added up to 27 (14 in Part 1 and 13 in Part 2).
The composer travelled extensively for it, visiting the precarious neighbourhood of Wasseypur with co-writer Zeishan Quadri and later to Trinidad, to construct the aural vibe of the film. She met singers, composed tunes and, along with lyricist Varun Grover and Piyush Mishra, crafted an album that conceptually and ​​acoustically was a departure from everything Hindi films were offering at that time.
In 2012, she was also headlining her own music show. Titled MTV Sound Trippin, the premise enfolded Khanwalkar's journey to different parts of the country, from Karnataka to Goa, to showcase original music. Each place was dedicated 4-5 days within which ideas had to be formulated, songs needed to be composed and recorded. "It was a manic time," she remembers. Straddling between the series and film compelled her to play catch up with her own success story.
When 'Tung Tung' dropped on MTV, the inaugural song of Sound Trippin where Khanwalkar worked with the sublime Nooran Sisters and whose success will later prompt Akshay Kumar to include the track in his 2015 film, Singh Is Bliing, the composer was so tied up with Wasseypur's music that she missed watching the episode. And later when 'O Womaniya' was making waves, she was in Ladakh shooting for the show.
"My phone had a sketchy signal and I remember Richa Chadha calling and relaying the sensation the music had become." In more ways than one, Wasseypur's album marked a pivotal turn in Hindi film music for the precision with which it introduced indigenous tunes to expand the scope of Bollywood music. Suddenly songs, like 'Keh Ke Lunga', 'Moora', 'Jiya Tu Bihar Ke Lala' were not deployed as an escape from reality but were rooted to the very land the characters walked in. And suddenly the voices singing them, excavated by the composer from Patna to Varanasi, sounded different…diverse.
Most of Khanwalkar's work during this time is visually lodged on the Internet. In all the videos, right from Oye Lucky! to Wasseypur, she imprints an abiding image of standing with the singers and revelling in the process of creation. This visibility granted her the dual identity of being both the creator and the onlooker; she was both the archived and the archivist.
The Third Act
"Bollywood has a pattern with outliers," Dibakar Banerjee tells me. "When they come, they are feted and lionised. They are hailed as the next big thing because they bring in a fresh energy to what is more or less a stultifying genre called Bollywood. But after a while Bollywood tries appropriating them in their own language and discourse."
After Wasseypur, just when Khanwalkar was on the brink of breaking out, her credits started tapering off. In 2014, she composed for Shashanka Ghosh's Khoobsurat, a Disney-themed reimagination of the 1980 film of the same name, and one song for Syed Ahmad Afzal's Youngistaan. The trend of composers making that one banger song per film had already begun. But the surprising bit was that Khanwalkar, a hitherto anomaly, was trying to fit in. From 2012-2018, her work in commercial Hindi films was sparse.
"It was so bad," she says, referring to that phase. "The listlessness was too much. A lot happens when you are working with a big team. You fight and get toxic with each other." This was one narrative. The other was, as Banerjee succinctly articulated, Bollywood did not know what to do after celebrating Sneha Khanwalkar.
She was first put in the elite club of "female music directors", and interviewed by publications for every Women's Day listicle. And then, she was expected to do more of the same. "After Wasseypur, so many people from the music fraternity called me to ask if I had any interesting voices for folk songs. Many filmmakers approached me with the brief that their film is based in Rajasthan. When I travelled, I didn't do it to make a story out of it. I did it because it was essential for the films I was working on."
Also read: How indigenous artistes from Kerala have everyone grooving to their music
It was a trying phase but then she held on, taking refuge in what was used to appropriate her: travelling. She journeyed extensively, this time just for herself. "I spent most of my 20s working and then I did not feel any ground beneath my feet. When you are a single woman working in Mumbai, you tend to live within your head. There was no respite."
On a certain New Year's night, she was struck by an epiphany. "I got this clarity that I need to stay around artists and scientists. I gravitate towards art and science. I minimised my expectations from life." She also demanded to be treated better. "I realised that all this while I was expecting to be treated a certain way. It came to be later that there was a gender bias and I didn't possess the tools before to bypass it."
The composer started meeting people with fresh perspectives and just when she was not looking for love, she found it. In 2018, she married Behl, who she worked with in LSD, and the next year, they had a child.
The Conclusion
Khanwalkar acknowledges she is in a better place today. There is a work-life balance, something she didn't have before, and a desire to trespass boundaries. She is working on another animation film by Ishan Shukla, hopefully teaming up with a long-time collaborator and awaiting to launch an app. The details can wait, she says, but her excitement translates effectively even over a patchy WhatsApp call.
She has been more productive, but more crucially she is doing things she likes. Since 2018, the change in her life has reflected in her work. She worked with Nandita Das in Manto and provided an evocative score in Honey Trehan's moody crime thriller Raat Akeli Hai (2020).
There have been other films in between, but Khanwalkar's new-found groove is best evidenced in the digital space. More recently, she scored the title track of Vasan Bala's Cinema Marte Dum Tak, the 2023 series that delved into the underbelly of B-movies. Titled 'Pseudo Saiyaan', it is a mad fun number where a woman's moaning, justifiably, becomes the centerpiece.
In 2022, she was awarded with the Filmfare OTT award for her haunting work in Ajitpal Singh's terrific series Tabbar (2021). Opting for her, Singh freely admits, was the producer's decision. "I had someone else in mind but my producer had worked with Sneha in season one of the show Kathmandu Connection (2021)."
In a tryst of fate, the composer Singh was inclined to work with, started delaying things and Khanwalkar ended up getting the job. "I had my doubts," Singh says, with a laugh. "Sneha hadn't done much BGM (background music) work before but what struck me was her vision. She was always thinking differently. For instance, if the mood of the scene is sad, her suggestion would be 'but what if we use happy music instead?'"
Halfway while speaking with Singh, Khanwalkar's reluctance to reiterate the early phase of her career opened up before me. So did her insistence to talk again, despite the time difference and possible inconvenience from her end. It was not just because my initial queries were largely about her past and she is exhausted talking about it. That part is true.
But more crucially, it was because every time we ask how she composed the music for Oye Lucky! Or Wasseypur, her legacy — a female music director who seeks music by seeking a place; "a small-town hacker"— subsumes her craft. When we question how she did it, we overlook the vastness of what she did and view her accomplishments through the pinhole of repute. We reduce her to a story when, in fact, Sneha Khanwalkar is a storyteller.