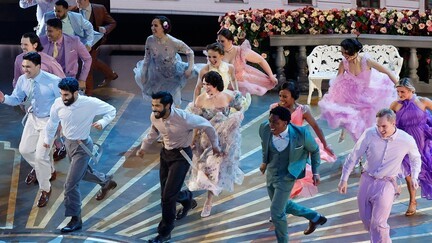 'RRR' at Oscars: Why did Hollywood make a big song and dance about Rajamouli's film?
India's ace director SS Rajamouli 's 'RRR' and the upbeat 'Naatu Naatu' song and dance number captured eyeballs all around the world at the 95th Academy Awards Night on March 13 and rocked the world of international cinema when it walked off with an Oscar in the Best Original Song category.
It was not a small feat by no means and the reception to the song, with its signature hook step, has been unprecedented. 'Avatar' director, James Cameron and pop singer Rihanna have raved and gushed about the film.
Many stalwarts in the film industry, including acclaimed director Mani Ratnam, have acknowledged Rajamouli as a "marketing genius" on public platforms, which may have played a significant role in 'RRR' enjoying some sort of cult status on the global stage.
A few film critics in India have frankly been baffled by the international success and praise for an over-the-top, melodramatic fictionalised take on the lives of two real-life freedom fighters who combine forces to take on the might of the British empire in 1920s India. While Bollywood actors like Ratna Pathak have openly called it "regressive", some historians have poked holes in the film's representation of the Gond tribal community of Adilabad, apart from other issues.
So, why has yet another big-budget, South Indian commercial entertainer like 'RRR' received so much international fame and glory to this extent?
The Federal spoke with a senior journalist and a film trade analyst, who had their own take on Hollywood's sudden newfound love for Indian cinema.
For instance, senior journalist Sreedhar Pillai says Hollywood wants to make deeper inroads in India, as China is no longer a profitable destination for their films after the pandemic.
Also read: 'Naatu Naatu' not a Bollywood song: Irate netizens slam Oscar host Jimmy Kimmel
Further, Pillai added, "It's a numbers game. The number of Indians who walk into theatres post the pandemic is sizable even by Hollywood standards. A few Hollywood films have done well in China in the year after the post-pandemic era. China's policies and other factors are other constraints for Hollywood. India is not a new market for Hollywood films, however, the kind of revenue films like the 'KGF' franchise and other films generated in 2022, have made it an attractive market for Hollywood."
The gross box-office collections of 'KGF-2' was an estimated ₹932 crore in India, with the movie mopping up $27 million internationally. The worldwide gross collections of the Kannada film finally stood at an estimated ₹1,187 crores. Shah Rukh Khan's 'Pathaan' too recently notched up a worldwide gross collection of ₹1,043.37 crore (US$130 million).
The growing movie market in India seems to be stoking Hollywood's interest, said film analysts.
According to a report, in 2022, Hollywood films managed to earn ₹1,200 crore to ₹1,300 crore in box office collections in India. This is despite the fact that fewer films released due to disruptions caused post-COVID. (It took a while for people to get back to the theatres). Last year, Hollywood's share was about 12-13 per cent of the overall box office earnings in the country.
This may be small compared to the revenue generated by Hollywood domestically. According to Statista, in 2022, total earnings at the box office across the United States and Canada amounted to around US$ 7.37 billion, up from US$4.48 billion in the previous year. Yet, for American films, India is emerging as among their top 10, and even top five markets globally, said another report.
Also read: Oscars 2023: 'Naatu Naatu' performance receives standing ovation
Film trade analyst Komal Nahata said that no doubt 'Naatu Naatu' is well deserving of the Oscar in the best original song category. In fact, it would have won another award for the best dance choreography if there had been such a category," he said, adding that there is "more to all of this than meets the eye".
"Films like 'The Jungle book', Marvel's 'The Avengers' series and other English films have made more than US$200 crore in the Indian market. Hollywood filmmakers and Indian distributors who release Hollywood films have realised the Indian market is now thriving like never before," added Nahata.
Also, consider the success of James Cameron's 'Avatar: The Way of the Water', which became the highest-grossing Hollywood film in India, after it released in India in December 2022. The film recently surpassed the lifetime business of 'Avengers Endgame'. 'Avatar 2' has a net box office collection (NBOC) of ₹368.20 crore, while Avengers Endgame has ₹367 crore.
Besides the gradually blossoming Indian movie market, film experts also felt that 'RRR' had done roaring business for streaming platform Netflix, which may have played a role in influencing Hollywood. One of the big stars at the Oscar night this year was actor Pedro Pascal from the OTT world, the protagonist of the much-talked-about HBO series, 'The Last of Us'.
The kind of media frenzy over 'RRR' has been unparalleled. "AR Rahman won an Oscar for the 'Slumdog Millionaire' much before 'RRR'. However, the western media did not create a media hysteria like it has done for 'RRR'. Maybe, because it was a British production based in India," said Nahata.
According to Nahata, Netflix may be facing "financial constraints" but it knows that India is a big market. "It will not mind investing more to gain more in the end," he reasoned. In its fourth quarterly results this year, Netflix had a "brighter" finish adding 7 million subscribers, but the company's financial performance was "mixed" reflecting the challenging streaming market.
So, Netflix may have had a vested interest in pushing 'RRR' in the west, say film trade analysts. All of which, in short, helped 'RRR' to dance its way onto the Oscar stage and get noticed globally as no other Indian film has done so far.