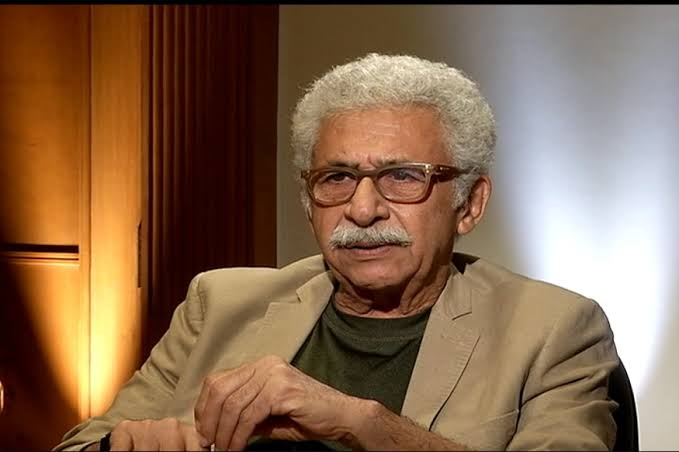 Prophet Muhammad row: Khans silent as they have 'too much to lose', says Naseeruddin Shah
Veteran actor Naseeruddin Shah has said that the Khans of Bollywood – Shah Rukh Khan, Salman Khan and Aamir Khan have so far not reacted to the ongoing controversy over comments made on Prophet Muhammad by BJP spokesperson Nupur Sharma, as they "have too much to lose".
After her comments on Prophet Muhammad on a TV debate led to her suspension, India has faced official protests from several countries including Qatar, Saudi Arabia, Kuwait, Iran, the UAE, Oman, and others.
Also read: Protests after Prophet row: Delhi Police notice to social media entities
Also, another BJP leader – Naveen Kumar Jindal was expelled from the party for his Twitter post on Prophet Muhammad.
The comments of BJP leaders have also resulted in protests in India too.
Shah was asked whether he felt the Khans should have spoken up on the current controversy, he told NDTV, "I cannot speak for them. I am not in the position they are in. I think, they feel they would be risking too much. But then, I don't know how they explain to their own conscience about it. I think they feel they have too much to lose."
Also read: Prophet row: Protests intensify; two killed in Ranchi
He referred to the arrest of Shah Rukh's son Aryan Khan and the probe agency clearing him later. "What happened to Shah Rukh Khan and the dignity with which he faced it was admirable. It was nothing but a witch-hunt. All he did was support Trinamool and applaud Mamata Banerjee. Sonu Sood gets raided. Anyone who makes any statement gets a response. Maybe I am next. I don't know. (laughs) Though they won't find anything."
'PM should step in and stop the poison'
The 71-year-old said he was not unhappy in India and also doesn't feel "marginalised".
"I am in a fortunate position compared to a majority of Muslims in India who feel threatened or marginalised. I don't feel marginalised. I am not unhappy in this country. This is the country I was brought up in and I am luckily in a position where I cannot be marginalised. It is not like my anti-establishment statements have prevented me from getting work. I am just hopeful that somehow good sense prevails. Personally speaking, I don't feel left out. I am aware of my Muslim identity and my Muslim culture. My wife is a Hindu and we don't feel held back. This hate wave will dissipate, some day," he told the channel.
Also Read: Mamata wades into Prophet row, demands arrest of 'accused' BJP leaders
He also said that Prime Minister Narendra Modi should step in and "stop the poison".
"I would appeal to the PM to knock some good sense into these people. If what he believes is what was said at the (Haridwar) Dharma Sansad, he should say so and if not, he should say so. I wish that the hatemongers that the PM follows on Twitter… He has to do something. He needs to step in to prevent the poison from growing," Shah said.