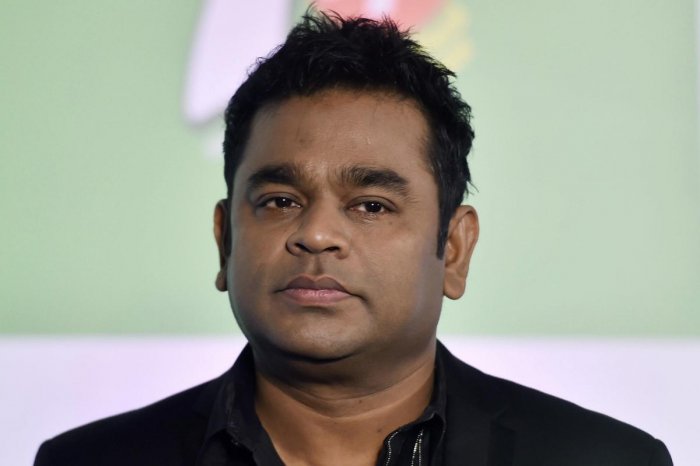 People have stopped trusting filmmakers: AR Rahman
Music composer AR Rahman, who has scored the music for Rajkumar Santoshi's "Gandhi Godse: Ek Yudh", says its unfortunate people judge films even before they watch them.
Santoshi's film is at the centre of a debate with some arguing that the film undermines the legacy of Mahatma Gandhi and glorifies his assassin Nathuram Godse.
At a promotional event for the film on Tuesday (January 24), Rahman said, "They have not seen the film, they have assumed the trailer is taking sides… People have stopped trusting filmmakers because filmmakers are taking sides."
Also read: Gandhi Godse: Ek Yudh: Violence never a solution, says actor who plays Mahatma
"Unfortunately… So, he (Santoshi) is the victim," Rahman told reporters in Mumbai.
Santoshi recently wrote to Mumbai Police seeking protection after a promotional event of the film was disrupted when some people, who sat among the media personnel, waved black flags and shouted slogans.
The filmmaker, best known for "Ghayal", "Andaz Apna Apna", and "The Legend of Bhagat Singh", had also written a letter to the police seeking protection after allegedly receiving death threats.
Rahman has composed the music for Santoshi's film which will arrive in cinema halls on Thursday.
Also watch: If Gandhi and Godse had met, what then?
'How can i get scared'
Santoshi, however, said he isn't afraid of anything.
"Both Gandhi and Godse were fearless people. Godse wasn't afraid of the consequences after killing Gandhi. When I am making a film on these two fearless people, how can I get scared?
"I don't care about death threats but my close ones insisted I must take precautions as it is a serious threat. So, I had requested Mumbai Police for protection and they have provided me with that. I am thankful to them," he said.
The 66-year-old director said he doesn't pay heed to the #BoycottBollywood trend.
Citing the example of Shah Rukh Khan-led "Pathaan", which faced controversy over its song "Besharam Rang", Santoshi said the record advance opening of the film is a testament to the fact that social media trends dont matter.
"We should not pay attention to it and we should rather focus on making a good film… I dont believe in this trend. If this trend worked, Pathaan would not have received such an opening (in advance booking)" he added.
"Gandhi Godse: Ek Yudh" will hit the screens a day after "Pathaan".
Asked if the team should have pushed the release owing to strong competition from the spy thriller, Santoshi said, "I don't think so."
"We had earlier thought to release the film on Gandhi Jayanti but since post production was taking time so we felt January 26 will be the right date because on January 30, he was killed.
"And Shah Rukh Khan is a big star, he is a good friend and a hard-working actor, besides Yash Raj Films is a big banner and they are good friends and I wish them all the best," the director added.
Written and directed by Santoshi, "Gandhi Godse: Ek Yudh" depicts the war between the two opposing ideologies between Gandhi (played by Deepak Antani) and Godse (essayed by Chinmay Mandlekar).
The film is backed by Santoshi Productions LLP and PVR Pictures.
(With agency inputs)