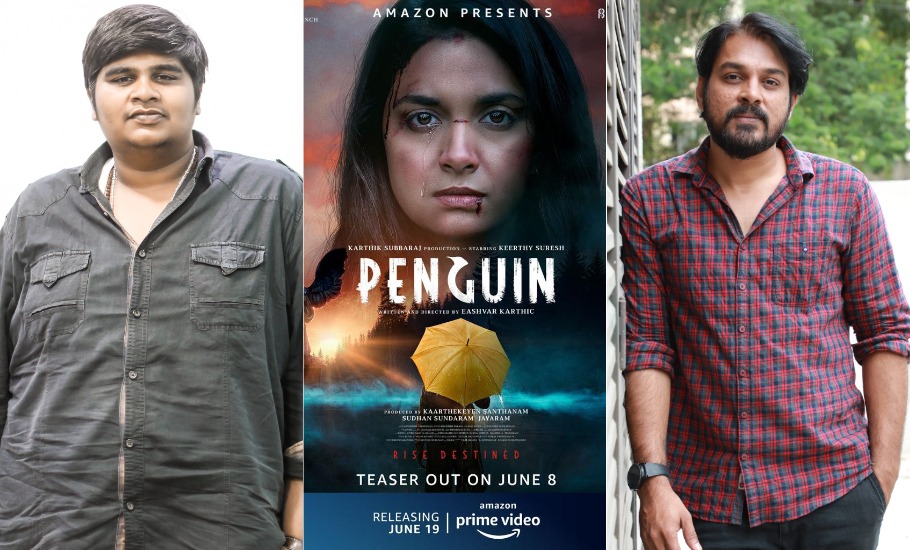 Penguin more than just another thriller film: Producer Karthik Subbaraj
Penguin, the second Tamil film to premier on Amazon Prime Video, coincidentally, is a women-centric story. In a interview with The Federal, producer Karthik Subbaraj and director-writer Eashvar Karthic spoke about how Penguin is more than just another film from the thriller genre.
Penguin, the second Tamil film to premier on Amazon Prime Video, coincidentally, is a women-centric story. Backed by Karthik Subbaraj's production house – Stone Bench – the psychological thriller revolves around the angst of a mother, who embarks on an arduous journey to unravel a mystery from her past and find her long-lost son.
If the trailer has suggested it, the producers clarify that Penguin is not a 'slasher' film but has strong elements of a thriller thrown in. Efforts are on, in fact, to stir up curiosity over the identity of a masked man with a yellow umbrella in the movie.
In a telephonic interview with The Federal, Karthik Subbaraj spoke about his latest production and how it is more than just another thriller.
"Penguin is more than a thriller, it is about the emotional connect between a mother and son. It is a mother's story – and the extent she will go to protect her child," he said.
Subbaraj, who is one of Tamil cinema's most prolific directors and producers, was clearly captivated with the 'thrill' elements in the story, when it was narrated to him by a newbie director-writer, Eashvar Karthic.
Related stories: 'We Will Rise': How a team of 117 filmmakers captured the locked-down India

Subbaraj's fascination for the thriller/horror genre is legendary. He has even made a 'silent' horror film, Mercury, about a group of youngsters stalked by a blood-soaked, malevolent creature.
"I like making and watching thriller and gangster films. It excites me to build up the tension of a good edge-of-the-seat, what-will-happen-next thriller. Mercury was a challenge I took upon myself, I wanted to see if I could transfer a movie without dialogues on screen," Subbaraj admitted.
"I have not however restricted myself to this genre," he added defensively and goes on to give the examples of his directorial film, Iraivi, on the exploits of three egoistic men and the women in their lives, and the romantic comedy Meyaadha Maan, which he produced. Both films do not belong to the thriller genre, he pointed out.
The director, who made it to the Forbes magazine's 2019 celebrity 100 list last year, and is sought after by all the top actors in the south Indian film industry, is all set to direct actor Vikram and his son, Dhruv for his next project.
"It is in the initial stages of scripting," said Subbaraj, who is also waiting to release his new mobster saga shot abroad, Jagame Thandhiram in cinemas, once theatres are back in business. The film has actor Dhanush in the lead and even a Scottish actor, James Cosmo of Game of Thrones, and Braveheart Troy fame.
Related stories: I want to make crossover films like 'Slumdog Millionaire': Hemant Madhukar

Irked with the OTT vs cinema debate, Subbaraj dismissed the absurd idea of film audiences never going back to cinema theatres.
"Audiences love watching movies in theatres. I love watching movies on the cinema screen. I don't think footfalls will ever drop in film theatres. OTT and cinema halls have happily co-existed before the coronavirus. We will go back to the same situation once all this is over," said the filmmaker, who has not signed up for an OTT film as yet.
Also, two more films that he is backing, one with actress Aishwarya Rajesh and another with actor Vaibhav, will be released in theatres, he revealed.
"They are currently in the post-production stage," he said.
Subbaraj, who has journeyed a long way from his low-budgeted ₹15 million runaway box-office hit, Pizza in 2012, admitted that he is in a good, challenging space today. He is happy making the films he loves.
"I am confident that I have not changed or made a lot of creative compromises along the way. I have done films the way I wanted to," stated the director, who fulfilled a deep-seated desire to direct superstar Rajnikanth by making a film with him last year.
Petta, an action drama movie, was ostensibly an ode to the superstar.
"I have been his fan from childhood. I approached the film as a fan, I made the film, as I would have loved to watch it as a fan," he admitted.
Related stories: From Ponmagal Vandhal to French Biryani: Can magic of movies move to OTT?

Today, film-makers have plenty of options to make films and the situation has significantly improved from the time Subbaraj entered a short film in a TV competition and got recognition.
"Good content wins and even earns money today. You don't even need big stars. It is definitely a good time to be a filmmaker," agreed Subbaraj, who is enabling the telling of unique stories and voices on celluloid through Stone Bench.
The latest new voice to join the Stone Bench bandwagon has been 35-year-old Eashvar Karthic. The IT engineer, who was once employed in a bank, was at the stage when he had almost given up on his dreams to make movies after a six-year long struggle. It was then he met actor Vijay Sethupathi through a friend, who directed him to Stone Bench.
Even as he had another script in hand, Eashwar Karthic had the sudden brainwave to narrate another story of an ordinary woman, who goes on an extraordinary journey to find her missing son. The producers loved the concept, which has been inspired by veteran Malayalam director, Fasil's 1987 Poovizhi Vasalile, said Eashvar Karthic.
"Poovizhi Vasalile is a gripping, mystery thriller combined with horror elements, with actor Sathyaraj in the lead. It is a must-watch," added Eashvar Karthic, during a quick chat with The Federal.
On Subburaj, he said, "Being a sensitive director, he understood the way I approached Penguin. He did not interfere at all and gave me full freedom. It was his and producer Kaarthekeyen Santhanam's unquestioned belief in me that drove me to push myself harder."
Related stories: Netflix documentary 'Tiger King' stirs up mayhem on social media

The film has been largely shot in Kodaikanal since the plot requires forest and water bodies, he revealed.
"I waited for the monsoons to capture the beauty of the locations, which had been shot by DOP Kharthik Palani. Since I belong to the area, I was familiar with every nook and corner in Kodaikanal and that helped me shoot in good locations," said Eashvar Karthic.
The crew, however, had to contend with wild animals during night shoots and were once even stung by a swarm of bees.
He is not disappointed that Penguin will debut on an OTT platform.
"OTT has come forward as a blessing in disguise. We are bound to catch more eyeballs with people forced to stay indoors. Also, by airing the film on Amazon Prime Video, we are taking it to over 200 plus territories," he pointed out.
"Yes, the experience of watching a film in theatre is incomparable," he added.
What prompted the film-maker to give a title like Penguin to the film?
"The penguin is the most protective mother after the orangutan. It is the perfect mother in the animal kingdom and I've introduced a few elements related to it in the film that justify the title," replied Eashvar Karthic.
Related stories: 'Gulabo Sitabo:' Juhi Chaturvedi, Shoojit Sircar deliver an endearing film

In fact, the trailer shows the protagonist, actress Keerthy Suresh narrating the story of a brave penguin ready to battle with powerful natural elements to rescue its baby, to her child.
Meanwhile, Keerthy Suresh has said about her character Rhythm in Penguin: "As a mother, Rhythm is both gentle and caring, but also fiercely determined. She's complex, but authentic, and I think that will really strike a chord with audiences."
Earlier, Subburaj explained the reason behind selecting Keerthy Suresh for the project.
"We needed a good actor to essay the lead role since her performance will be the key to the film. Keerthy was our first option, and when she agreed to do the film, we were confident the film would turn out good."
Several movies have explored the deep panic and anxiety a mother goes through when her child goes missing.
For instance, Hollywood psychological thriller Flight Plan tackles the fear and the pain of a woman, played by Jodie Foster, whose child disappears on a plane.
It's now time to wait for July 19 for Penguin to unfold its plot.
(Kavitha Shanmugam is a south-based independent journalist.)