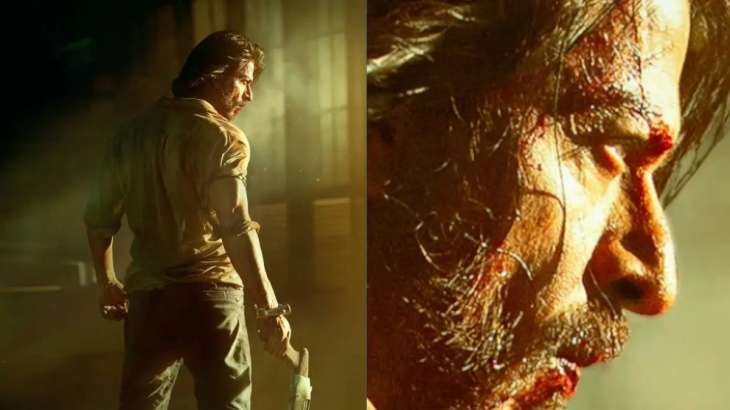 'Pathaan' trailer drops, SRK promises high-octane action and Twitter reacts
Yash Raj Films on Tuesday (January 10) released the official trailer of the much-anticipated Pathaan, a spy thriller that marks superstar Shah Rukh Khan's return in Bollywood as a leading man after his flop show, the 2018 Zero.
The 57-year-old actor, who plays the titular spy, 'a soldier in the service of the nation', in the upcoming Yash Raj Films (YRF) Production, shared the 2.34-minute-long trailer on his social media handles. The trailer crossed 34 lakh views within the first hour of its release, and had 1.4 million views at 2 pm. Twitterati went wild praising the actor saying, 'you can ignore Bollywood but not SRK'. 'King of romance turned into King of action', said another as the spy action thriller seems loaded with high action sequences, a la Bond movie.
Voices criticising the filmon social media were drowned by the positive reactions to the trailer.
The film, which stars Deepika Padukone, also shows her in a spy avatar. John Abraham, Dimple Kapadia, and Ashutosh Rana form the rest of the cast. This is Bollywood's first major release in 2023, and a lot is riding on its performance at the box-office after a dismal 2022.
The video opens with actor John Abraham-led private mercenary group called Outfit X threatening a massive impending attack on Indian soil. The Indian response is to bring back its tougher than nails spy – Pathaan to vanquish bad guy Abraham.
Also read: Shah Rukh Khan calls for positivity amid outrage over 'Pathaan' song
"Ab Pathaan ke vanvaas ka time khatam hua (The time for Pathaan's exile is over)," says veteran actor Dimple Kapadia's character in the trailer. The next sequence shows Shah Rukh's spy character breaking out of a prison in a daredevil fashion with all guns blazing.
"Party Pathaan ke ghar rakhoge, to mehmaan nawazi ke liye Pathaan to aayega and patakhe bhi layega" (If you have a party at Pathaan's house, he'll surely come to greet you as a host with fireworks!)", quips a voice-over, even as we see Shah Rukh gunning down guys, using a helicopter in one scene wreaking havoc and the next dropping bombs.
The story then moves to various international locales and also introduces Deepika Padukone's character, who joins Shah Rukh in his mission to take down John's terrorist outfit.
Extravagant action sequences
And, throughout the trailer, Deepika looks svelte, clad in her gorgeous colourful outfits and seems intent on making her slick action moves. The rest of the trailer provides a glimpse into the extravagant action sequences created by filmmaker Siddharth Anand, including one on some icy slopes, a fight between the two main antagonists Abraham and Shah Rukh on top of a vehicle.
South cinema's two superstars, Thalapathy Vijay and Ram Charan, launched the Tamil and Telugu language trailers of "Pathaan".
"Wishing @iamsrk sir and the team all the best for #Pathaan" tweeted Vijay.
Ram Charan posted on Twitter, "Wishing the whole team of #Pathaan all the very best! @iamsrk Sir looking fwd to seeing you in action sequences like never before! #PathaanTrailer"
Shah Rukh's last release was 2018's "Zero", which had a dismal run at the box office and five years later, the actor aims to get back into the groove with kick-ass action films. However, it is not going to be a smooth ride for the superstar, as the film has already courted controversy with its first song "Besharam Rang".
Also read: Bajrang Dal, VHP cadres vandalise mall in Ahmedabad over 'Pathaan' film row
A sequence in the song showing Deepika in a saffron bikini led to protests across India for allegedly hurting "Hindu sentiments". The CBFC has also suggested a few changes that the filmmakers have to do before releasing in theatres. The film, which part of YRF's spy universe, will be released on January 25, 2023, in Hindi, Tamil, and Telugu.
Shah Rukh's close friend and contemporary, Salman Khan, will be making an appearance in Pathaan, reprising his role from Tiger movies.
There are reports that YRF is aiming to unite its characters from these films and build a larger spy universe that will also see Shah Rukh's Pathaan spy do a cameo in Salman's Tiger 3, also scheduled to release later this year.
(With inputs from agencies)