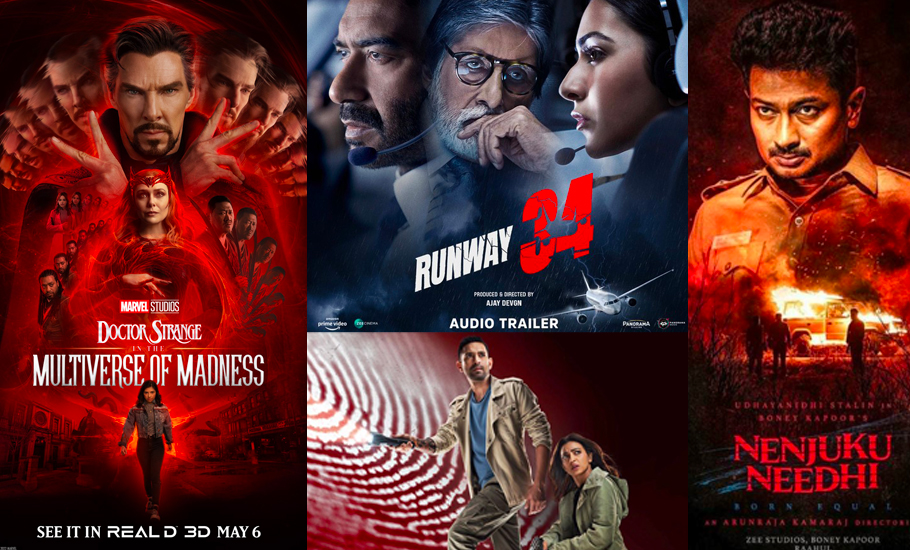 OTT: Psycho killers, case of missing Dalit girl, and Doctor Strange is back
Vikrant Massey and Radhika Apte-starrer 'Forensic', which will land on on ZEE5 on June 24, is a remake of a 2020 Malayalam movie with the same title
It is all set to be a whodunit weekend on OTT. One of the most prominent releases this weekend happens to be the Vikrant Massey and Radhika Apte-starrer Forensic, which will start streaming on ZEE5 on June 24.
A remake of the 2020 Malayalam movie Forensic, which starred Tovino Thomas and Mamta Mohandas, the makers of the Hindi version have tried to keep the "soul" of the original intact (heard that one before). But they have modified some twists and turns to keep the viewers who have seen the Malayalam original still hooked.
Also read: Anantham director V Priya on homosexuality, child sexual abuse, and battle for OTT viewers
Remake mania
But, why are Indian filmmakers obsessed with remakes? (Remember Drishyam, remade in every Indian language possible?) What's the point of making a remake of a whodunit since everyone who has seen the original film or read a review knows the identity of the killer. But, Vishal Furia, the director of the Hindi version, said in an interview that only remakes that are made lazily and copied film frame-to-frame are bad. In his view, a remake gives the film a pan-India audience.
The argument does not hold water as Malayalam films can be watched on OTT with subtitles across the length and breadth of India. Incidentally, the Malayalam Forensic is available on Netflix, if you want to catch it.
Vikrant Massey, the talented actor, who was last seen in a forgettable role in Haseena Dilruba and in the well-made Ramprasad Ki Tehvri, however, feels that viewers will learn more about the fascinating subject of forensic science from this film. The film revolves around a forensic expert and a police detective who get together to track down a psycho on the loose killing young school girls. Forensic also delves into some amateur child psychology and the effect of trauma on children and how it can eventually turn them into sadistic serial killers.
Also read: Squid Game 2 soon on Netflix; fans ecstatic and memes pop up
When the Malayalam film Forensic released in theatres on February 2020, reviewers compared it to another Malayalam film Anjaam Pathiraa (the Fifth Midnight), which had appeared in cinemas just a month earlier.  In that film, which was reportedly based on a true-life incident, Anwar Hussain (Kunchacko Boban), a criminal psychologist, helps his friend, assistant commissioner of police Anil Madhavan (Jinu Joseph), solve a series of cop murders.
Anil points to the possibility of a serial killer running amok to the investigating team, headed by Catherine Maria (Unnimaya Prasad) and the chase begins. The film, which received good reviews, was dubbed in Telugu as Midnight Murders and released on the OTT platform Aha. It was remade in Bengali in 2021 as Mukhosh. The director Midhun Manuel Thomas was so thrilled with the success that he has announced a sequel named Aaram Pathiraa ('The sixth midnight'). Check out Anjaam Pathiraa on Amazon Prime Video.
Hard-hitting crime drama
It is not just that much-maligned Bollywood (to give them their due) makes remakes of South films. Udayanidhi Stalin's Nenjuku Needhi ('Justice for the heart'), which starts streaming on SonyLiv, is a remake of Ayushman Khurrana's brilliant Hindi film Article 15. (Nenjukku Needhi has been plucked from the title of the autobiography of Udhayanidhi's grandfather M Karunanidhi). This is the story of IPS officer Vijayaraghavan (Udayanidhi), who investigates a mysterious case of three missing Dalit girls in a rural part of Tamil Nadu. While two are found dead, one is missing without any trace. He has to crack the case and nab the culprits.
The film, directed by Arunraja Kamaraj, remains faithful to the original and the hard-hitting narration hits home. Bankrolled by Boney Kapoor, the film moved Chennai's Dalit mayor R Priya to tweet about it.
Also read: Amazon Prime Head Aparna Purohit interview: 'OTT has broken all barriers'
Masala entertainer
If you are in the mood for pure blue-blood commercial cinema, there is the Mahesh Babu and Keerty Suresh starrer Sarkaru Vaari Paata, which started streaming on Amazon Prime Video on June 23.
The storyline of the Telugu film is not complex; a loan agent is conned by the woman he loves and he follows her to India from the US to retrieve his money from her father. The father is a powerful MP and an industrialist, giving the filmmakers a lot of scope to take potshots at Andhra politicians.
The movie, which reportedly made ₹180-200 crore in the box office, has all the ingredients of a masala entertainer – "fights, romance, and a stylish makeover for Mahesh Babu". Some critics pan it, saying only the first half which focusses on the romance between Mahesh and Keerty is watchable. But nobody is worried about the finer details of cinematic content; it went on to become the highest grossing Telugu-only film (RRR and Pushpa being pan-India films).
Inspired by Sully
Runway 34 is an aviation thriller and is inspired by the true story of a pilot, who manages to land his flight despite harsh weather conditions. In 2015, a flight from Doha to Kochi barely escaped tragedy after having problems arriving at the airport resulting from severe weather and low visibility. The movie, which lands on Amazon Prime, features Ajay Devgn, Amitabh Bachchan and Rakul Preet Singh. However, the plot does closely resemble  Hollywood blockbusters such as the Tom Hanks helmed Sully (2016) and Robert Zemeckis' directorial Flight (2012).
For all Marvel fans out there, Doctor Strange in the Multiverse of Madness is a standalone sequel to the Marvel superhero Doctor Strange and is an epic action thriller. There is mayhem in the multiverse in this sequel to the 2016 Doctor Strange. In the first film, we are introduced to Benedict Cumberbatch, who plays Stephen Strange, aka Doctor Strange. He meets a teenager, America Chavez (Xochital Gomez) who can amazingly open doorways from one universe to another. In Doctor Strange 2, the film unlocks the multiverse and its alternate realities and throws up new adversaries. Check it out on Disney+Hotstar.
Classic Tip: In sync with Pride Month, Wong Kar Wai's restored classic, the 1997 Happy Together, is streaming on MUBI. Wong Kar Wai pushed boundaries with this sumptuous queer love story. It is a "emotionally raw, lushly stylized portrait of a relationship in breakdown".
The film follows the tale of Lai and his lover Ho, who go on a trip to Buenos Aires from Hong Kong. They are locked in a turbulent cycle of infatuation and destructive jealousy as they break up, make up, and fall apart again.
Their torrid relationship plays out among lusty tango bars and the salsa music of La Boca sidewalks. But tensions grow between the two lovers, as they find themselves far from home with their lives drifting in opposite directions. Not to be missed.