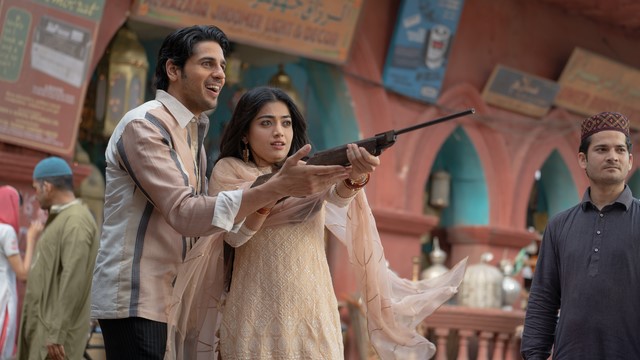 'Mission Majnu' on Netflix: A drab spy thriller that never takes off
Bollywood's fascination for spy thrillers is becoming tedious. If they are not willing to get it right, viewers who are being fed on a steady diet of thrillers like Israeli series Fauda or even other European engaging and racy thrillers on OTT platforms, just don't have patience anymore to sit through drab and inane fare.
The latest offering by Netflix, the Sidharth Malhotra-Rashmika Mandanna starrer, Mission Majnu, is yet another disaster. Like the brilliant Raazi and the recent low-key, enjoyable Mukhbir-The story of a spy (streaming on Zee 5), an Indian is sent to Pakistan to ferret information that will be useful for India.
Indian agent Amandeep (Sidharth Malhotra), who is already embedded in Pakistan as Tariq Ali, a tailor, has to collect information on Pakistan's nuclear programme. After India's first successful nuclear test in 1974, a worried Pakistan decides to carry out its own test with the help of dubious allies willing to sell them material to build their own bomb. It is not that kind of film where the hero goes into enemy territory a la Tiger (Salman Khan spy series films where he essays the role of Indian agent Tiger) with guns blazing and oozing testosterone. Instead, these spies are crafty with forgettable faces apparently and they mingle with the daily goings on and stealthily go about digging out information that will help their country.
Also read: 'Trial By Fire' review: A humane exploration of crime and punishment
It also helps if the agent does normal things like falling in love with the blind niece (Rashmika Mandanna) of his boss and marrying her to deflect any suspicion. And, give the director a chance to indulge in some soulful numbers that hopefully will top the music charts.
Inspired by "true events", the plot plods on at a slow pace as Tariq manages to get details of the nuclear programme, uses his cover as a tailor to coax a general into saying more than he should, (even in Mukhbir… sadly, the Pakistani generals came across as bumbling fools) and then tracks down the scientist AQ Khan who's making the bomb. He is also able to get to the facility where the bomb is being made.
Taril Ali aka Amandeep is aided in his spying by two other undercover Indian assets, Aslam (Sharib Hashmi) and the local maulvi (Kumud Mishra). Thankfully, there is no major chest thumping, stamping the ground with dust flying around asserting 'main ek desh bhakt hoon, main desh kai liye kuch bhi kar saktha hoon' (I am a patriot and can do anything for the sake of the country) kind of dialogues (guess you don't have to do that if your surname doesn't end with Khan)
But Amandeep has to deal with his own ghosts that are haunting him. There's a lot at stake for the agent to ensure he foils the enemy's nuclear plans.
Critics more or less have slammed the movie on all fronts. It is being called "drab", and the director Shantanu Bagchi's treatment of the subject "lost and confused" in places. It is not a gripping, spy drama by a long stretch and seems to be banking more on star power and cliched commercial elements like song, romance and hi-octane action climax.
Mission Majnu which started streaming from today (January 20) on Netflix is contrived, the fictional settings unreal and stagey. (Mukhbir-the story of a spy, however had made a real effort to bring in the early 70s look). Also, Sidharth Malhotra on which the film rests unfortunately fails to rise to the occasion this time (unlike his role in Shershaah) and Rashmika is a little more than a prop.
Mission Manju therefore joins a long list of drab spy thrillers (like John Abraham's Romeo Akbar Walter if you have heard of it) that can safely be avoided.