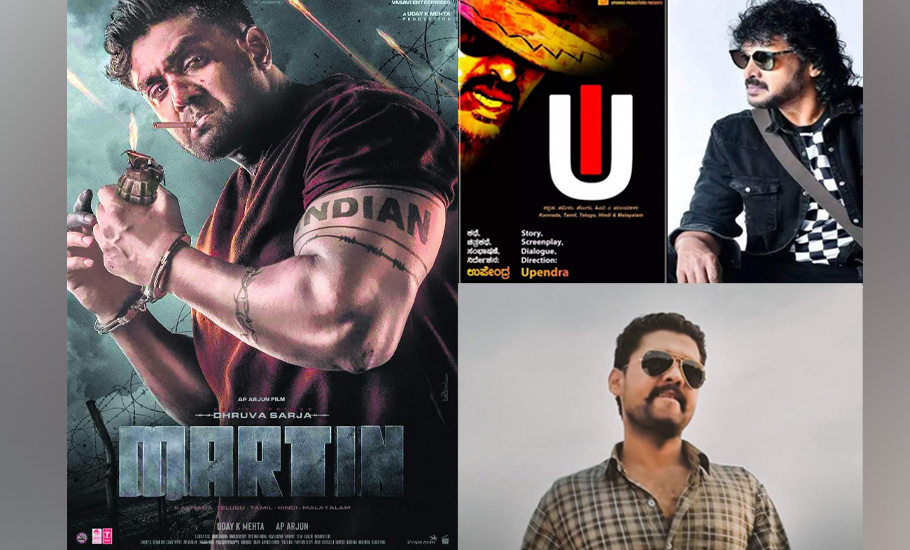 KGF-Kantara effect: Pan-India bug casts shadow on Kannada film industry
It is not good for Sandalwood that Kannada superstars are delaying deciding on their next new project as they eye another pan-India success. But not every Kannada film can emulate the success of 'Kantara'
The Kannada film industry achieved new fame in 2022. KGF 2, Charlie 777, Vikrant Rona and Kantara made audiences across the country sit up and take notice of Sandalwood. Yet, the picture for the industry looks bleak in 2023.
The Kannada film industry has a dozen heroes who can pull off a pan-India film. But, most of them, do not have even a single film lined up this year which can be called a pan-India film. Thanks to the success of KGF Chapter 1, most heroes in Sandalwood are now constantly on the hunt for a pan-India script.
For example, Rocking Star Yash has announced he needs more time to lock a script. Even if he does find a good one that will bring entire India under its sway, the film will take at least a year to complete and can release only next year. While Kichcha Sudeep who delivered a pan-India movie with Vikrant Rona last year, is yet to announce his next.
No to pan-India
Rakshit Shetty, whose Charlie 777 raked in over ₹100 crores, is working on a film titled Sapta Sagaradaache Ello, directed by Hemanth M Rao. Rakshit is very clear that it will not be a national project. The actor, writer and director told the media that if people want to watch the movie, they can do so in select theatres or on OTT with subtitles.
Not just that, his next directorial, Richard Anthony, being produced by none other than Hombale films, will also be a regional movie. Rakshit claims that the subject covers the west coast going up to Mumbai. He feels the film may find audiences in Marathi and Malayalam but not in Tamil Nadu.
Kantara's success story
Rishab Shetty's Kantara was lapped up across the country in 2022 and earned nearly ₹400 crores at the box-office. But, the actor, who is basking in the nation-wide fame, isn't ready to work on another film. Rishab is overwhelmed with Kantara's success and has said he would like to take a break for two or six months.
As per reports, Rishab is likely to make the second installment of Kantara but that is expected to take time. He took more than a year to work on Kantara. The actor/director will be extra cautious to not let his fans down with a sequel.
Meanwhile, Shiva Rajkumar is riding high on the success of Vedha and will be part of two Tamil films. The first is Jailer with superstar Rajinikanth; the other one is with Dhanush. Shiva has nearly a dozen films on hand. But he has no plans of taking them pan-India.
Challenging Star Darshan has started working on a project but he too has no intentions of travelling the length and breadth of India to promote his film. He is happy with his stardom in Karnataka.
Upendra has two pan-India films in 2023
Superstar Upendra has two big movies that will see an all-India release in 2023: Kabzaa and UI. Fans are confused which will release first. Kabzaa also stars Sudeep and Shriya Saran. The makers are taking longer than expected to release it. The makers of UI are confident they can wrap it up and release it before June.
Upendra is well known in the southern film industry as an actor and director. It will be the first time his film will be presented to audiences in the Hindi region. Both films are made on a huge canvas. Can he strike a chord in the Hindi belt?
All eyes on Dhruva Sarja's 'Martin'
Dhruva Sarja's upcoming film Martin, directed by AP Arjun, is one of the most anticipated productions of 2023. Even though it is his fifth movie, it will come out in multiple languages. It is a big budget film and has been in the making for long. It remains to be seen if Dhruva can become a pan-India star with Martin.
Several other stars like Ravichandran, Dhananjay and Ramesh Aravind besides other actors have several films in their kitty. Can any of their movies emulate the runaway success of Kantara?
Bad for Kannada film industry
The Federal spoke to senior journalist B Ganapathi about Kannada superstars delaying over deciding on their next new project. According to Ganapathi, this is a bad development.
"The overwhelming success of KGF and Kantara has hit the Kannada film industry in many ways. Superstars are worried about taking up new projects as they are unsure if it will succeed across India. This will have serious implications on the economic health of the Kannada film industry, he said.
Further, he added that though the younger generation of actors and filmmakers are coming up with new concepts, there are no takers for their films. "Producers are shying away from making small and medium budget films, they only want to make ₹100 crore films. Not all Kannada films can become a KGF or Kantara. If the trend continues, it will be a disastrous year for the Kannada film industry," he pointed out.
At least half a dozen Kannada films are released every week but most of them are unable to recover their marketing cost. The big guns in the industry are yet to announce their next projects. 2022 saw at least five big films make a mark at the pan-India level. But the treasure chest is almost empty in 2023. Guess, the Kannada film industry will have to wait till 2024.