Kannada film 'Bera' explores religious terrorism in coastal Karnataka
Bera, a socio-political Kannada film written and directed by Vinu Balanja, which aims to portray the communalization of society in the coastal region of Karnataka — often referred to as South India's Hindutva laboratory — is all set to hit screens on June 16. As this debut filmmaker asserts, "Besides communalisation, the film also speaks about religious terrorism." The film's trailer, which was released recently, instantly impressed the 'discerning' audience for its content.
It appears that more than just cine enthusiasts, it is predominantly the fundamentalists of both prominent religions in Karnataka who eagerly await the film's release as a section of Kannada dailies and social media posts have drawn a parallel between Bera and The Kashmir Files (2022) and The Kerala Story (2023), leading to descriptions of the film as 'The Karavali Story'. The title Bera, accompanied by the tagline 'Merchant of Death', has further piqued the audience's curiosity. Many who have seen the trailer believe that Bera presents a unique storyline that has never been explored before in Kannada cinema.
Shot in Kalladka, the epicentre of clashes
During the release of the film's teaser, Balanja stated: "Bera is a Tulu word (Tulu is a Dravidian language, whose speakers are concentrated in coastal parts of Karnataka, especially in Dakshina Kannada, Udupi and northern part of Kasaragod district). It means business or trade in Kannada. The story revolves around the phenomenon of youngsters falling prey to growing communalisation in the region because of some vested interests. The film also explores the exploitation of young minds by political leaders who manipulate their innocence by instilling religious sentiments for personal gain.
Watch: OTT: Are Kannada filmmakers getting a raw deal? | 19.20.21 | OTTs
Bera gained importance because of its subject. The 320-km-long coastal belt of Karnataka has a troubling history spanning over three decades, which has earned the region the notorious reputation of being a laboratory for Hindutva (Hindu supremacist movement). Many murders have been reported in the last one and half decades, involving local gangsters with affiliations to either right-wing Hindutva fringe groups, or the radical Islamist outfit Popular Front of India (PFI) in this region; the latter has been banned by the Centre.
Significantly, the film is extensively shot in the town of Kalladka in Bantwal taluk of Dakshina Kannada — the epicentre of communal clashes. RSS leader Kalladka Prabhakara Bhat, who represents this place, is known for making inflammatory speeches. "The film deliberately incorporates the language spoken in Kalladka and its surroundings to enhance its authenticity," says Dattanna, one of the lead actors in Bera. He further explains, "The usage of Kalladka Kannada infuses a local flavour into the storytelling."
The inspiration: Kalladka museum and four antique pillars
When one examines the 89-year-old history of Kannada cinema, it is rare to find filmmakers attempting to tackle communalism per se. "Though filmmaker M S Sathyu tried to look at it through the prism of politics in his 1980 film Bara (meaning famine, it was based on a short story by U R Ananthamurthy), and journalist-turned-filmmaker Agni Shridhar directed Thamassu in 2020, no one else seems to have taken on the issue with such directness.
Of course, the cast of Bera boasts a stellar lineup of experienced and sensitive artistes. Attanna, Suman Talwar, Manjunath Hegde, Rakesh Maiya, Yash Shetty, Harshika Poonachcha, Ashwin Hassan, and Chitkala Biradar have been approached keeping their respective characters in mind. The expectations from Bera have risen, especially after Harshika Poonachcha's statement that the film is inspired by real-life incidents and addresses a serious subject matter.
Also read: Scoop review: Hansal Mehta's subversive take shines light on journalism's dark side
Nevertheless, Balanja is no stranger to the world of cinema. He received training under the eminent small screen director T N Seetharam. As an independent serial director, Balanja helmed popular serials such as Preethi Illada Mele (featuring Yash, now a superstar, and Ananth Nag); Neeharika; Love Lavike, and Janaki Raghava. He ventured into the big screen with the film Nathuram, starring Rishab Shetty in the lead role.
However, the film he planned in 2018 had no connection to Nathuram Godse, the assassin of Mahatma Gandhi. Balanja's Nathuram presents a distinct perspective, portraying a fictional character who follows Gandhian principles. Unfortunately, the film did not progress as expected.
After a period of relative inactivity spanning almost four years, Balanja's accidental visit to the Kalladka museum and the sight of four antique pillars at its entrance sparked an idea for Bera. Divakara Dasa Nerlaje was enthused when Balanja narrated the story of Bera and agreed to produce it.
Considering the publicity the film is getting after the release of trailer, Balanja weighs each word he speaks, as he is apprehensive of vested political and ideological interests exploiting Bera to meet their political ends like the way characters in his film exploits innocence and ignorance of the younger generation.
"A friend of mine took me to the Kalladka Museum, which is managed by Yasir Kalladka, who has a fascination for antiques. Collecting antiques of coastal Karnataka, especially currency (notes and coins), he arranged them for the benefit of the public. When I visited this museum, four antique pillars (without any intricate carving to represent the style of any dynasty) at the entrance drew my attention. Yasar told me that these pillars belonged to Nitilaksha Sadashiva Temple of Netla area in Kalladka. Temple authorities removed these pillars during the rejuvenation process. When Yasir asked, they generously handed it over to him. These four pillars became the centrifugal point of Bera," explains the filmmaker.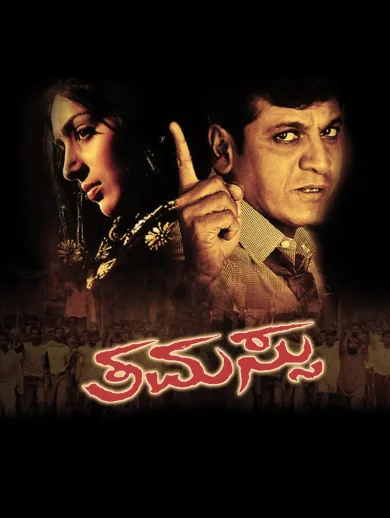 "Kambhagalu misukaadale baaradu (These pillars should not shake a bit)," says one character in the trailer. Another character opposes by noting: "Kambha iralebaaradu and deepa uribaradu (These pillars should be removed from here and lamps on them should not glow). Yet another character says; "Naavu sattare, ee kambhagalu savira varsha Kathe Helutve (If we die, these pillars will narrate the story for a thousand years)". Citing these different dialogues from three different characters of the film, Balanja says: "This is how these 'real' antique pillars transformed into the 'reel' pillars of the story. I weaved the narrative around them and titled it Bera."
The agony of death
Balanja says he firmly believes that while business is a means of survival, it can also be a path to destruction. "My aim is to depict how innocent and unaware individuals, particularly the youth, are exploited by political leaders from opposing religions as they climb the ladder of politics. I am concerned about safeguarding the young minds of all mothers, irrespective of caste, creed, and culture, from becoming scapegoats in the power games of these leaders," he says.
Also read: School of Lies review: Uncovering harrowing truths about trauma among boarders
Regarding the tagline 'Merchant of Death,' he asserts; "If somebody dies in the power struggle, leaders will take advantage. Secular fabric has been torn apart in the coastal Karnataka region in the past three decades. I am inspired by recent incidents where few youngsters lost their lives because of the communal tension in Kalladka".
Balanja indirectly refers to the alleged political murders of Praveen Nettaru, Harsha, and Fasil. He admits to having spoken to their families, understanding the profound grief they experienced from losing their loved ones. "The agony of death is the same for every mother, regardless of the circumstances. The emotions are the same and the tragedy is that they sacrificed their lives over flimsy reasons," he says, pointing out how Bhatkal, a quiet coastal town, has become a breeding ground for terrorists, with its youth involved in acts of terror that shook the nation. He notes that Bera also explores the existence of terror sleeper cells in coastal Karnataka, a phenomenon acknowledged by former Chief Minister Basavaraj Bommai.
Did Balanja face any opposition while shooting the film in Kalladka? Does he anticipate any backlash following the film's release? "No, I did not face any problem from anybody while shooting the film as we kept the content under wraps. Bera will not take a stand in favour of any community. I am not sure whether 'anybody or any one community' will take advantage of it. However, one thing is certain: I will not allow anybody to appropriate my film," says Balanja firmly before he signs off.
It is a known fact that making films on sensitive subjects is not an easy task. While some filmmakers are making propagandist films for political reasons, others like Sayeed Mirza, M S Sathyu and Nandita Das have adeptly conveyed their intended messages sensibly, avoiding sensationalism. It remains to be seen whether Balanja delicately addresses the issue or resorts to sensationalizing it for popular appeal.