Sabbatical or disbanding? BTS breaks a million hearts
Call it sabbatical or disbanding, K-pop group BTS has sent shockwaves among millions of its fans across the world. In India too, there was so much heartburn, especially because the band is scheduled to visit India later next year.
The seven members of the group made the "shocking" announcement through a YouTube video – The BTS Dinner Party. Seated at a long wooden table, with a wall decorated with purple balloons in the background, they started discussing their future plans. It was then that BTS member Suga, 29, dramatically announced: "We're going off now".
However, Hybe, the entertainment company behind the group, cleared the air later. The company revealed that the group isn't going on a "hiatus", but is in fact on a "temporary break".
Also Watch: Srinagar grooves to folk music, connects with heritage
VICE World News, quoted Hybe saying: "To be clear, they are not on hiatus but will take time to explore some solo projects at this time and remain active in various different formats."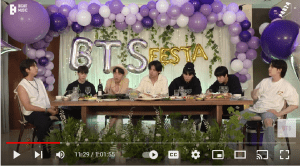 The group's fans, known as Army, flooded the Band's social media handles with various messages post the announcement. Some were sad while others showed their support for the group.
Mrs. JK wrote: "The best moment is yet to come for both of us. You don't need our permission to step back and focus on yourselves because we'll meet back again. See you in the future my loves."
Another supporter, Mellisa Sansalone wrote in the comment section below the groups recent YouTube video: "No matter what decision the group makes, just know that we are so proud of every single one of you and you made army so happy with everything you have put out into the universe. THE BEST IT YET TO COME."
Also Read: How indigenous artistes from Kerala have everyone grooving to their music
Nur Habibi Nasution, a fan of the band, while trying to stay positive, wrote: "ARMYS remember, they'll not disband. They just want to take time for themselves. But still, let's support Bangtan on their new path. They will remain as BTS for a long time. We'll see them personally. Thank you BTS for this. We love you so much always." (sic)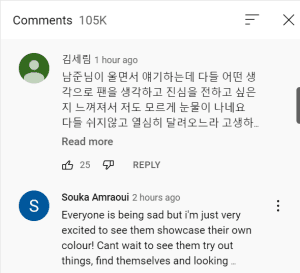 Speculated reason for the break
The group's fans say a break was long due for the members of the boy band. They have long faced a burnout and identity crisis and feel the need to focus on solo projects. Some speculate that South Korea's military service requirement may be a factor behind the group's sudden decision.
South Korea's National Assembly is still discussing revising the law to provide exemptions from military service to people who make huge contributions to South Korea's international image. No revision is currently in place and Jin, the oldest member of the group, is almost due to begin the service.
The group's members in the recently released YouTube video talked about their struggles and exhaustion.
Also Read: RJ Balaji interview: 'Badhaai Ho has a personal connect for me'
RM, the group leader said: "The problem with K-pop and the whole idol system is that they don't give you time to mature. You have to keep producing music and keep doing something. It feels so wrong to even say that we're exhausted."
Another member, Suga said: "It's not that we're disbanding – we're just living apart for a while."
"We promise we will return someday even more mature than we are now," said Jungkook, another member of the group.
BTS's long way to success
Started in 2013, the group, consisting of members Jin, Suga, J-Hope, RM, Jimin, V, and Jungkook, has since grown to fame. The band became the first K-pop group to be nominated for a Grammy Award. They also bagged the Artist of the Year award at last year's American Music Awards. The group members were even invited to speak at the United Nations.
The group co-writes and co-produces much of their work. Their song lyrics often contain social messages on themes like mental health, loving oneself and individualism.
The group has sold over 32 million albums which makes it the best-selling artist in South Korean history.
Also Read: Marvel Studios Thunderbolts movie in development, Jake Schreier to direct