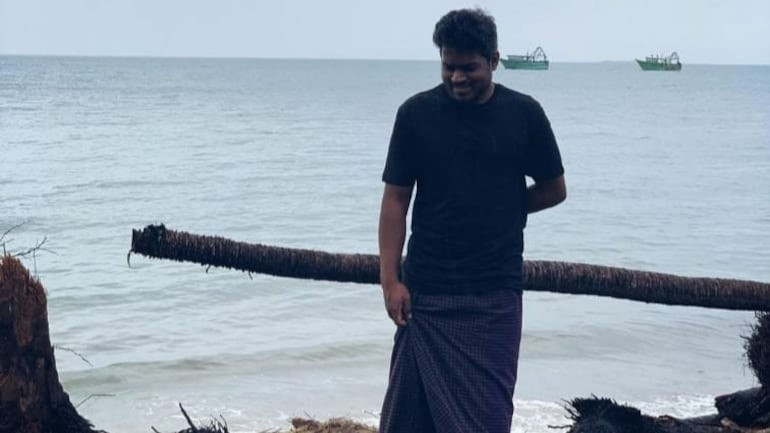 If you are black, are you Dravidian? Yuvan's Insta post stokes row
Even as the furore over Ilaiyaraaja's comparison of Prime Minister Narendra Modi to Dalit icon BR Ambedkar is yet to die down, his son Yuvan Shankara Raja has now stoked further controversy by posting a picture of himself, clad in a black t-shirt and lungi, on Instagram with the caption: 'Dark Dravidian, proud Tamizhan'.
While media reports indicated if Yuvan was trying to distance himself from his father's support of the ruling saffron party, TN BJP President K Annamalai commented in a spirit of competition, "If Yuvan is dark, then he (Annamalai) is much darker like a jungle crow and that he too is a pure Dravidian."
View this post on Instagram
Meanwhile, Ilaiyaraaja, who was slammed on social media for penning a foreword in a book, praising Modi and even predicting that if Ambedkar were alive, he would be proud of the Prime Minister, has garnered a lot of support from the BJP.
Ilaiyaraaja even got support from none other than BJP national president JP Nadda, who dived into the row, to ostensibly protest against what he called this "verbally lynching, shearing and humiliating one of India's tallest musical maestros". He blamed the DMK in Tamil Nadu for this bashing that Ilaiyaraaja was receiving and wondered if this was democratic?
Union Minister L Murugan too asked on Twitter, "What is Ilaiyaraaja's crime? That he has a point of view which the DMK and their eco-system doesn't like?"
Also read: As Ilayaraaja heaps praise on Modi, his fans wonder what drove him to it
Ironically, Murugun pointed out that the Constitution of India allows freedom of expression and by denying the same to "Ilaiyaraaja sir, DMK has shown its anti-Dalit and anti-Constitution nature".
The governor of Telangana and Pondicherry, Tamilisai Soundararajan too, staunchly defended him. She tweeted: "Is it right for world-renowned music maestro Ilaiyaraaja to face such harsh words for comparing PM Modi with Ambedkar by those who sow seeds of hate politics?"
Meanwhile, Naam Thamizhar Katchi's leader, Seeman, slammed Yuvan's description of himself as a Dark Dravidian. "Just because someone is black, doesn't mean they are Dravidian," he argued, seemingly offended that Yuvan was drawing a parallel between dark complexions and Dravidians.
"He is saying that he's black and hence Dravidian. Everyone in South Africa is black. Does that make them Dravidian?" questioned Seeman, pointing out that even a buffalo is dark. Does that mean it is also a Dravidian?" asked Seeman.