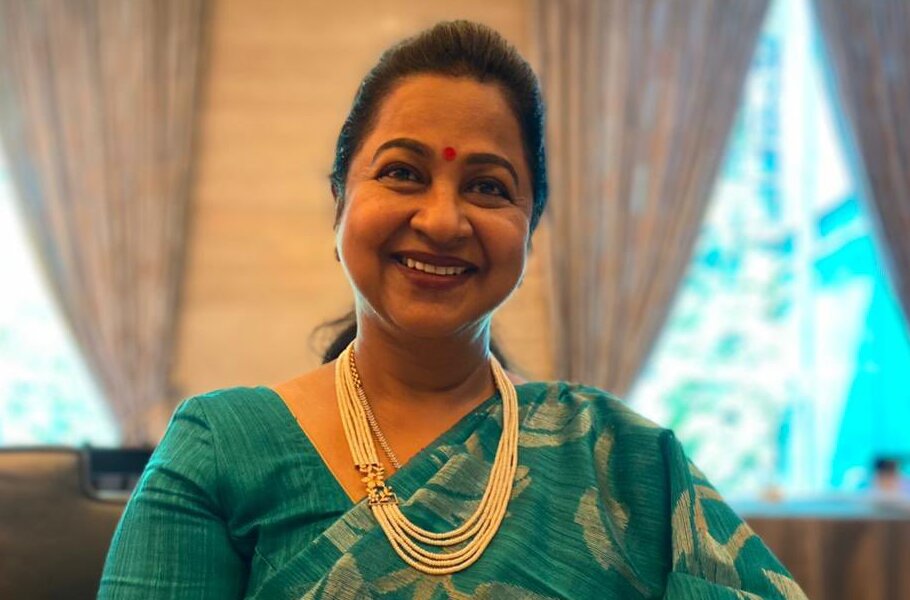 'Chithi' Radikaa to take sabbatical from TV, will join husband's party
Actor Radikaa Sarathkumar announced on Saturday (February 13) that she will temporarily not be temporarily off acting in television serials
Actor Radikaa Sarathkumar has announced that she will temporarily quit acting in television serials and devote her time to working for her husband Sarath Kumar's political party.
In a tweet on Saturday (February 13) she wrote: "Mixed mood of happiness and a tinge of sadness as I sign off from #Chithi2 and mega serials for now. Given the best of my years and hard work in @suntv Sad to say bye to all the technicians and costars. The show must go on good luck to Cavin, venba and Yazhini (sic)."
She also shared a photograph of hers with the cast of Chithi 2. In an Instagram video later, Radhika said she will join her husband and actor Sarath Kumar's political party Samathuva Makkal Katchi and also work with her production company, Radaan Mediaworks.
Also read: Textbook for Tamil goes beyond literature; delves into films, history, science 
"I will be doing more greater things through it. Politics is an extension of social service. I want to give back a little of the love you have been showering me with all these years. I am sure of doing it. I will surely be working for you," she said.
Radikaa also said that she lost interest in doing television serial characters after Vani Rani. "Television is a circle and I don't want to get caught in it. After Vani Rani, I lost interest in doing such characters. Somewhere we get caught," she said. "I have now got opportunities to do better characters in films and web series," she added.
Radikaa is most well known for the popular nineties mega serial Chithi, which aired on Sun TV between 1999 and 2001.
Radikaa also tweeted telling her fans to continue watching Chithi 2 and said that her best was yet to come. "Love to all my fans and well wishers. Thanks for the unconditional love and loyalty. Keep watching #Chithi2 @radaantv. My best is yet to come (sic)."