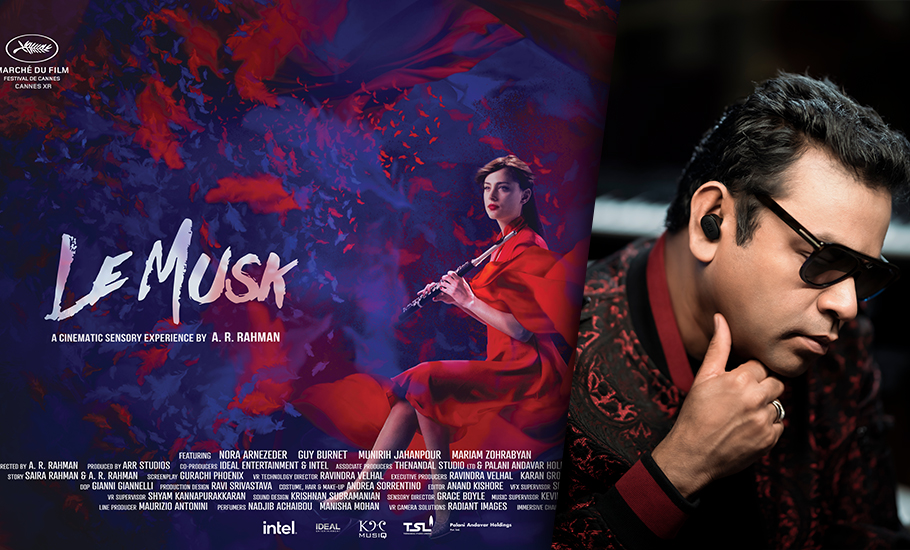 Cannes Festival 2022 kicks off: AR Rahman's VR film 'Le Musk' to be screened
Even as the star-studded, prestigious Cannes Film Festival 2022 kicked off today on May 17, Oscar and Grammy winning composer AR Rahman's directorial debut Le Musk, is all set to premiere today at the Cannes XR, which is a part of the festival.
Rahman will also walk the red carpet at the Cannes Film Festival this week, along with British actor Guy Burnet, who plays a musician in Le Musk, as well as with Ravindra Velhal, Intel's Global Content Technologist, and the executive producer and VR technology director of the film.
The 36-minute film, Le Musk, directed by Rahman has been billed as a cinematic sensory experience incorporating virtual reality, with motion, music and scent integrated into the narrative. The cast includes Nora Arnezeder (Army of the Dead) and Guy Burnet (Oppenheimer) in lead roles.
The story of Le Musk has been developed by Rahman from an original idea by his wife Saira. Since both share a love for perfume, they wanted to employ scent as a narrative device in immersive cinema. Rahman has directed this virtual reality film from a screenplay by Gurachi Phoenix, besides composing the score.
Also read: 75th Cannes Film Festival: Akshay, Rahman, Nayanthara to walk red carpet
The movie's plot will follow heiress and musician Juliet Merdinian, who, 20 years since she was orphaned, searches for the men who changed her destiny with one powerful memory – their scent. Le Musk was shot on 14 different cameras capturing super-resolution quality video and post-production was done in 10 VFX houses from around the world with close to a petabyte of data.
Rahman entered film production and screenwriting with the 2021 film 99 Songs. On his debut as a film director, Rahman said in a statement, "Le Musk has been several years in the making with collaborators worldwide; we've aimed to create an unprecedented, subtle sensory cinematic surrealism. Creating a feature-length Cinema VR experience that pushes boundaries of storytelling and incorporates multiple senses was a guiding force for me. Aroma and music together bring warm memories subjectively for the audience."
The Indian delegation at Cannes, led by Union information and broadcasting minister Anurag Thakur, also includes Nawazuddin Siddiqui, Mame Khan, Ricky Kej, Nayanthara and more.