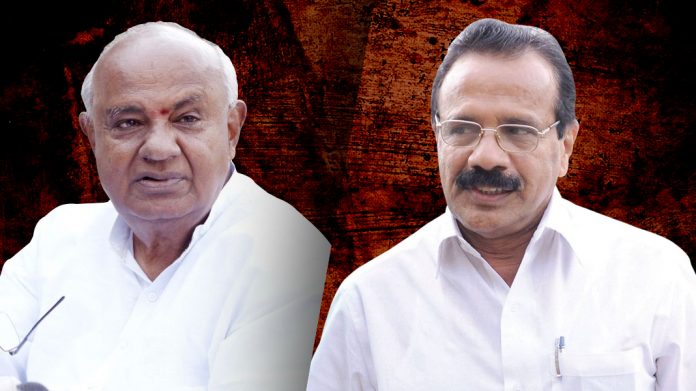 Former Prime Minister and JD(S) supremo H D Deve Gowda, officially announced on March 13 that he would relinquish his seat in Hassan to make way for his grandson Prajwal Revanna.
The 85-year-old JD(S) veteran is most likely to contest from Bangalore North currently represented by Union minister DV Sadananda Gowda. The constituency which has eight assembly segments is represented by two JD(S) MLAs, five Congress and one BJP. The party wants to cash in on the Vokkaliga votes in Bangalore North by combining the JD(S) and Congress vote bank.
Late on March 13, the coalition partners in Karnataka — JD(S) and Congress — finally agreed on seat sharing for the upcoming general election. Of the 28 Lok Sabha seats, Congress will contest in 20 while the JD(S) will fight in eight.
Advertisement
JD(S) will contest in Shimoga, Tumkur, Hassan, Mandya, Bengaluru North, Uttara Kannada, Udupi-Chikkamagaluru and Bijapur (presently knows as Vijayapura).
Commenting on the development, Union Minister Sadananda Gowda said, "I have great respect for Deve Gowda and it will be good to contest against an elder in politics. As I said earlier, I am not scared of him."
"I have done good work in my constituency and I believe people will vote for me again," he added.
In 2014, Sadananda Gowda, who hails from Coastal Karnataka, contested from Bangalore North to defeat C Narayana Swamy of Congress in the Vokkaliga belt.
For Deve Gowda, who is a six-time member of parliament, Hassan has always been a safe seat. He won five times from Hassan and once from Kanakapura constituency during a bye-election in 2002. Gowda contested from both these places in 2004 and retained only Hassan, while he lost Kanakapura to the then Congress candidate Tejashwini Gowda.
JD(S) sources still do not rule out Tumakuru as an option for Gowda considering that they had it after a hard bargain with the Congress. The rural segment is represented by three JD(S) MLAs, one Congress and four BJP. In three of the four assembly segments won by BJP, JD(S) was a runner up in three seat seats. "So, the ground level cadre is strong in Tumakuru and hence JD(S) wants to cash in on this," said a JD(S) spokesperson.
The Congress party is willing to help Deve Gowda with whichever seat he chooses.   "It if for them to choose who will contest from where. Both the parties have agreed on the seat sharing and they will have to analyse the challenges and come to a conclusion. The Congress party will help with whichever seat he chooses to contest from—be it Tumakuru or Bangalore North," KPCC working president Eshwar Khandre said.
Congress candidate S P Muddahanumegowda currently holds the Tumakuru seat.
Though JD(S) has agreed to accept less number of seats than expected, political analysts believe that the party has bargained well to get hold of some of the Congress-dominated regions. They also cautioned both the parties on co-ordination at the ground level.
"Both, the Congress and JDS used to fight for the same territory. Even if the seat sharing agreement is finalised, there would be differences at the ground level, and that is something the coalition partners will have to handle better," Psephologist Sandeep Shastry said.