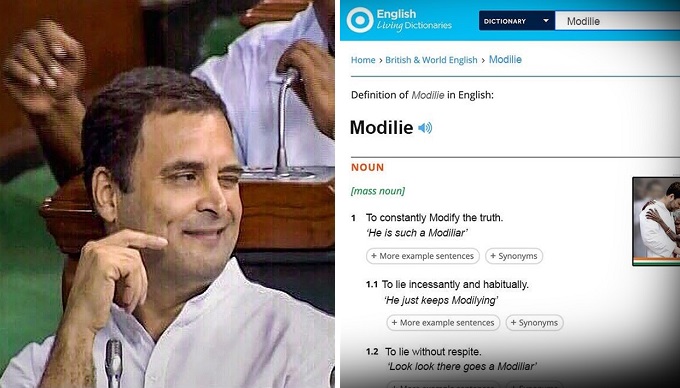 "There's a new word in the English Dictionary. Attached is a snapshot of the entry," Congress president Rahul Gandhi said on Twitter with a smiley.
There's a new word in the English Dictionary. Attached is a snapshot of the entry 🙂 pic.twitter.com/xdBdEUL48r

— Rahul Gandhi (@RahulGandhi) May 15, 2019
Well, it was a photoshopped screenshot of an an entry for the word on a replica of the Oxford Dictionary website.
Advertisement
According to the screenshot shared by Gandhi, "Modilie has become an official word in an English dictionary. And it means: To constantly modify the truth; to lie incessantly and habitually; and to lie without respite".
Of course, there is no such word as Modilie in the Oxford Dictionary wesbsite.
'Modilie' is a new word that's become popular worldwide. Now there's even a website that catalogues the best Modilies! https://t.co/Ct04DlRsj3

— Rahul Gandhi (@RahulGandhi) May 16, 2019
Online media outlets were quick to pick up from where Rahul Gandhi left and did some more research on the origin of the 'lie'. According to India Today, the word "Modilie" can be traced back to 2012. Congress leaders and supporters had then used the word to denounce Modi since his time as chief minister of Gujarat. It was tweeted along with other hashtags like #VoteOutModi and #ResignModi.
According to the same website, Gandhi reportedly tweeted the information twice. In his first tweet, he shared a screenshot with the logo reading "Oxford Living Dictionaries", but in the new tweet, the logo was "English Living Dictionaries".
However, Republic TV seems to have fallen for the 'lie' and presented it as 'breaking news'. "Okay, we have some breaking news…not really so but as far as Rahul Gandhi is concerned, it is nothing new." The channel said Gandhi peddled a "new lie" and dedicated nearly 10 minutes to "expose" Rahul Gandhi with their "fact-checking".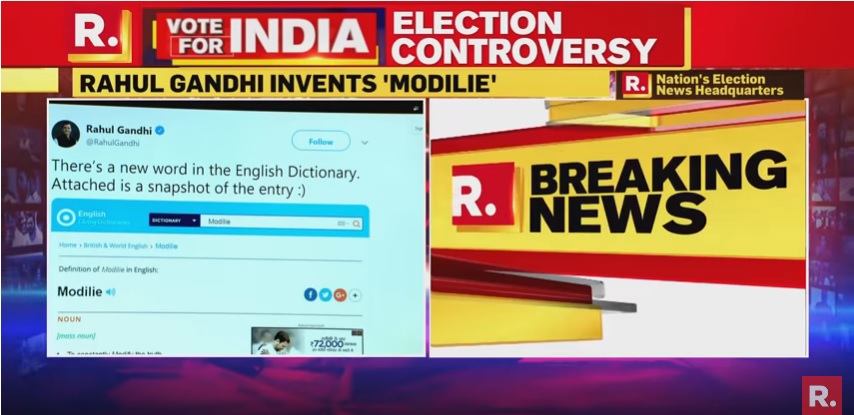 Many BJP supporters on social media too seemed riled up and "busted" Gandhi's "lie", pointing out that the word did not really exist in the dictionary.
I searched for the world 'Modilie' in oxford dictionary. Here's what I got! pic.twitter.com/FmQRzGcmi6

— Chowkidar TFI (@FrustIndian) May 15, 2019
Last week, Prime Minister Modi had released a list of "abusive words that Congress leaders that allegedly used against him" and said he will expose the Congress's 'dictionary of love'.
"Do you want want to know how they [Congress] expressed their love for me?" Modi said at a rally in Kurukshetra town in Haryana. He claimed Congress leaders had called him a sewer rat, a mad dog, a monkey, a virus, 1993 Mumbai blasts-accused terrorist Dawood Ibrahim, German dictator Adolf Hitler, rabies-infested monkey, a mouse, a snake, demon king Ravana, and a merchant of lies, among other things.
Gandhi, in the past, coined the word 'Jetlie' as well. The term was used to criticise Finance Minister Arun Jaitley.