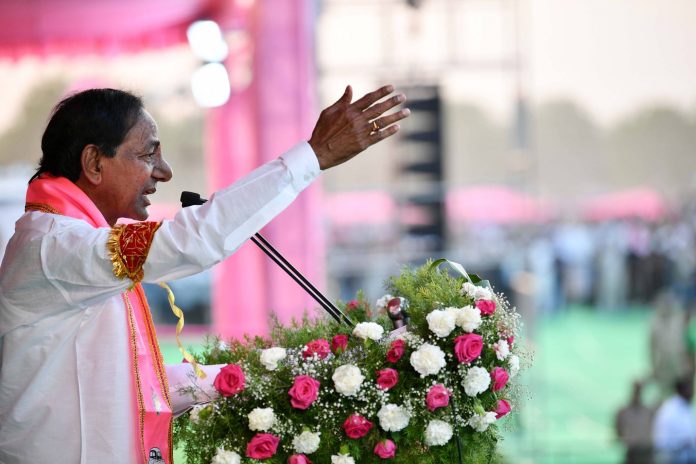 Parliamentary constituencies in Khammam, Hyderabad and surrounding districts are the focus of Telangana Rashtra Samithi (TRS) as it goes all out to make a clean sweep, buoyed by the landslide victory in the recent Assembly elections and exodus of MLAs from the opposition Congress party.
Determined to win 16 seats, leaving Hyderabad for its ally All India Majlis-e-Ittehadul Muslimeen (AIMIM), TRS aims to achieve what it could not since its inception. Winning Khammam, Secunderabad and Malkajgiri will be its priority as it has never won these seats. TRS has also never won Nalgonda and Nagarkurnool seats but for different reasons.
Achilles heel
Advertisement
The credit for making 'Jai Telangana' a household slogan and achieving statehood to the region undoubtedly goes to TRS but Hyderabad and Khammam were the two districts where the sentiment of separate state always evoked less interest. The party struggled to consolidate itself in the two districts, considered its Achilles heel due to a large population of migrants, including those from Andhra Pradesh, and a difference in culture.
Even after Telangana state became a reality in 2014 and TRS formed the first government, Khammam and Hyderabad remained untouched by the change that swept the region. TRS found it difficult to position itself in Khammam, which borders Andhra Pradesh and is seen culturally closer to it than Telangana. Even when the Telangana movement was at its peak, there was hardly any impact in Khammam.
In 2014, Khammam Lok Sabha seat was bagged by YSR Congress Party (YSRCP) while the TRS candidate finished a distant fourth. In the Assembly elections held simultaneously, TRS bagged just one seat in Khammam district while the remaining nine were shared by Congress (four), YSRCP (three), Communist Party of India-Marxist (one) and TDP (one). However, the Khammam MP and majority of MLAs, including all three from YSRCP defected to TRS. The ruling party also got a boost when a key TDP leader, T Nageswara Rao, switched loyalty and became a cabinet minister.
However, nothing changed for TRS in the recent Assembly elections. Now split into two districts, Khammam remained a challenge for the party. It bagged just one seat while Congress-led People's Alliance won eight seats. One independent was also elected. Employing the same tactics, TRS lured four opposition MLAs into its fold.
Searching for a strong candidate for next month's Lok Sabha polls, TRS succeeded in making TDP leader and former MP Nama Nageswara Rao switch his loyalty. Nageswara Rao, who had finished runner-up in 2014, is likely to be fielded as TRS candidate this time.
As Hyderabad Lok Sabha constituency remained a stronghold of AIMIM and with the party being its ally, TRS is focussing on Secunderabad, which always elected either a Congress or BJP candidate. TRS never found support in this urban constituency. In 2014, BJP's Bandaru Dattatreya won the seat while TRS candidate finished a distant fourth.
With Dattatreya once again likely to lock horns with former MP and Congress candidate Anjan Kumar Yadav, TRS is looking to make a determined bid to capture the seat for the first time with AIMIM's support.
Confident strides
Malkajgiri, spanning over Hyderabad and surrounding districts, is another Lok Sabha constituency on TDP radar. With over 31 lakh voters it is one of the biggest parliamentary constituencies in the country and often described as 'Seemandhra' pocket of Telangana due to large number of 'settlers' as people from Andhra Pradesh are usually referred to.
In 2009, the first election held after Malkajgiri came into existence, after delimitation of constituencies, the Congress bagged the seat, while in 2014 TDP's Malla Reddy emerged victorious. He, however, later defected to TRS.
TRS is confident of winning Secunderabad and Malkajgiri as it has significantly improved its position in the state capital and surrounding districts. Out of 24 Assembly seats that fall under the limits of Greater Hyderabad Municipal Corporation (GHMC), TRS won 14 seats in the recent Assembly elections while AIMIM retained seven seats. In 2014, TRS had won only two seats.
However, subsequently it started making inroads, including in constituencies with sizeable population of 'settlers.' In 2016, TRS swept the polls to GHMC, winning 99 seats in 150-member body. It was a dramatic change in party's fortunes and the success was credited to TRS chief K Chandrashekhar Rao's son KT Rama Rao.
Leading the party's election campaign, the young leader and the minister for information technology succeeded in reaching out to urban voters. With the party assuring that Hyderabad belongs to all those living here and focussing on development and addressing people's issues, the voters started backing TRS. With the party winning majority of seats under GHMC limits in 2014, TRS hopes that this momentum will help it to capture the last forts of its rivals.