Tripura Congress president Pradyot Kishore Manikya Deb Burman on April 18 accused a minister of hiring goons to attack his sister.
"Very sad to see that my sister RK Pragya attacked by paid goondas in Tulashikhar, Khowai by drunk goons. One person arrested and many will follow! Mr Minister (You know who I'm talking about) you will have to pay dearly for hiring people to attack my sister," he tweeted.
Even though he didn't name anyone in the tweet, in one of the replies in the thread Deb Burman, a royal scion, said: "Ask Mevar."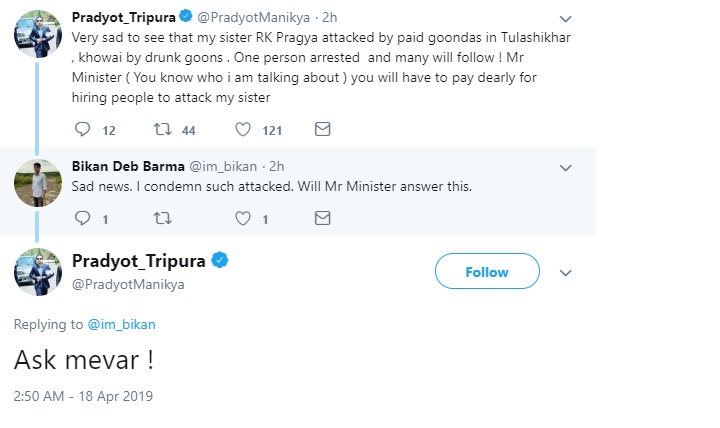 Mevar Kumar Jamatia, a general secretary of the Indigenous Peoples' Front of Tripura, is a minister of Tribal Welfare and Forest in Biplab Kumar Deb's government. The Indigenous People's Front of Tripura (IPFT) is a part of the BJP-led state government.
The incident comes two days after more than 3,500 supporters of the ruling BJP-IPFT and the opposition CPI(M) reportedly joined the Congress. Addressing a press conference on April 16, Deb Burman had said many have joined the Congress. "Today's incident proved that the people are fed up with the BJP-IPFT government in one year." Earlier, IPFT vice president and the general secretary of its youth wing had switched to the Congress.
In the ongoing election season, Tripura has witnessed major turmoil accompanied by large-scale violence. On April 16, in a late evening announcement, the Election Commission deferred polls in Tripura East, one of the two constituencies, citing a "law and order" situation. Tripura East was scheduled to go to polls on April 18 but will now vote in the third phase of Lok Sabha elections on April 23.
Alleging violence in first phase of Lok Sabha polls on April 11, the Tripura Congress president earlier said he would knock the door of the Supreme Court if the Election Commission denies making public the CCTV camera records of the Lok Sabha polls for scrutiny by the political parties.
Tripura has two Lok Sabha seats. West Tripura constituency went for Lok Sabha polls in the first phase, where 83.1% voters' turnout was recorded.