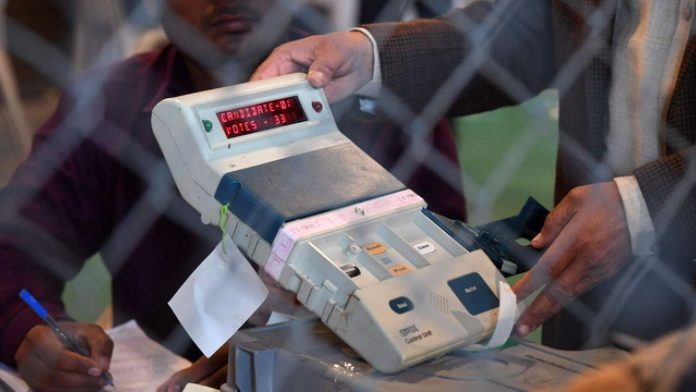 Even as leaders of opposition parties are set to visit the Election Commission on Tuesday (May 21) to demand adequate Voter Verified Paper Audit Trail (VVPAT) verification during counting, the Supreme Court today dismissed a petition demanding 100 per cent EVM and VVPAT verification. Here is a look at the controversy surrounding EVMs and VVPATs.
The brouhaha
As many as 21 opposition parties led by Andhra Pradesh Chief Minister N Chandrababu Naidu had moved the Supreme Court against the EC's guideline that VVPAT counting would take place only in one polling station in each Assembly segment in the coming Lok Sabha election.
The apex court had on May 7 dismissed a review plea filed by opposition leaders seeking that random matching of VVPAT slips with EVMs be increased to 50 per cent.
The Election Commission has maintained that if the 50 per cent VVPAT slip verification is carried out, it will delay counting by six days.
The top court, however, had on April 8 directed the Election Commission to increase random matching of VVPAT slips with EVMs from one to five polling booths per assembly segment in Lok Sabha polls, saying it would provide greater satisfaction to not just political parties but also to the entire electorate.
Meanwhile, a Chennai-based organisation 'Tech for All' had filed a PIL seeking 100 per cent matching of VVPAT slips with EVMs during counting of votes on May 23 for the Lok Sabha polls. The top court dismissed the plea on May 21. The court said it won't entertain such a plea "over and over again" and called the petition a "nuisance".
What is VVPAT
Voter Verifiable Paper Audit Trail (VVPAT) machines are a "second line of verification" used to verify that the vote cast by a voter has indeed been allotted against the candidate chosen. The Supreme Court of India had directed the Election Commission in 2013 to introduce VVPAT in Lok Sabha Elections 2014 to improve voter confidence and transparency. It was used in some phases but not in the entire polling process. It is useful, especially since allegations around tampering of EVMs have been cropping up regularly in elections held across the country in the recent past. Political parties have been regularly demanding that VVPATs be used during elections following allegations that EVMs are not completely tamper proof.
How it works
When a voter presses the button on the EVM against the chosen candidate, the VVPAT prints a slip containing name of the candidate and the election symbol and drops it into a sealed glass case in a way that only the voter can see it. The slip is displayed to the voter for seven seconds after which the VVPAT machine cuts it and drops in into the storage box with a beep.
Missing EVMS and videos
In the middle of the election campaign, a story about 20 lakh "missing" EVMs created a flutter. In an article, titled 'Missing' EVMs, the Frontline magazine reported that "an RTI-based public interest petition in the Bombay High Court points out that 20 lakh EVMs that the manufacturers affirm to have delivered are missing from the possession of the Election Commission" over the years. The RTI replies were obtained by Mumbai-based activist Manoranjan Roy.
The Election Commission has dismissed the reports. In a letter to Frontline, EC spokesperson Sheyphali Sharan said, "It is noticed that this news story has selectively quoted some information obtained by an individual through RTI application from multiple public authorities and a PIL filed in the Bombay High Court." "This news story carried only partial and one-sided information, which is inaccurate and based on specious misinterpretation of the facts in the matter, thereby creating unwarranted doubts in the minds of general public."
Videos doing rounds
Several videos of EVMs being stored and allegedly moved from one unauthorised storage house to another have been surfacing on social media. One such video was shared by an Aam Aadmi Party (AAP) worker on Twitter. According to the AAP worker, the video was shot in Punjab and two EVMs and a VVPAT machine were found lying in a car. She even levelled allegations against the BJP.
some facts and evidence of EVM and filthy Game of BJP.#EVM machines found in a car with no security in Punjab.

— Shalu (@Shalupcrf) May 20, 2019
In another video, allegedly shot in Uttar Pradesh's Chandauli, a few men can be seen unloading EVMs and VVPAT machines and placing them in a shop.
1. An #EVM (Replacing?) video from #Chandauli,#UP

2. People protesting at #Jangipur Mandi Samiti demanding security to #EVMs strongroom. #Ghazipur#LokSabhaElections2019 #BJP_भगाओ_देश_बचाओ
@BJPsoldIndia @kiran_patniak

— Ajnabi (@ajnabi_guy) May 20, 2019
Similar incidents of EVMs being transported without any security were reported from strongrooms in Uttar Pradesh and Bihar after the voting ended for the Lok Sabha polls.
On May 21, the Election Commission, however, responded and called the reports "baseless" and clarified that in all cases, the EVMs and VVPATs were sealed properly in front of the parties' candidates.
(With inputs from agencies)