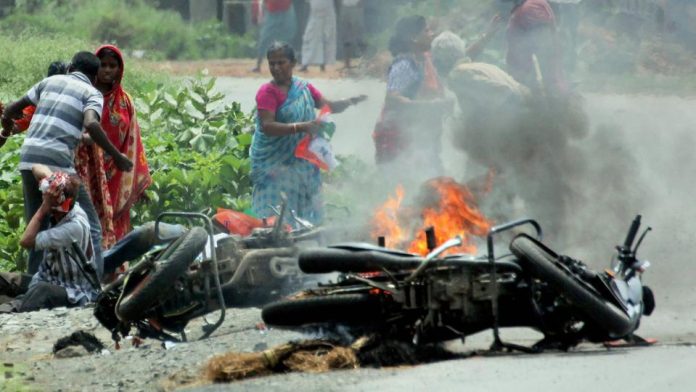 A large number of politicians, unable to contest elections due to court convictions in crime and corruption cases, are fielding their spouses in the elections to keep the reins of power in their hands.
Some of these politicians are currently lodged in various jails for grave offences like murder, rape, and kidnap.
Former Rashtriya Janata Dal (RJD) law-maker Raj Ballabh Yadav has fielded his wife, Vibha Devi, from Nawada Lok Sabha seat currently held by firebrand Bhartiya Janata Party (BJP) leader Giriraj Singh, Union minister of state for Micro, Small and Medium Enterprises. She is contesting on the ticket of the RJD headed by Lalu Prasad, himself in jail in the fodder scam cases.
Yadav fielded his wife since he cannot contest the elections after a court awarded him life sentence for the rape of a minor girl three years ago.
The past weekend, former chief minister Rabri Devi, wife of RJD chief Prasad, campaigned for the rapist's wife, appealing to the masses to vote for her. She said the candidate's husband had been implicated in a fake case.
The poll scene is even more interesting in Siwan, a north Bihar LS seat where two gang-lords have fielded their spouses. Siwan, which is dominated by Muslim voters, was once considered the 'fiefdom' of powerful RJD politician Mohammad Shahabuddin who is lodged in New Delhi's high-security Tihar jail in connection with the murder of a journalist. He faces over 40 criminal cases and has been sentenced to life term in at least two murder cases.
The court sentences disqualify him from contesting elections in future. So, he has now fielded his wife, Heena Shahab, on an RJD ticket. She had lost the last LS polls but this time she hopes to win this seat. There is strong discontentment among the local BJP workers too with Siwan seat going to the Janata Dal United (JD-U) share under the seat-sharing deal despite it currently being represented by the BJP in the LS.
'Gangster-ism'
What has made the contest further interesting is gangster Ajay Singh too has fielded his wife, Kavita Singh, the current lawmaker from the JD-U. The presence of gangsters' wives in the fray has indeed infused much interest in the contest. Ajay Singh too has been convicted in murder cases.
Yet another gangster, Anant Singh, who faces several criminal cases such as murder, kidnap and extortion has fielded his wife, Neelam Devi, from eastern Bihar's Munger seat. She is contesting on a Congress ticket.
Initially, Singh himself wanted to join the poll fray but changed his decision after the RJD, which heads the Grand Alliance of which Congress remains a part, strongly objected to his candidature. Singh, who currently is an Independent lawmaker from Mokama seat, had helped arrange good crowds for Congress president Rahul Gandhi's rally at Patna's Gandhi Maidan in January this year and that apparently helped him get a ticket for his wife, reports said.
Lalu's part
The case of RJD chief Lalu Prasad Prasad is slightly different. Although the jailed leader has not fielded his wife this time, he has given a ticket to his eldest daughter Misa Bharti, currently a Rajya Sabha Member from Patliputra seat. In the last LS polls, she had lost to BJP candidate Ram Kripal Yadav on a  small margin of 40,000 votes after the contest turned four-cornered with Nitish Kumar's JD-U and the Left too fielding their candidates and cutting into secular votes. The scene is entirely different this time. While the Communist Party of India (Leninist-Marxist) has not fielded its candidate this time, the JD-U has returned to the NDA, turning the contest bipolar.