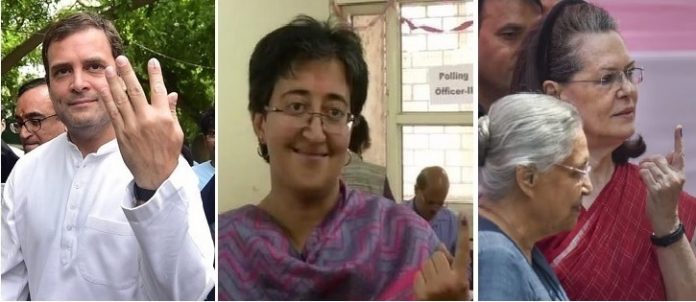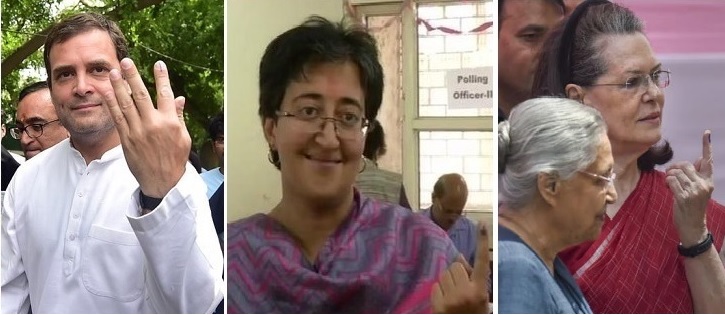 The sun was high, the motorists out on the roads honking and yelling as always. Yet, there was a rare moment of optimism as voters lined up outside polling booths to cast their votes in Delhi. One such voter was Congress president Rahul Gandhi. In a sudden moment of political epiphany, Gandhi chose to walk down from his Tughlaq Lane home to the voting centre on Aurangzeb Lane to cast his vote in the sixth round of the national election. The Congress president, who ditched his high-security vehicle, is a voter in the high-profile New Delhi parliamentary seat.
"It was a good fight. Narendra Modi used hatred and I used love. And I think love will triumph. The people are our maalik [boss]. We will accept the people's mandate," Gandhi told reporters after voting.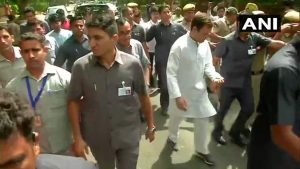 Gandhi was surrounded by his bodyguards and the media as he walked to the voting centre, accompanied by Ajay Maken, party's contestant from the New Delhi. His BJP rival and sitting MP Meenakshi Lekhi is confident she will defeat Maken this time with bigger margin. Struggling with a sore throat following a hectic poll campaign, she has been telling the media that the issue is national safety, security and national well-being.
But much before the voters could line up outside polling booths, Prime Minister Narendra Modi kicked up clouds of dust with one more TV interview. The usually unavailable PM has given a slew of interviews this election season — something that he avoided doing in the past five years, except talking to a few select media houses. In an interview to News Nation on Saturday, Prime Minister Narendra Modi said that he gave the Indian Air Force the green signal to proceed with its airstrike on a target in Pakistan's Balakot area on February 26 despite bad weather because "the clouds could actually help our planes escape the radars". Modi said that he used his "raw wisdom" to dispel the doubts of defence experts who planned mission.
National security is not something to be trifled with. Such an irresponsible statement from Modi is highly damaging. Somebody like this can't remain India's PM. https://t.co/wK992b1kuJ

— Sitaram Yechury (@SitaramYechury) May 11, 2019
"The weather suddenly turned bad, there were clouds… heavy rain. There was a doubt about whether we can go in the clouds. During a review (of the Balakot plan), by and large the opinion of experts was – what if we change the date. I had two issues in mind. One was secrecy… second, I said I am not someone who knows the science. I said there is so much cloud and rain. There is a benefit. I have a raw wisdom, the clouds can benefit us too. We can escape the radar. Everyone was confused. Ultimately I said there are clouds… let's proceed."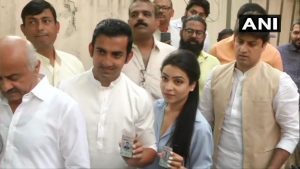 The Twitter accounts of the BJP's India and Gujarat units shared the clip of the News Nation interview in which Modi mades these claims, only to be deleted soon after in the wake of jibes and jokes on social media. While experts have noted on social media that Modi's observation has no scientific basis, many from the opposition flayed the irresponsible statement from the PM.
But it's also true that life moves on — on or off the radar. So, Delhi residents, without letting "political emotions" cloud their judgement turned up to cast their votes. The national capital, however, recorded a turnout of little over 34 per cent till 3 pm. Complaints about malfunctioning EVMs were also reported from several places in the city.
Early voters in the sixth phase of the Lok Sabha elections included Congress heavyweight Sheila Dikshit, who is contesting from North East Delhi, her party colleague Ajay Maken, BJP's newly minted leader Gautam Gambhir, who cast his vote at a booth in Delhi's Rajinder Nagar. The former cricketer is contesting against Aam Aadmi Party's Atishi and Congress's Arvinder Singh Lovely from East Delhi.