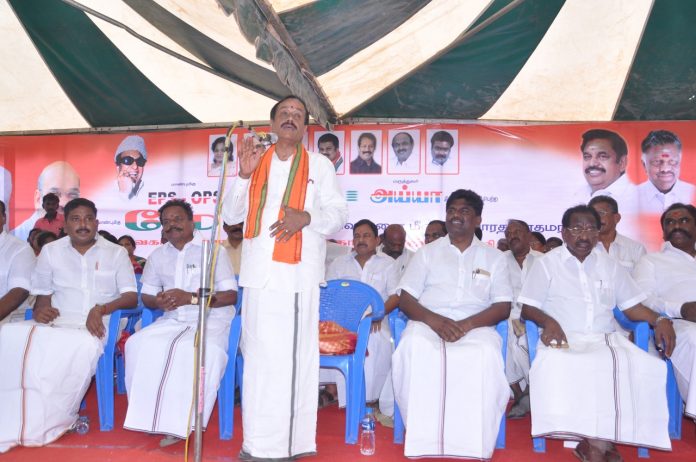 In cities such as Chennai as well as on Twitter, H Raja, BJP's candidate from Sivaganga, is known as the hothead who has a ready stock of vitriol to pour on his favourite hate figures – Islamists, Christian missionaries, and Dravidianists such as Periyar, the thought leader of the Dravidian movement. During campaigning, however, he becomes the patient and polite candidate, shaking off his flamethrower avatar.
On the campaign trail from Karaikudi through Kalaiyarkovil on April 11, Raja's stump speech has three or four key themes. He asks voters rhetorically whether they have Jan Dhan accounts, whether they recently got Rs 2000 in it, whether their smoky charcoal stove is a thing of the past, and whether newly constructed toilets had saved the honour of the women of that village. Out of the few hundreds who have gathered at the village meeting spots to listen to him, a few nod in agreement. Some say, 'yes,' loudly, while others are silent. He asks them who has given them these. Even as a few open their mouth to say Modi, he too perks up and says, 'Modi.'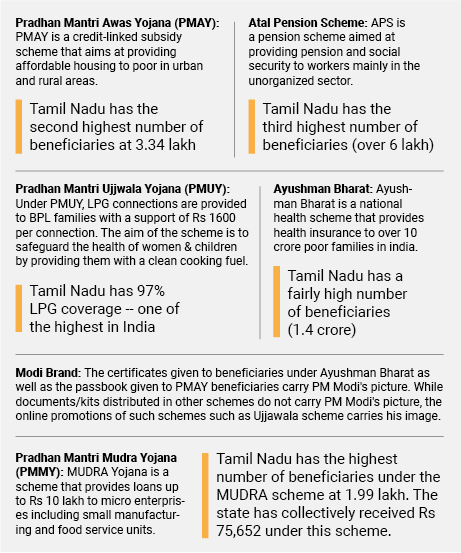 Across Tamil Nadu, BJP candidates for Lok Sabha elections are talking the same talk as Raja. Their one pitch is Modi, and they remind voters of how they benefited from the NDA government.
A quick glance at how the people of Tamil Nadu have benefited from central welfare schemes, mostly in the form of direct benefits transfer (DBT), shows that the BJP has done considerable work in promoting these schemes. And many of the schemes are vehicles for carrying Brand Modi since the scheme documents often carry his photo.
"So shouldn't we take care of Modi, just as he has taken care of us?" asks Raja. He continues: "Most newspapers have said Modi is going to be the next prime minister. So you would be wasting your vote by voting for others. If you vote for me, I can get funds to solve your water problem," says Raja.
But, isn't Modi a liability in Tamil Nadu? Not just the political grapevine or the social media chatter, actual surveys have shown that there is considerable hostility to Modi in the state. A recent Pudhiya Thalaimurai TV poll showed that an overwhelming majority of those surveyed wanted a change of government at the Centre. "That's all a media creation. People themselves are saying, Modi, when I mentioned the projects [and asked who gave them the benefits]. There is actually a wave in favour of Modi in rural areas. In every village, hundreds of people have benefited, either from gas, insurance or housing itself. Now this Rs 6,000 cash transfer has made a big impact," he said.
Raja's campaigning is not a smooth affair. At each village, women pipe up and tell them about their water woes. Raja has an answer for them: poor performance of seven-time MP from Sivaganga, P Chidambaram. Raja tells them about a Cauvery surplus scheme that would link a few tributaries and bring the water to fill the ponds and lakes in Sivaganga district. "The project would cost Rs7,000 crore. Modi gave Rs40,000 crore to Kanyakumari that voted for a BJP candidate. If you vote for BJP, I would ask Centre to sanction the money," he says.
On the campaign trail, Raja, however, is aware that he is the front's candidate and there are much bigger parties on his turf. The AIADMK is still the 800 pound gorilla. At every campaign stop, several hundred people greet him and hear him speak, and it's the AIADMK flag that flutters mostly.
In Karaikudi this time, TTV Dhinakaran's candidate is seen as very strong. Even Raja admits that TTV's candidate Pandian may bag 1 to 1.5 lakh votes. But he is unfazed. He says he polled some 1.3 lakh votes last time as NDA candidate when it had no big ally. The AIADMK candidate had got some 4.75 lakh votes. Put together, he has a command of a winning voting number, he adds.
Raja takes care to tell voters that they should vote for him as he is part of Amma's and MGR's front. He reminds them there won't be the AIADMK symbol on the ballot. "You have seen Modi's face. You would have also seen my face. My face would be on the EVM, next to the lotus symbol. Please push that button," he exhorts them. Raja's main rival candidate is Karti Chidambaram who is P Chidambaram's son.