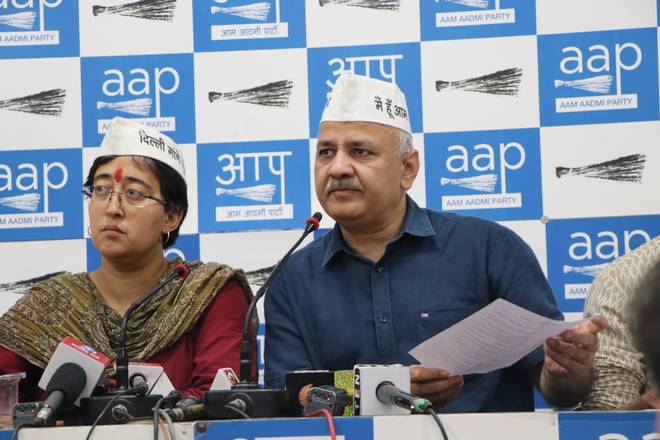 "The pamphlet directed at Atishi not just shows how easy it is to slander women but also the reason behind poor participation of women in politics," says Sneha, a third-year-political science student in Delhi University. The East Delhi resident is deeply disturbed by the offensive pamphlet against AAP candidate Atishi, who has accused her BJP opponent Gautam Gambhir of distributing the vile leaflet in the constituency.
Gambhir, of course, has denied the charge and filed a defamation suit against Atishi and other AAP leaders. Although there is no direct evidence to suggest that Gambhir or the BJP are behind the pamphlet, what the ordinary citizens found more offensive was the silence by mainstream political parties and their leaders, including women politicians.
Most women in Delhi feel this is not Atishi's fight alone. "In this much-celebrated ongoing 'dance of democracy', political participation is not only related to the 'right to vote' or women candidates running for office, but also participation in political activism and political consciousness," Shalini Singh, a teacher, tells The Federal. Singh says she was astonished that political leaders from other parties didn't find it important to come out and denounce the incident.
Hey @GautamGambhir , please listen to a leader from your party , you should be ashamed of your party BJP , not Delhi's CM. #IStandWithAtishipic.twitter.com/uZHLd6swNS

— Roshan Rai (@RoshanKrRai) May 9, 2019
While Samajwadi Party chief Akhilesh Yadav and Gujarat MLA Jignesh Mevani, who has been campaigning for Atishi, condemned the "distressing", "bigoted" and "hateful" pamphlet, prominent leaders from the BJP and the Congress, including Prime Minister Narendra Modi and Rahul Gandhi, have maintained silence. Even women leaders Nirmala Sitharaman, Sushma Swaraj, Priyanka Gandhi Vadra and Smriti Irani so far haven't voiced their concern, if any.
Noticeably, the two other prominent women candidates in Delhi — three-time Congress chief minister Sheila Dikshit and BJP MP Meenakshi Lekhi — too chose to stay away from the matter.
Why just leave it to women's rights activists?
"While it is understandable that all parties are busy fighting their own battles, it's difficult to believe that they didn't find time to condemn the incident. This kind of attack, no matter who is behind it, is not something that's against Atishi alone. Does such an attack on any woman not concern other women, notwithstanding their political rivalries?" asks 45-year-old Manjula, who works at an advertising agency in South Delhi.
She wonders if it is just the job of women's rights activists. "Every time there is a sexist attack on any woman politician, the ordinary citizens and women's rights' activists are always at the forefront, but women politicians hardly show that kind of solidarity. And then they expect us to believe they will work for women's security," she adds.
Sharing Majula's concerns, 21-year-old college student Sudeshna says one needn't necessarily be a feminist to speak up against such vile attacks, even if that means supporting a woman from opposition party or condemning men from the same political outfit. "Women politicians need to introspect that an attack on the dignity of another woman is not her personal battle alone."
Finally – right thing to do isn't to accuse @ArvindKejriwal of being behind this slander of @AtishiAAP coz such slander can never help a woman candidate, ever. Right thing to do is for you @GautamGambhir to condemn it, express respect, solidarity 4 Atishi, ask voters to do same.

— Kavita Krishnan (@kavita_krishnan) May 9, 2019

"While respect to women is often highlighted and invoked with associated motherhood terminologies of gau mata, Bharat mata and Ganga mata, or issues like triple talaq and campaigns like Beti Bachao, Beti Padhao, are men in Indian politics really willing to share power with women?" Sudeshna wonders. Such vile incidents discourage many women from joining politics, she adds.
Women representation in numbers
Indeed, the figures about women's representation in Parliament reveal a very sad picture. According to a study by the Inter-Parliamentary Union, India ranks 149th in a list of 193 countries in terms of women's representation in the lower house of parliament as of January, 2017. Even countries like Rwanda, Burundi, Somalia, Saudi Arabia, and Fiji rank higher than India. What's more, neighbours Nepal (36), Afghanistan (60), Pakistan (101) and Bangladesh (97) also rank much higher than India.
The situation is unlikely to change in favour of women in the next Lok Sabha as well. For years, parties have talked about reserving 33 per cent of seats in Parliament for women. But is it possible when only a handful of women are allowed to contest elections?
In the ongoing Lok Sabha elections, only 18 out of the total 164 candidates fighting the election in Delhi are women. The three major political parties — Congress, BJP and Aam Aadmi Party – have fielded only one woman candidate each.
In 2014, only 13 women out of 150 candidates contested the polls from Delhi. Out of them, only one, Meenakshi Lekhi of the BJP, got elected.
Reading out the contents of the pamphlet at a press conference on Thursday, Atishi broke down twice. She and the AAP asked how can women expect safety if people with such mentality are voted in.
Well, does any political party or leader has the answer?