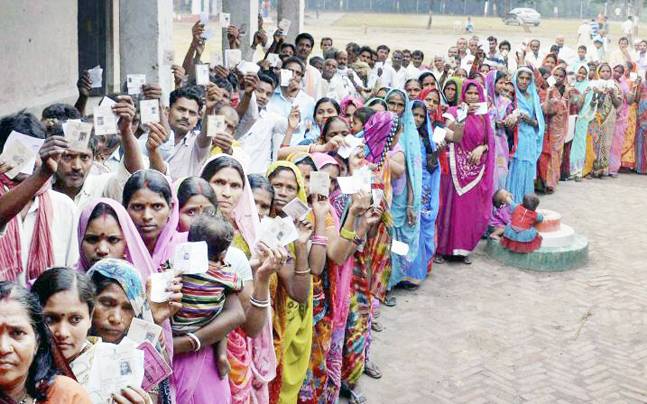 A cross-section of random voters this writer came across in Delhi recently said they were disappointed with the performance of the Modi government. Despite this, they said they were inclined to vote for the BJP. The reason: According to them, there is no alternative to Prime Minister Narendra Modi.
The TINA (there is no alternative) factor may appear new to young voters. Governments, over the years, either brazenly or surreptitiously have pushed this narrative to capture support when they have not deserved any. TINA is probably the biggest political myth that continues to be in circulation, given that it flies in the face of historical fact.
Take the current TINA myth, that of Modi being indispensable as prime minister. Yes, voters agree there are multiple choices – Rahul Gandhi, Mamata Banerjee, Mayawati, HD Deve Gowda, Chandrababu Naidu and many others. So what is it that Modi has that the others do not? Ask this question, and you have silence.  At the most, the response is either a smirk, a laugh or a resounding 'no, no.' And, the reason for this response – it is just a feeling, mostly.
The reality is vastly different. Modi's demonetization, for example. By most accounts, this impulsive, thoughtless blunder perhaps ranks next only to the promulgation of the Emergency in independent India. The suffering, hardship and the pain that literally each and every citizen in India faced is the stuff that a Hollywood horror movie cannot match. The consequences of demonetization is felt even today, in the downward economic spiral, in the near-collapse of the real estate sector and the grim winter that has set in over what was once a hot, bustling business climate across the country.
If at least the stated claims, that of removing black money, had fructified there was some consolation. Demonetization simply made no difference other than to thrust Indians into the grinder. It is all back to square one. Black money is thriving, corruption is on track and all the economic ills remain. Add to this a gloomy recession reflected by huge joblessness.
Yet, a section of voters say there is no alternative to Modi. Has he done something that only some can see?  Adding salt to the wound was the utter ham-handed manner GST implementation was handled. The total economic mess that this convoluted, complicated exercise  created is something only businesses can understand. But this writer overheard a businessman saying despite this he would still prefer Modi as there is no alternative.
Missing something?
Are we missing something big, bright and shining in Modi that only some are fortunate to experience? The TINA factor stands on a weak foundation and could have extreme consequences for a nation. For the robustness of a nation is directly proportional to the strength of its institutions. Human beings are ultimately mortal and history has shown that some of the greatest leaders like Mahatma Gandhi and Nelson Mandela on the one side and controversial ones like Hitler and Mussolini had to go sooner or later.
In the Indian context, the TINA around Modi is reminiscent of Indira Gandhi who at the height of her career after the 1971 war gave the impression she was immortal. TINA was associated with her but India since her time has come a long way and in many ways has done much better.
So was the TINA factor around the LK Advani-AB Vajpayee duo. What would happen to the BJP once they were gone? We have all seen that the BJP has done pretty well electorally and has gone from strength to strength since the two founded the party. If Vajpayee fell ill and died, Advani is still alive but side-lined in as rude a manner as possible. At the height of the Ayodhya movement, which he initiated, if anyone had even dared suggest that there was a future for the BJP after Advani that individual would have been derided and verbally torn to pieces.
Being a prime minister is of course a great job, one that many Indians aspire for. The TINA factor makes a mockery of India's immense talent and imagination. Those who subscribe to TINA may not know but the job of a prime minister is fairly streamlined. And, entirely doable. It is not as daunting as one would imagine. For, the simple fact is that there is an entire machinery of highly qualified bureaucrats, technocrats and specialists who advise the prime minister and provide information on the go – in short, a huge dream infrastructure that is waiting on the incumbent 24/7. Of course, it is another matter whether the person at the helm chooses to make use of the top quality officials or chooses to unilaterally take decisions, like demonetization.
Gowda's performance
In 1996, when the then Karnataka chief minister HD Deve Gowda sprang a surprise and became the prime minister, there were scores who reacted sarcastically to this Kannada-speaking non-Delhi bloke occupying the politically stratospheric job coming from a distant district called Hassan which nobody had heard of until then. To his credit, Gowda's administration did well and in fact the very image of an underdog helped him in his decisions. Among other things, he was the architect of the country's first Agro Policy and brokered a deal with Bangladesh on the Farakka barrage issue in India's favour.
Most importantly, Gowda in 1996 was the first prime minister to have visited a conflict-hit Kashmir, since violence broke out in 1989, which that set the platform for the resumption of the political process in that state. Eventually, due to a misunderstanding with the Congress he had to step down. But the point to be noted is that Gowda did as well or even better than most people expected him to.
The moral of the story: there is nothing called the TINA factor. It is a myth that needs to be shoved into that dustbin overflowing with pseudo political ideas in history.